Protein Peppermint Mocha Coffee Creamer Recipe
This post may contain affiliate links. Read my
Privacy Policy.
As an Amazon Associate I earn from qualifying purchases.
Introducing Your New Favorite Coffee Creamer: The Protein Peppermint Mocha Creamer!
This collagen-enriched coffee creamer is perfect for your first sips of the season. Take a thermos, cup of coffee, or hot chocolate, made with this creamer added, when you go to see the holiday lights this year. It's sure to enrich your favorite holiday scene, no matter how lit up the house is or isn't.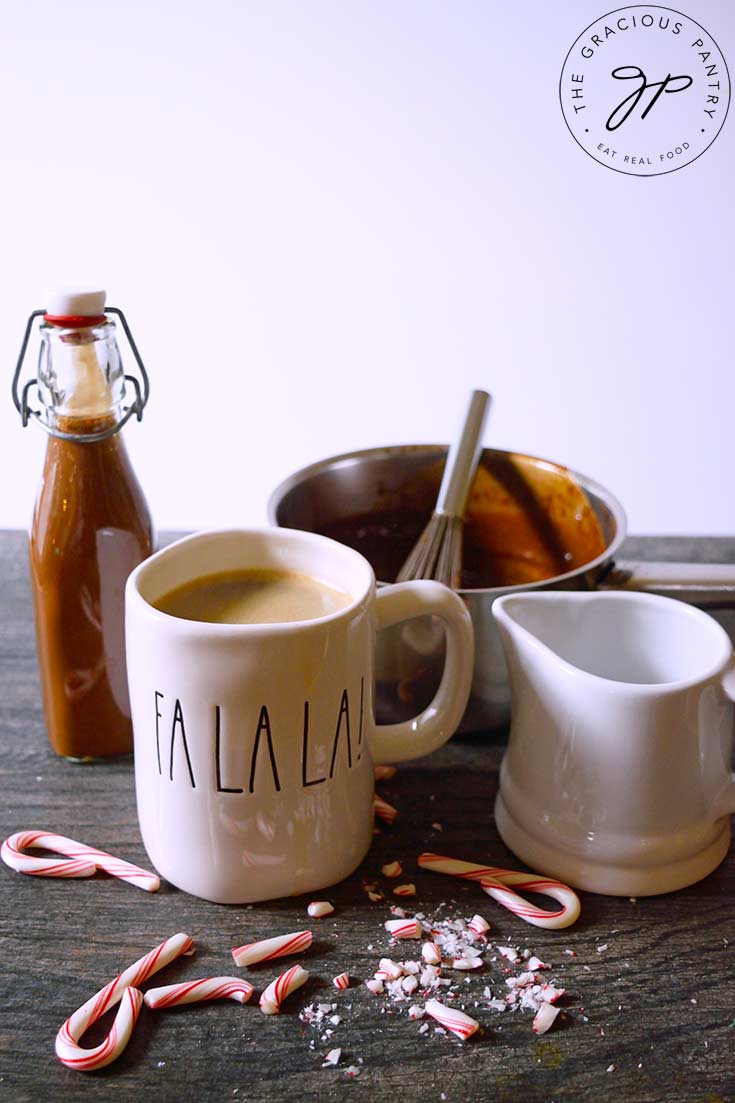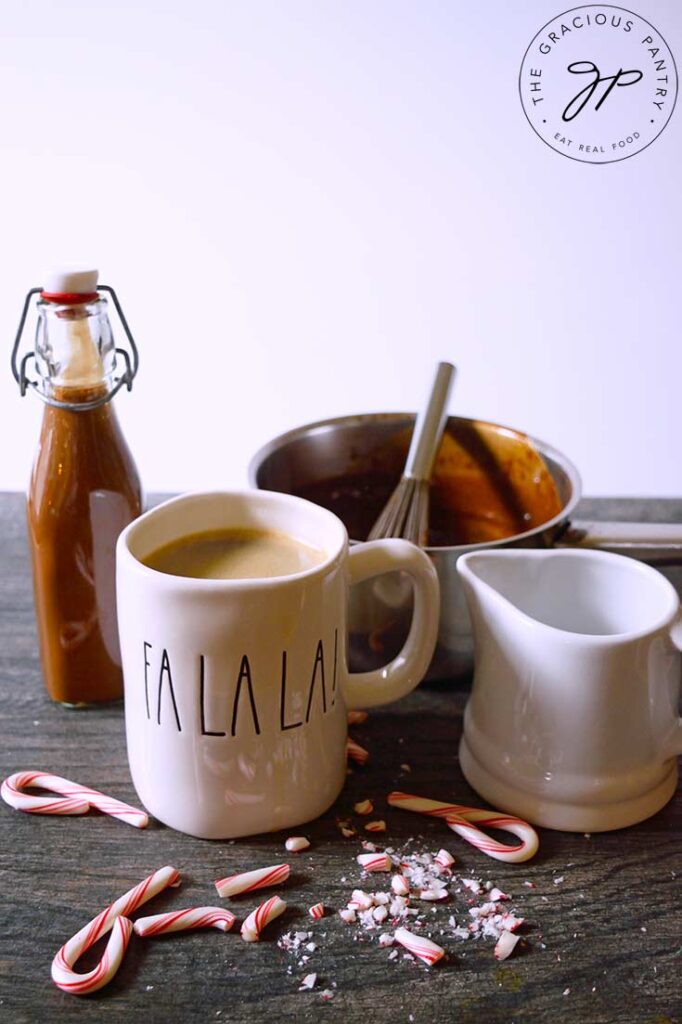 A peppermint mocha is the perfect blend of chocolate, peppermint, and coffee, and now you can add the same great taste as a creamer in your homemade morning cup of Joe!
Coffee creamers like Nestle and Coffee Mate are pretty much a staple in this country, especially during the holiday season. But if you've ever read the ingredient list, there is good reason to try and make your own creamer at home.
Ingredients such as dipotassium phosphate, sodium, diglycerides, micellar casein, carrageenan, cellulose gel, cellulose gum, vegetable oil, high oleic soybean, high oleic canola, and we won't even talk about the total sugars you'll find on the label.
It's also a source of lactose, which anybody who avoids dairy will want to avoid. So basically, none of it points north on the nutritional compass. Basically, the fewer "product details" you find on the product label, the better off you are. Good food doesn't need much on the label if it needs a label at all.
So if you want the natural flavor of the chocolatey-mint taste of peppermint mocha, but don't want the artificial flavor of store-bought coffee creamer, there is a sip of the good life waiting for you in the recipe below. Made with real peppermint extract and unsweetened cocoa powder, it makes for a perfect cup of coffee and good holiday cheer all around.
Sugar-Free Peppermint Mocha Coffee Creamer
Many people who focus on Clean Eating often want to enjoy something sweet without the processed, bad-for-you, sugar. But the truth is, even unprocessed and natural sugars are sugars in the body. So if you truly want to avoid the insulin spike, then you'll have to use a blood sugar-friendly sweetener. Most of these, however, are processed to some degree. So it really comes down to your most important focus. Here are some ideas for sweeteners:
Stevia – As long as there is nothing else added to it, it's a good option for people not wanting unhealthy sugars. Some people do get an aftertaste until they get used to it (then the aftertaste goes away), but not everybody does. So it's worth a shot. You can get the pure stuff in liquid or powdered form, though both have some amount of processing to get it from leaf to liquid or powder. I prefer the liquid, but the powder works well too.
Monk fruit – This has a glycemic index of zero, so it's very blood sugar friendly for most people. However, read the ingredients because many manufacturers will combine different sweeteners while only advertising the main one on the front of the package. Always read the ingredient list!
Xylitol – Careful with this one around pets. It's highly toxic to them. But aside from that, this is a great option for those who need to be sugar-free. Use in moderation because as with any sugar alcohol, large amounts can cause intestinal "distress".
Erythritol – This is another blood sugar-friendly sweetener that I use from time to time. However, this one is also toxic to animals, so becareful if you have them. As with Xylitol, consume in moderation.
Lactose-Free Coffee Creamer
If you are lactose intolerant or have a dairy allergy or sensitivity, this is the creamer for you! It uses coconut milk in place of cream, and almond milk in place of regular milk.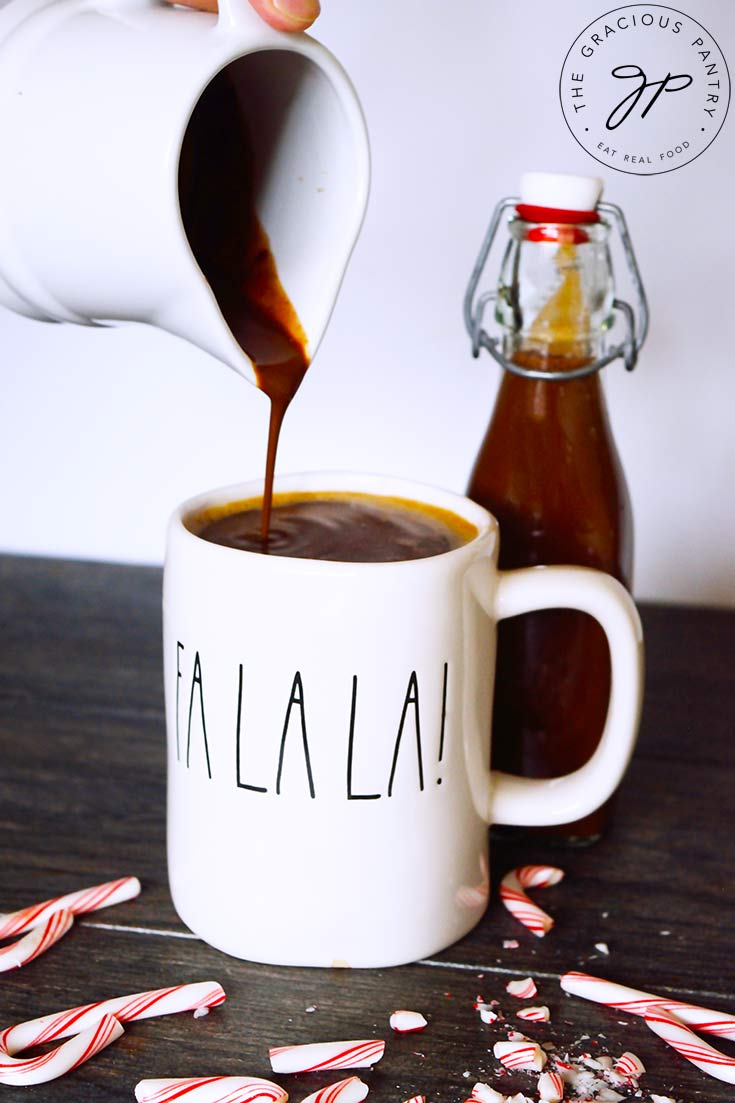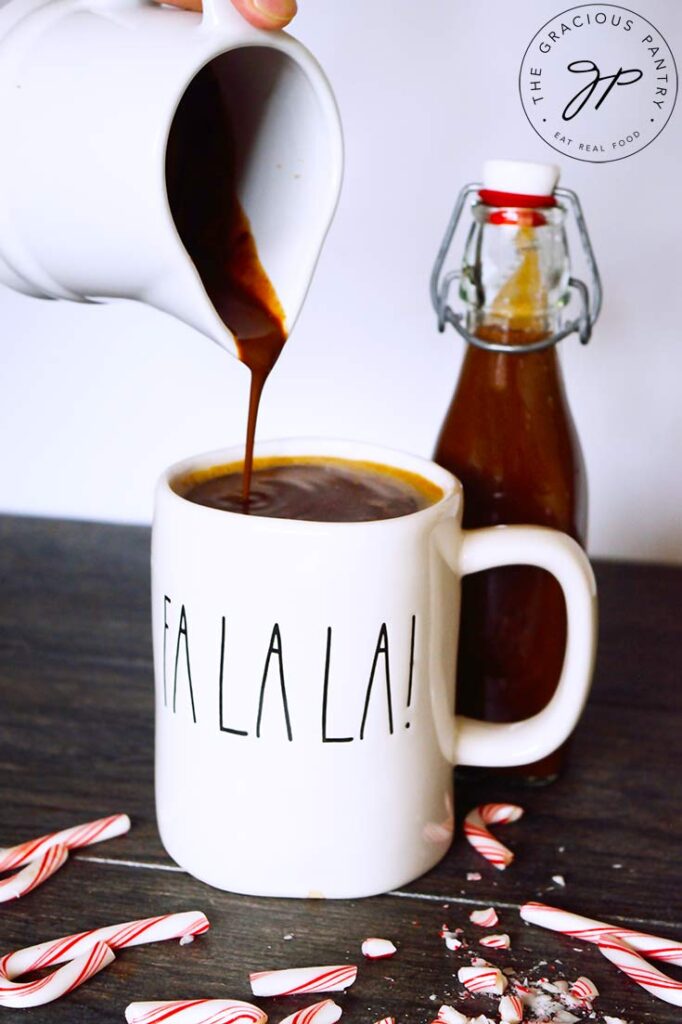 Is There Coffee In Peppermint Mocha Creamer?
There is no coffee in the creamer itself. But you do usually add this to coffee. That's the point after all! Although you can also add this to hot chocolate too. Yum!
What Flavor Is Mocha Creamer?
If you prefer to leave out the peppermint so you end up with a mocha creamer, you can absolutely do that here. The flavor of rich mocha creamer is chocolate. So you are basically adding the flavor of chocolate to your morning coffee. (This would obviously be a little pointless in hot chocolate unless you have very watery hot chocolate that you are hoping to thicken a bit)
Does Peppermint Mocha Creamer Taste Like Coffee?
Nope! Not by itself, because there is no coffee in it. But it is made to add to coffee, so that's where the coffee flavor would happen. By itself, it tastes more like a peppermint patty. Just peppermint and chocolate!
How Long Does Homemade Coffee Creamer Last?
This recipe has zero preservatives. So it will last exactly as long as the milk would last on its own in your fridge. This would be approximately 5-8 days, depending on the milk you use. Best bet? If it smells funky, toss it.
Can This Peppermint Mocha Creamer Recipe Be Made Dairy-Free?
Absolutely! In fact, it already is! If you want to make a dairy-based version, simply use full-fat (vitamin D) milk. Otherwise, use any non-dairy milk you prefer. I can highly recommend unsweetened oat milk or cashew milk. Though, it's best to make the cashew milk at home for true creaminess. The store-bought stuff doesn't tend to be all that creamy.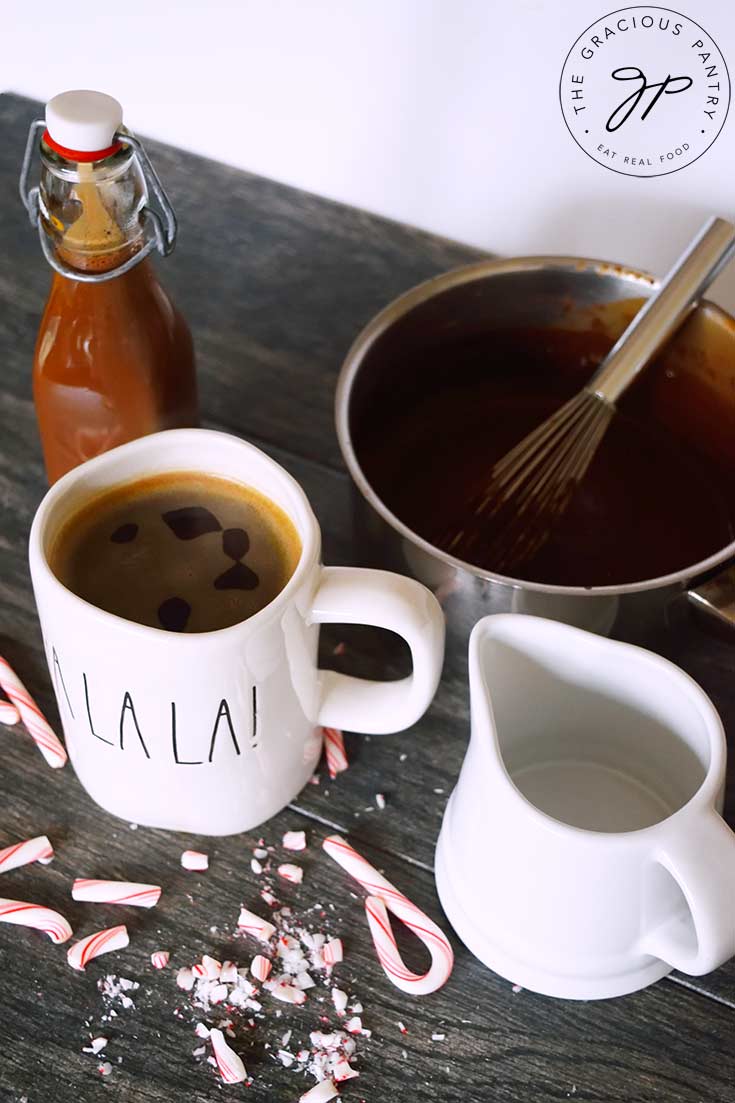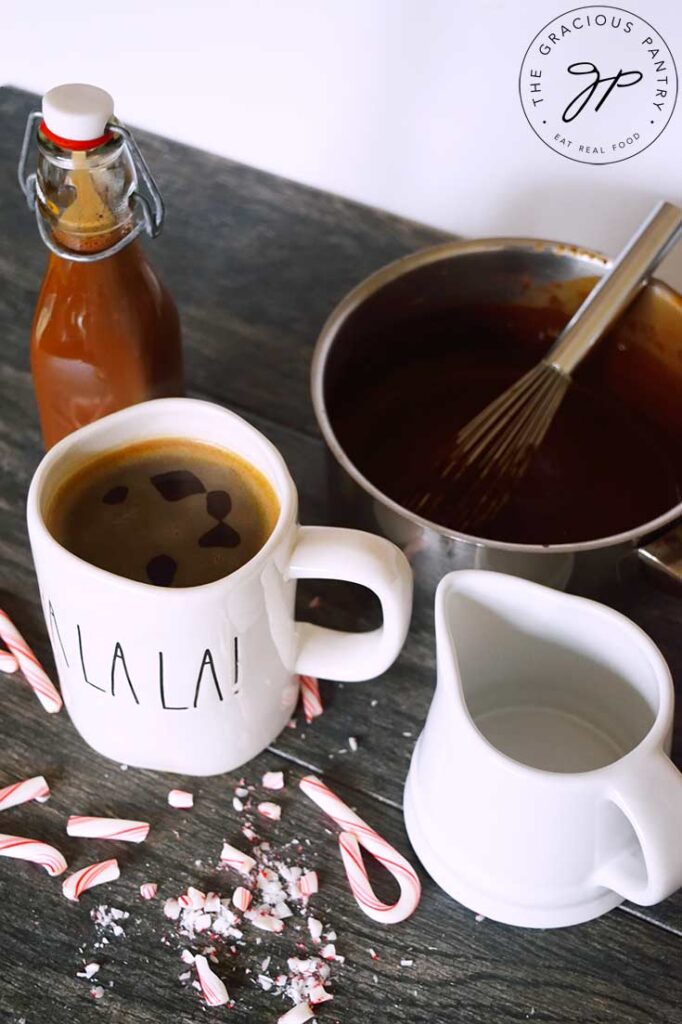 Can I Add Collagen To This Peppermint Mocha Creamer Recipe?
Yep! In fact, the recipe calls for it! While the jury is still out on whether collagen actually helps our joints and skin (there is much debate on both sides of that argument), it does a wonderful job of thickening this creamer to make it more like a true, creamy, creamer. So don't skip it!
Homemade Peppermint Mocha Creamer
So why make this at home instead of picking up one of the numerous bottles at the grocery store?
Better ingredients
Recipe adjustment to your tastes
Saves money
Takes only minutes to make instead of the time to run to the store.
Homemade Coffee Creamer Storage Tips
Make sure you have a good bottle with a tight-fitting lid to store this in. This can easily be a mason jar but doesn't have to be. As long as you have a lid that fits tight, you can store this pretty easily. Always store this in the refrigerator.
How To Adjust This Recipe
It's worth mentioning here that the amounts of any of these ingredients can be changed to suit your own tastes. Adjust up or down as needed.
The milk – Use any milk you prefer. As long as it's not flavored, it will work fine here. Best options are, vitamin D milk (the least processed of all the milks), homemade cashew milk or oat milk. While this recipe uses a combo of two different milks, feel free to use just one if that's all you have. Just use a full 1 ½ cups of that one milk.
The sweetener – For mostly unprocessed (clean eating) sugars, try Sucanat, coconut sugar, stevia or monk fruit. If you don't mind processing, then but still want to avoid sugar, try Erythritol or Xylitol.
Unsweetened cocoa powder – Adjust up or down on this. The amount given gives you a medium level of chocolate flavor. It's a mid-point, not a low point. So adjust accordingly to your tastes. You can always start small and increase to your liking. Just be sure to keep track of how much you use so you can duplicate this recipe again to your liking.
Arrowroot powder – This is simply for thickening. In a pinch, you could use cornstarch. Or, you can omit it completely. The collagen does a nice job of thickening this anyway. It was just an extra measure.
Peppermint extract – Start small. This extract is very strong stuff. A little goes a long way. If you need more, add it in very small amounts. About an ⅛ or ¼ of a teaspoon at a time. Use the best quality extract you can afford. The good stuff definitely tastes best.
Collagen peptides – Make sure you use unflavored collagen. This is not added for flavor, it's added for thickening and protein. You can also stir in some unflavored whey protein powder if you really want to up the protein content.
Vanilla – While I did not use it in this recipe, feel free to add some if you like. About 1 tsp. should be more than enough here.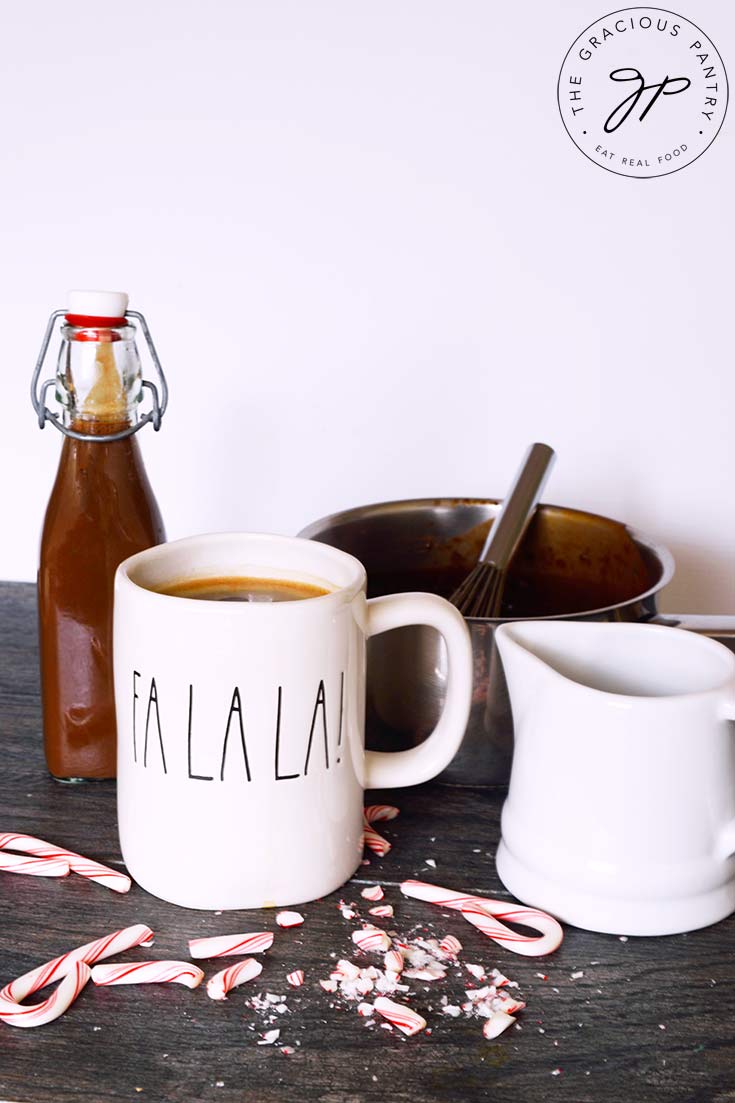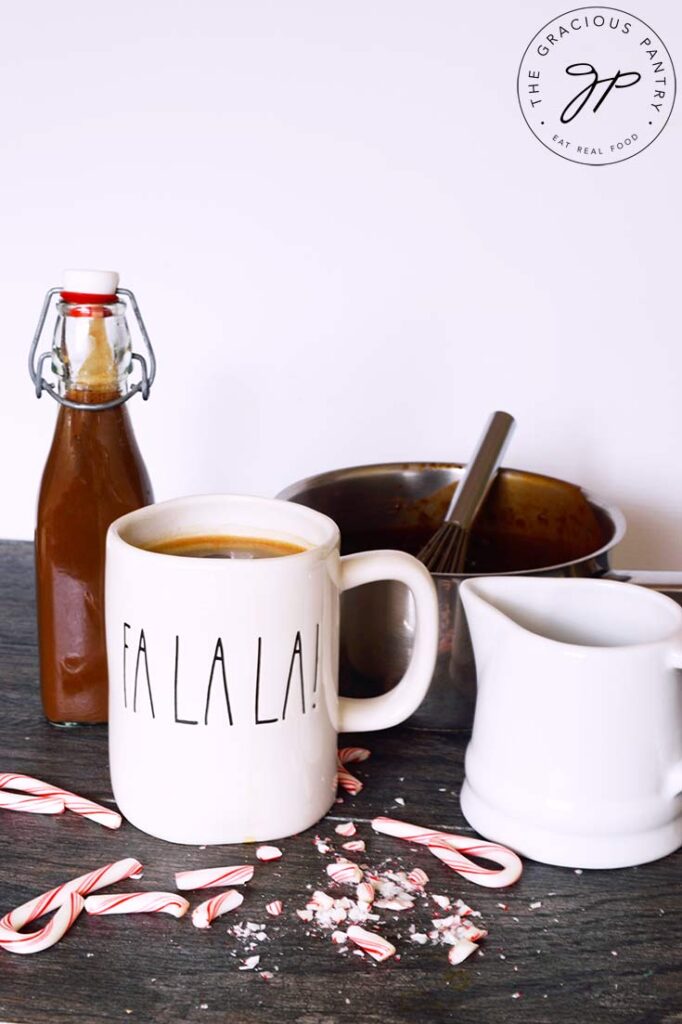 Ingredient Notes
1 cup unsweetened almond milk – Or any milk you prefer. See suggestion above.
½ cup full-fat coconut milk – Here again, you can use whatever milk you prefer.
¼ cup granular sweetener – See suggestions above for your best options. But any sweetener will work here. If you prefer, you can also try honey or maple syrup to taste.
3 tbsp. unsweetened cocoa powder – As long as it's unsweetened and in powder form, you can use cocoa, cacao, or even carob, if you like that flavor in place of chocolate.
1 tsp. arrowroot powder – In a pinch, you can use cornstarch, or you can simply leave this out. It adds no flavor, it is simply to aid in thickening.
¼- 1 tsp. peppermint extract – Use caution. Start small, and add more to taste. Just make sure it's a real extract. Not a peppermint candy cane flavoring. Anything over 1 teaspoon peppermint extract is likely to be way too strong.
¼ cup unflavored collagen – This will thicken the creamer and possibly has some nice health benefits to boot!
How To Make Protein Peppermint Mocha Coffee Creamer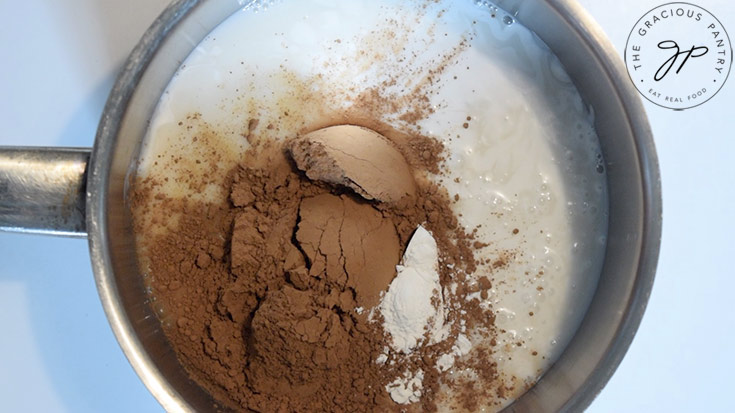 Place all ingredients into a small to medium pot.
Heat over medium-high heat and bring to a simmer. DO NOT BOIL! Let simmer for 30-60 seconds, and remove from heat.
Transfer to an airtight container with a lid and store in the fridge.
How To Use This Peppermint Mocha Creamer
Start with a small, thoughtful portion for the best experience. You can always add more, but you can't take any out. If you measure your food, start with about 1 tablespoon in an 8 oz. cup of coffee and go up from there.
Recipe Supplies
More Homemade Coffee Creamer Recipes
SUBSCRIBE
Remember to subscribe to my free newsletter to receive all my latest recipes in your inbox. Click here to sign up!
Homemade Peppermint Mocha Coffee Creamer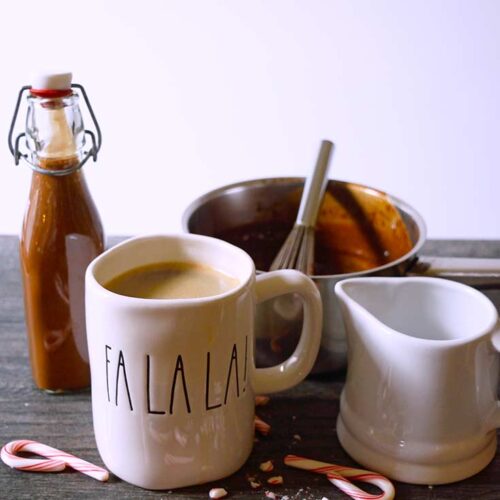 Protein Enriched Peppermint Mocha Creamer
Delicious creamer you can make at home in minutes!
Print
Pin
Rate
Add to Collection
Go to Collections
CLICK TO WATCH THIS RECIPE IN ACTION!
Ingredients
1

cup

unsweetened almond milk

1

cup

full-fat coconut milk

¼

cup

granular sweetener

¼

cup

unflavored collagen peptides

3

tbsp.

unsweetened cocoa powder

2

tsp.

arrowroot powder

¼

tsp.

peppermint extract

(or more to taste)
Instructions
Place all ingredients into a small to medium pot.

Heat over medium-high heat and bring to a simmer. DO NOT BOIL! Let simmer for 30-60 seconds, and remove from heat.

Transfer to an airtight container with a lid and store in the fridge.
Notes
Please note that the nutrition data given here is a ballpark figure. Exact data is not possible.
Nutrition
Serving:
1
tbsp.
|
Calories:
44
kcal
|
Carbohydrates:
3
g
|
Protein:
3
g
|
Fat:
2
g
|
Saturated Fat:
2
g
|
Polyunsaturated Fat:
1
g
|
Monounsaturated Fat:
1
g
|
Sodium:
24
mg
|
Potassium:
34
mg
|
Fiber:
1
g
|
Sugar:
2
g
|
Vitamin C:
1
mg
|
Calcium:
17
mg
|
Iron:
1
mg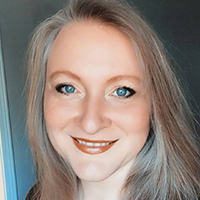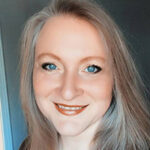 I'm Tiffany, a writer for MSN and the AP Newswire, a cookbook author, digital publisher, food lover, and mom. I create healthy, clean eating recipes for everyday living.