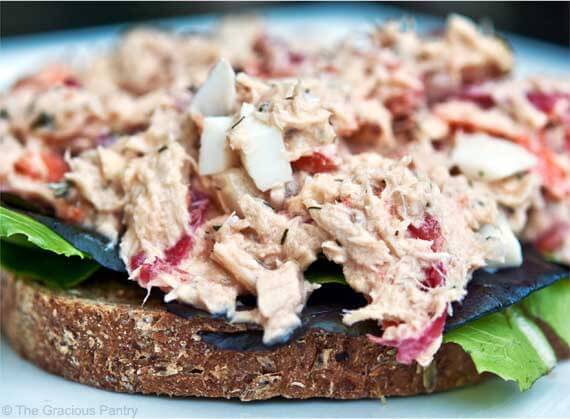 We don't eat a lot of tuna or other fish around here. My husband is highly allergic to it, and I have a little trepidation where seafood is concerned due to the increasing toxicity of our oceans. So it's pretty rare that we actually eat fish.
But a while back, a reader emailed me and asked if I could redo a recipe for her. She had eaten a tuna wrap that she really enjoyed, but then read the ingredients and realized it was not clean. So she emailed and asked if I could "clean it up" for her.
Not being one to turn down a clean, culinary challenge, I went to the web page she gave me that listed all the ingredients of the sandwich she liked so much. To say it wasn't clean is an understatement. But I wasn't going to give up easily. So I went to the store, bought some tuna, and got to work.
What I came up with is a tuna salad that is tasty, mild and enjoyable in several different ways (suggestions for serving are below).
YOU MIGHT ALSO ENJOY:

Clean Eating Tuna Salad
(Makes approximately 8 servings)
Ingredients:
3 cans water-packed tuna
1/2 cup Greek yogurt
2 teaspoons lemon juice
1 carrot – grated
1/2 teaspoon dried dill
1 teaspoon dried parsley
1 small tomato
1/4 teaspoon dijon mustard
1/2 a small white onion
1 hard boiled egg
1/2 teaspoon garlic powder
1 teaspoon honey (optional)
Salt and pepper to taste
Directions:
Mix all ingredients together in a large mixing bowl and serve.