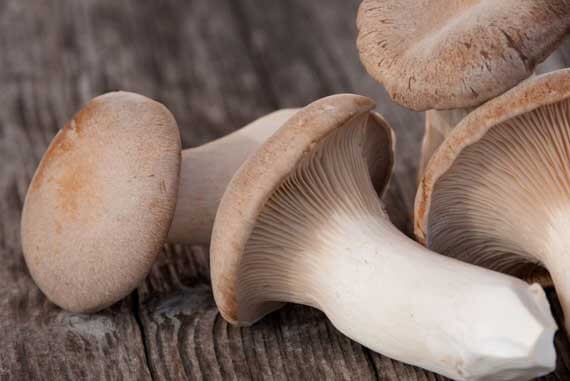 Trumpet Mushrooms are fabulous things. I first discovered them at a local restaurant when my dinner came topped with them. It was nothing short of heaven to bite into those robustly flavored fungi.
Then I found some fresh trumpets at the local farmer's market here in town. I knew they were pricey at Whole Foods, so I thought I had hit the jackpot when I saw a sign for them that read $5. In my haste to load up on this fantastic deal, I assumed that the sign read $5 per pound.
Ha! What a silly girl I was.
When the man behind the table asked me for $20 for 4 mushrooms, I darn near fell over. Turns out the sign said $5 for a 1/4 pound.
I was too embarrassed to put them ALL back, so I ended up buying two of them. Ya, I'm a sucker like that. And since it wasn't enough to recreate the meal from the restaurant, I ended up making this soup for dinner. We enjoyed it so much it was gone before I could snap a photo!

Clean Eating $10 Trumpet Mushroom Soup
(Makes approximately 4 servings)
Ingredients:
4 cups chicken broth
1/4 cup fresh chervil, chopped
1/4 cup chopped leeks (white part)
2 medium trumpet mushrooms
1/4 cup light coconut milk
1 tablespoon garlic powder
1 tablespoon onion powder
3 eggs, lightly beaten
Coconut aminos or soy sauce to taste
Directions:
In a medium to large soup pot, combine the broth, chervil, leeks, mushrooms, coconut milk, garlic powder and onion powder.
Stir well to combine and bring to a gentle boil.
When the mushrooms are properly cooked (about 10 minutes, give or take), quickly whisk in the eggs and stir continuously until the eggs are fully cooked (about 2 minutes, give or take)
Add coconut aminos or soy sauce to taste.