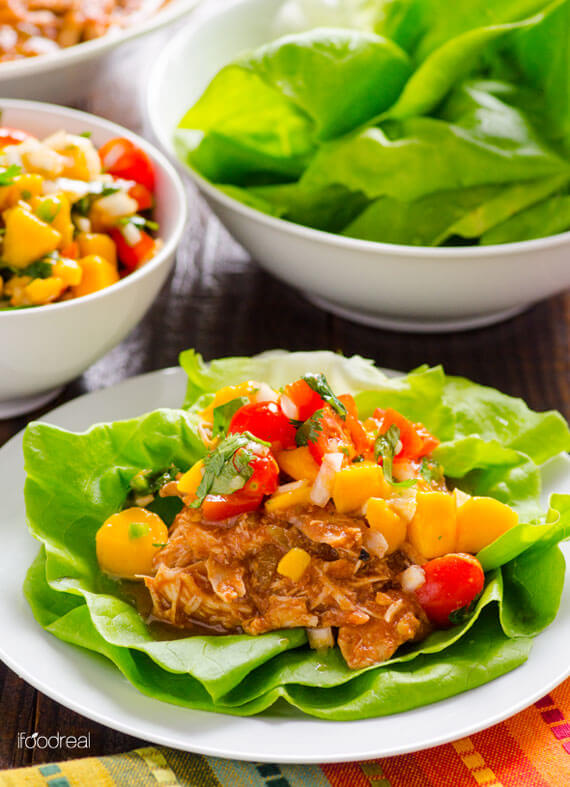 Today I'd like to introduce you to a fabulous, clean eating blogger named Olena. She was kind enough to share her Clean Eating Slow Cooker Mexican Chicken Lettuce Cups with Mango Salsa recipe here so please give her a warm welcome.
Hi guys. My name is Olena and I have a blog with clean and simple recipes – iFOODreal. Originally from Ukraine, I now live in Vancouver, Canada with my husband and 2 little boys. Passionate about clean eating, obviously, and working out while trying to be a super mom and wife. I start to think it isn't possible though…Oh, well.
Just like Tiffany, I create quick and healthy recipes with kids in mind. When Tiffany graciously offered to share one of my summer recipes with you, I immediately thought of a quick dinner. In fact, I always think what to make for dinner, don't you?!
If you think a slow cooker is only for creating cold weather comfort food, think twice. I recently found it to be the best kitchen device for hot summer days – you plug it in outside and come back home to a cool house and a ready healthy dinner.
Like these Mexican Chicken Lettuce Cups with Mango Salsa. Lean chicken slow cooked in a mild sauce with your favourite Latin flavours, scooped in a crisp lettuce cup and topped with sweet Mango Salsa. And don't forget the extra Tabasco sauce or diced jalapeños on top.
And this chicken recipe is highly versatile. For myself, I serve chicken in a lettuce cup but my boys, who do not watch carbs in the evening, love it on a corn or whole wheat tortilla with cheese on top. It's up to you. You could even serve the salsa with tortilla chips at your next summer BBQ party. Any way you decide to serve this dish, I hope you find it easy and delicious, just like I did.
YOU MIGHT ALSO ENJOY:

Crock Pot Mexican Chicken Lettuce Cups with Mango Salsa
Slow Cooker Mexican Chicken Ingredients:
15 oz can tomato sauce
4 oz can diced green chiles OR seeded & deveined fresh jalapeños, chopped
1 tbsp cumin
1 tbsp onion powder
1 tsp salt
1 tsp black pepper, ground
2 lbs chicken breasts, boneless & skinless
1 tbsp cornstarch (optional)
1 head of butter or iceberg lettuce, separated into leaves
Salsa Ingredients:
1 cup grape tomatoes, quartered
1 cup mango, diced
1/4 cup onion, diced
1/4 cup cilantro, chopped
1 large garlic clove, minced
1 tbsp jalapeño peppers, minced (leaves seeds in for hot)
2 tsp lime juice
1/2 tsp cumin
1/4 tsp salt
Tabasco sauce to taste
Directions:
To make Crock Pot Mexican Chicken: Add ingredients through black pepper to a large crock pot and stir to combine. Dunk chicken in the sauce making sure it's somewhat covered. Cover with the lid and cook on Low for 6 hours or on High for 3 hours. Remove chicken on a platter and whisk cornstarch (optional) in the sauce. Shred chicken into strands using two forks, return to the crock pot and stir.
To make Mango Salsa: Add all ingredients in a medium bowl and mix.
To serve: Scoop a heaping 1/2 cup chicken into a lettuce cup, top with 1/4 cup salsa and drizzle extra Tabasco sauce for more heat (optional).
Storage Instructions: Refrigerate chicken for up to 3 days and salsa for up to 24 hours. Both should be kept separately and covered.
Number of servings (yield): 8