I'm a Sticky Rice kinda gal. I don't know why. I grew up with regular rice that you had to eat with a spoon, or you couldn't pick it up. The kind you can eat one grain at a time. Recipes like this clean eating sticky rice recipe were never, ever even on my radar as a kid.
But darn it, these days I like eating my rice with a fork, thank you very much! I'm not sure when it happened, or what caused the change, but I somehow wound up preferring it over the stuff I grew up with.
I was a nanny for a Korean family a few years ago, and the mother taught me how to make rice like this.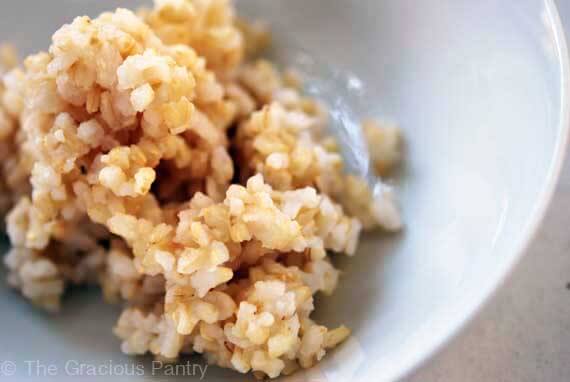 I was all to eager to learn, as I had never been able to figure out the technique, coming from a Germany family and cooking background. So I paid close attention, and I've been making sticky rice ever since!
The great part is, this works on brown rice as well as it works on white! I was absolutely thrilled when I figured that one out!
Now, I should warn you that this technique, while very simple, is a little strange at first. But just go with it. Trust me.
So, okay. Enough gushing about it. Here's the recipe and technique using a rice cooker (Although, I suppose you could do this in a pot as well. Don't know, never tried.)
YOU MIGHT ALSO ENJOY THIS CLEAN EATING RECIPE:

CLEAN EATING STICKY RICE RECIPE: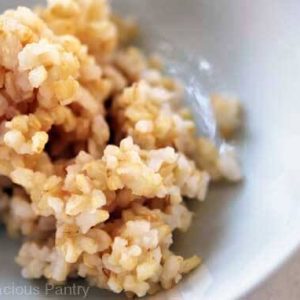 Rice Cooker Sticky Rice Recipe
Perfect for Asian dishes that require a stickier rice, such as homemade sushi.
Print
Pin
Rate
Instructions
Find a heat resistant surface to let your rice cooker cook on.

Pour as much rice into the rice cooker removable bowl as you'd like to make. Keep in mind the rice will turn into a little more than double the amount you initially put in.

Using tap water, at the warmest temperature you can stand to stick your entire hand into (please don't burn yourself!), wash the rice by swirling it around in the bowl. You will notice the water is cloudy.

Drain the water and repeat until the water runs clear when you strain it.

Using your little finger as a guide (unless you have a really tiny pinkie finger, then use your ring finger), fill up the drained rice in the rice cooker bowl with water until it hits your second knuckle on your pinkie finger. Funny, I know. But it works every time.

Important! - When you measure the water using the "finger method", you want the tip of your little finger touching the surface of the rice, NOT the bottom of the bowl. Measure from there.

Make sure your rice cooker bowl is dry on the outside, and place into your rice cooker. Hit the start button, and you'll have lots of wonderful sticky rice when you are finished!

Notes
Nutrition data for this recipe will depend on the amount of rice you make.