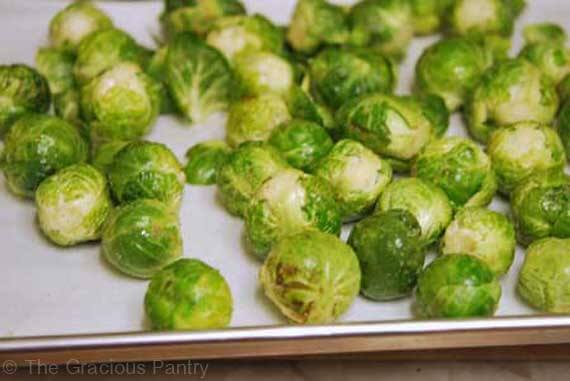 I grew up eating Brussels Sprouts. My grandmother would hear nothing of my protests. So eventually, they grew on me. Especially when coated with a pound of butter and half a container of salt.
But as I grew older, I began to really appreciate the flavor these little guys can bring to a dish.
Now that I'm eating clean, I wanted to come up with a way to prepare them without the pound of butter or gobs of salt.
I found a recipe for grilled brussels sprouts online, and decided to adapt the recipe for my oven.
In truth, I'm not sure if I really adapted it. More like, subtracted it. I subtracted the grill, the Parmesan cheese, and all of the other ingredients listed as optional in the recipe. I also did not add any pepper. There was no rhyme or reason for this, I just left it out cause I was in the mood to. Feel free to add a whole bottle of pepper is that's what you like.
So here's my version of this very simple, very yummy side dish.
YOU MIGHT ALSO ENJOY:
Clean Eating Roasted Brussels Sprouts
(Makes 2 pounds)
Ingredients:

2 pounds fresh brussels sprouts
1 tablespoon olive oil
1 teaspoon onion powder
1 teaspoon garlic powder
1/4 teaspoon celery salt
Directions:

Preheat oven to 350 degrees F.
Place your brussels sprouts in a large colander and wash well. Allow to drip dry for a few minutes.
While the brussels sprouts are still in thecolander, pour your olive oil and spices over them. Swish around in the colander until the brussels sprouts are well coated.
Place your brussels sprouts on a parchment lined cookie sheet. Cover loosely with foil, and place in a preheated oven for about 45 minutes to 1 hour, or until you can easily post the brussels sprouts with a fork.
Nutritional Content:
(Data is for 1/4 of the recipe)
Calories: 91
Total Fat: 4 gm
Saturated Fats: 1 gm
Trans Fats: 0 gm
Cholesterol: 0 gm
Sodium: 179 mg
Carbohydrates: 13 gm
Dietary fiber: 5 gm
Sugars: 3 gm
Protein: 5 gm
Estimated Glycemic Load: 5
PLEASE NOTE: Nutritional Information estimated at Nutritiondata.com. Data may not be accurate and is subject to the availability of specific foods in their database. Where one ingredient is not listed, substitutions must be used. Therefore, you should not refer to this data as being exact. It's more of a ballpark figure. The Gracious Pantry does not take responsibility for the inadequacies of the nutrition calculator used. This data is provided as a courtesy and general reference only. It is not exact.