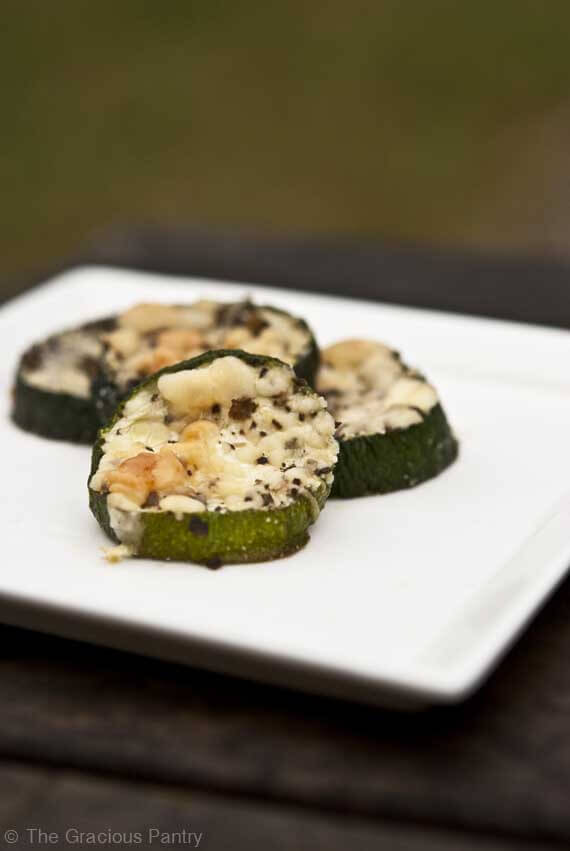 Some recipes are created on a whim, but they become instant favorites that you make again and again. This is one of those.
I don't do dairy any longer, but occasionally, I sneak a taste of something I make for my husband. Of course, then I have a hard time putting it all on his plate because I want to keep it all to myself. But somehow I did managed to part with the majority of this recipe.
It wasn't easy. I can tell you that much.
If you can't find this particular blend of cheese, then just use parmesan. But I can tell you that it's worth looking for. I got mine at Trader Joe's. It goes incredibly well with this recipe.
So if you try this, have a bite for me because I will have to not make this for a while to avoid eating it. Oh how I miss dairy….
YOU MIGHT ALSO ENJOY:

Clean Eating Baked Basil Zucchini
Note: There are no measurements because you can use as much as you want of any of the ingredients.
Ingredients:
Zucchini, washed, trimmed and sliced into 1/2 inch slices
Dried basil
Garlic powder
Parmesan Romano Asiago cheese blend
Directions:
Lightly oil a cookie sheet using an oil mister.
Place zucchini slices on the cookie sheet in a single layer and spray with a light mist of oil.
Sprinkle a generous amount of dried basil and garlic powder over the top of your zucchini, then finish with a light sprinkle of cheese.
Bake in the oven for approximately 30 minutes or until the squash is soft and cooked through.
Allow to cool and serve.