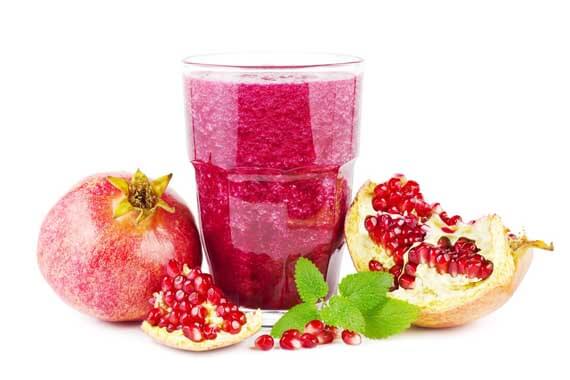 This recipe came from my mom. We've been staying with her a lot lately while I write my next cookbook, and she loves to make healthy smoothies for Mini Chef. (I get the leftovers. Ha!)
This is one of those recipes that grandma makes that just cannot be duplicated. No matter how exactly I follow her recipe, somehow, Mini Chef knows the difference between the ones I make and the ones she makes. It's a mystery I'll never understand. It's just a grandma thing I guess. There's a lot to be said for grandma's cooking (or in this case, blending)!
I love this smoothie for it's balance of healthy carbs and protein. It fills me up and keeps me going!
YOU MIGHT ALSO ENJOY:

Clean Eating Peanut Butter Pomegranate Smoothie
(Makes 2 servings)
Ingredients:
1 generous tablespoon peanut butter
1 cup 100% pomegranate juice, no sugar added
1/2 cup Greek yogurt
1 medium, ripe banana
1 teaspoon pure vanilla extract
1 medium kiwi, peeled
2 tablespoons flax meal (optional)
Directions:
Place all ingredients in a blender and blend until smooth.
Serve.