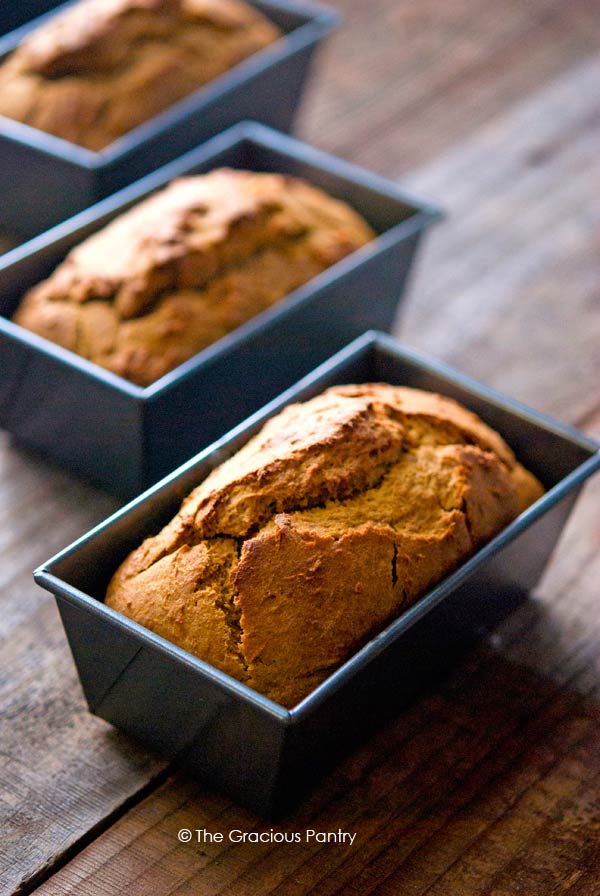 Nothing beats a good sweet bread around the holidays and this delicious loaf is no exception.
You guys know by now that I love to make gifts from my kitchen for friends and family during the holiday season. Nothing says "I love you" more than a handmade/homemade gift. And if that gift is something to eat, it's typically well received to boot!
It's been my experience that people love sweet things this time of year. You see it everywhere!
I remember years ago when I worked as an office temp during the holidays, the break room resembled a bakery instead of a place to rest during the day. And I know that office was not alone. It seemed like every worker there had to bring in treats for everybody else, no matter how much was already there from the day before!
So little treats like this that help you stay on track while still enjoying the flavors of the season are a perfect gift for yourself too!
This recipe from The Gracious Pantry archives. First published 12/11/15.
YOU MIGHT ALSO ENJOY:

Clean Eating Mini Pumpkin Banana Bread Recipe
Author:
Ingredients
4 cups whole wheat pastry flour
2 tsp. ground cinnamon
1/2 tsp. ground ginger
1/4 tsp. ground cloves
1/4 tsp. allspice
1/4 tsp. nutmeg
1/4 tsp. salt
1 1/2 tsp. baking soda
1/3 cup coconut oil
3/4 cup honey
3 large eggs
2 tsp. vanilla extract
1 (15 oz.) can pumpkin puree
2 ripe bananas, smashed
Instructions
In an electric mixer, put the flour, spices, salt and baking soda into the mixer and turn it to it's lowest setting to combine the dry ingredients.
Slowly add each of the remaining ingredients, one at a time, until you have a smooth batter. It sill be slightly thick.
Divide the batter into 4 equal portions using 4 mini loaf pans size 5 3/4 x 3 1/4 x 2 1/4. Place the loaf pans on a baking sheet for easy transfer.
Bake at 350 F. for 55 to 60 minutes. Check at the 50 minute mark. If the tops are getting too brown, simply place a piece of foil loosely over the tops and finish baking. Doing this may add 5 to 10 minute to the baking time.
Transfer pans to a cooling rack for 1 hour. Turn the loaves out onto the cooling rack and allow to cool fully before slicing.