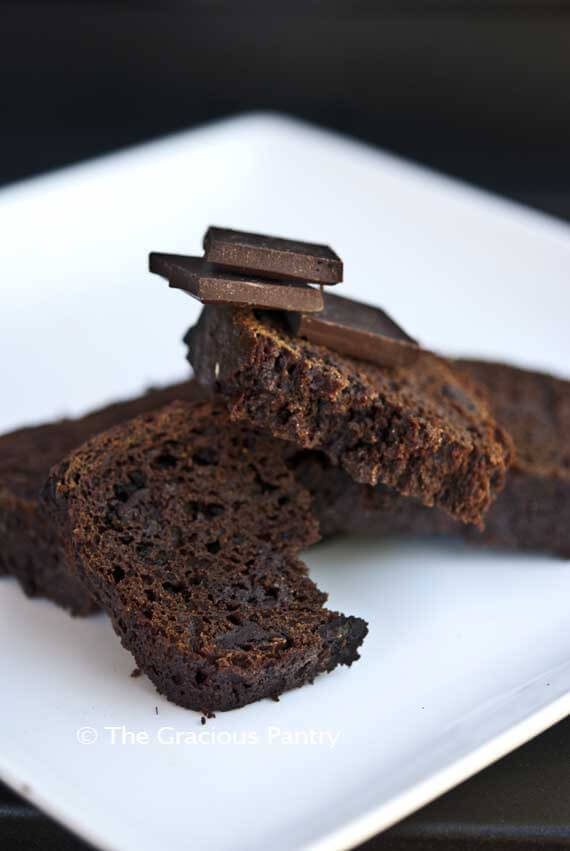 Oh dear. I really need to stop baking. I just love it so much. I should open up my own clean eating bakery. Now THAT's a cool business idea! Of course, I'd NEVER reach my weight loss goal, but at least I'd be in heaven at work every day!
Anyhoo, a Facebook fan asked me if I could redo a recipe from a blog she reads called Carrots N' Cake.
The recipe was for Chocolate Pumpkin Loaf. But it had sugar and white flour in it. Not one to turn down a clean eating baking challenge, I got to work that same evening to see if I could come up with something at least modestly edible.
Not only did I come up with something edible, I came up with something SCRUMPTIOUS!
I have no idea what the original version of the recipe tastes like, but this 100% whole grain and naturally sweetened version is just amazing!
YOU MIGHT ALSO ENJOY:

Clean Eating Chocolate Pumpkin Loaf
(Makes 1 loaf)
Ingredients:
1 1/4 cup whole wheat pastry flour
1/4 cup unsweetened cocoa powder
2 teaspoons baking soda
1/4 teaspoon salt
2 teaspoon ground cinnamon
1/2 teaspoon ground nutmeg
1 cup grain sweetened chocolate chips (non-dairy chips for those avoiding dairy)
1/2 (7.5 ounce) can pumpkin
3/4 cup honey
1 tablespoon molasses
1 whole egg
2 egg whites
1 teaspoon vanilla extract
Directions:
Preheat oven to 350 degrees F.
In a large mixing bowl, whisk together your flour, cocoa powder, baking soda, salt, cinnamon, nutmeg and chocolate chips (basically, all your dry ingredients).
In a second mixing bowl, whisk together your pumpkin, honey, molasses, egg, egg whites and vanilla (basically, all your wet ingredients).
Now, blend the dry mixture into the wet mixture, a little at a time.
Pour the batter into an oiled loaf pan and bake for about 40 minutes or until a cake tester (like a toothpick) comes out clean when you stick it in the middle. If you have to bake it longer than 40 minutes, loosely place a piece of foil over the top so the top doesn't burn. Check every 10 minutes until done.