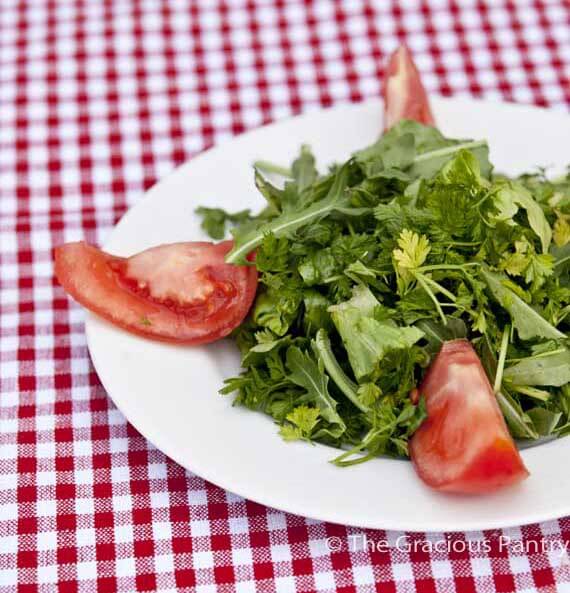 If you are getting tired of your regular old salad mix, try this on for size. This Clean Eating Mesclun Salad has just a hint of peppery-ness, nutty-ness and herby-ness with a big dose of delicious-ness.
According to Wikipedia, Mesclun salad is,
"A salad mix of assorted small, young salad leaves which originated in Provence, France. The traditional mix includes chervil, arugula, leafy lettuces and endive in equal proportions, but in modern iterations may include an undetermined mix of fresh and available lettuces, spinach, arugula (rocket, or roquette), Swiss chard (silver beet), mustard greens (Dijon's Child), endive, dandelion, frisée, mizuna, mâche (lamb's lettuce), radicchio, sorrel, and/or other leaf vegetables."
I'm sort of a traditional girl myself, so I stuck with the original idea. However, chervil was a new herb for me and I actually had to have Whole Foods order it. It's a delicious herb and I fully plan on growing some myself this year. If you can't find it at your local grocer, ask the produce person if they can order it for you. Whole Foods had it there the next morning at 8am sharp! (That's what I call efficient.)
YOU MIGHT ALSO ENJOY:

Clean Eating Mesclun Salad
(Makes 1 serving, although you could divide this into 2 servings)
Ingredients:
1/2 cup chervil
1/2 cup arugula
1/2 cup green leaf lettuce
Dressing to taste (I used this one)
Directions:
Blend everything together in a medium mixing bowl and serve.