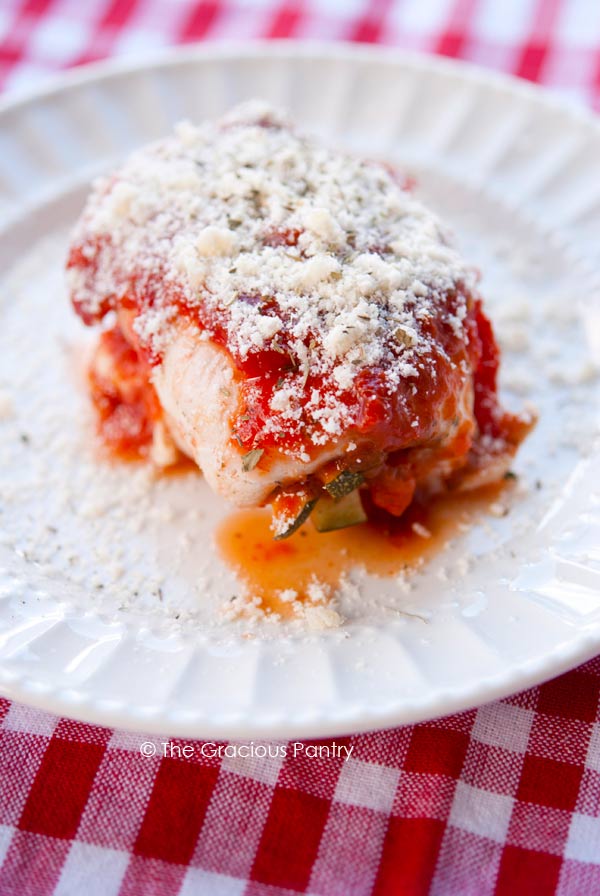 Lets face it. Chicken can be boring. Especially when it's a staple that you eat week in and week out. In fact, it really kind of becomes critical at some point to seek out new recipes if you hope to continue enjoying it on a regular basis.
At least that's been my experience. But the good thing about chicken is that it's incredibly versatile. There's just so much you can do with it!
So while chicken CAN get boring, that doesn't mean it HAS to get boring. Not if you play your cards right. And just to prove it to you, I'm giving you yet another delicious chicken recipe to try out. Serve it with a side of veggies for low carb eating or with a side of whole grain pasta. You could even cut this up and mix it into some leftover spaghetti to give your spaghetti some new life!
YOU MIGHT ALSO ENJOY:
RECIPES USED:

Clean Eating Italian Stuffed Chicken Breasts Recipe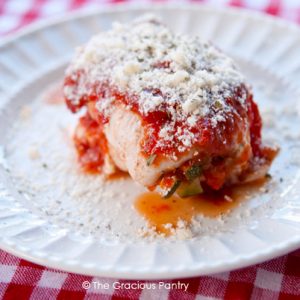 Author:
Tiffany McCauley | The Gracious Pantry.com
Ingredients
2 chicken breasts (about 7 oz. ea.)
½ medium zucchini, cut into "french fry" sticks
1 cup diced tomatoes in juice, no sugar added
2 tsp. Italian Seasoning
2 tsp. garlic powder
¼ cup grated parmesan cheese plus extra if desired
Salt to taste
Instructions
Using a meat mallet, tenderize the chicken breasts until they are no more than a ½ inch thick. If you can get it thinner, that's even better!
At one end of the chicken breast, place a few "zucchini fries" (number will depend on how large you cut them), 1 tablespoon of diced tomatoes, 1 tsp. Italian Seasoning, and 1 tsp. garlic powder and roll it up like a carpet.
Repeat with the second breast.
Place these in a small baking dish, open side down.
Top with remaining diced tomatoes.
Bake at 350 F. for approximately 40-50 minutes or until a thermometer stuck in the center reads at least 165 F. Please make sure this reached the proper internal temperature. Stuffed meats take longer to cook than their unstuffed counterparts.
Top with parmesan cheese and serve.
SLOW COOKER INSTRUCTIONS: Multiply this recipe at least twice to cook in your slow cooker. Three times is better. Basically, the bottom of your slow cooker should be tightly covered with chicken rollups so they don't come unrolled during cooking. Cook on low for 5-7 hours.