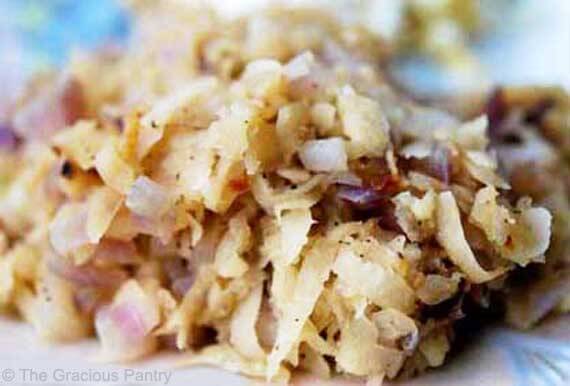 When I started eating clean, one of the things I really missed was hash browns.
Sadly, there is just no way that hash browns fall into the clean eating category.
BUT…….
That doesn't mean you can't still have them.
Confused? Don't be. You see, there is a very simple substitution for those tasty tubers.
Jicama!
While jicama will never be as soft and mooshy as a hash brown gets, the flavor is fabulous. Serve this with a couple of poached eggs and a slice of whole grain bread, and you're in business! Plus, one serving is only a 5 on the glycemic index. Can't say that about potatoes!
Clean Eating Hash Browns
(Makes 4 servings)
Ingredients:
1 large jicama
1/2 large red onion
1 teaspoon garlic powder (optional)
1 tablespoon olive oil
Salt and pepper to taste
Directions:
Find a nice, large, beautiful jicama.
Peel it. You can use a knife or a potato peeler. They peel similarly to an apple.
Grate it on a cheese grater.
Chop your onion.
Put your oil in the pan.
Saute your onions in the oil until they are translucent. Be sure to do this over low to low-medium heat so the oil doesn't cook out completely.
Add your jicama to the pan and cook, covered for about 10-15 minutes. Then remove the lid and cook until the jicama is slightly browned.
Note: You can cook this on low heat until it reaches the texture you prefer. But be aware that it WILL have a tiny bit of crunch to it no matter how much it's cooked.
Nutritional Content:
(Data is for 1/4 of the recipe)
Calories: 157
Total Fat: 4 gm
Saturated Fats: 1 gm
Trans Fats: 0 gm
Cholesterol: 0 mg
Sodium: 15 mg
Carbohydrates: 30 gm
Dietary fiber: 15 gm
Sugars: 7 gm
Protein: 2 gm
Estimated Glycemic Load: 5
Please Note: Nutritional information estimated at Nutritiondata.com. Data may not be accurate and is subject to the availability of specific foods in their database. Where one ingredient is not listed, substitutions must be used. Therefore, you should not refer to this data as being exact. It's more of a ballpark figure. The Gracious Pantry does not take responsibility for the inadequacies of the nutrition calculator used. This data is provided as a courtesy and general reference only. It is not exact.