Cinnamon Raisin Mini Scones Recipe
This post may contain affiliate links. Read my
Privacy Policy.
As an Amazon Associate I earn from qualifying purchases.
These cinnamon raisin mini scones are a delicious, whole grain replacement for store-bought!
I don't use much butter. In fact, I only have a handful of recipes on this site that use it. The main reason is that once I start eating it, I want butter on everything. And I think we all know where that leads. But occasionally, it's definitely called for in a recipe for structure and consistency. Scones are one of those recipes.
This is the first scone recipe I've done here and I have to say that the process was an interesting one. Particularly because I've never actually had a scone myself. ~Gasp!~ And since I'm not eating any grains at the moment, I had to rely on others for taste testing. The general consensus was that they were very good, and definitely scone material. In fact, a friend liked them so much that in the end, I finally took a bite, chewed and spit it back out. No, it's wasn't that bad, I just wanted to take a taste without eating the grains. So there you have it. The down and dirty process of tasting food I'm not eating. Sorry I had to expose you to that…
This recipe was adapted from The Country Cooking of Ireland
cookbook by Coleman Andrews. It's one of those coffee table style cookbooks that tends to impress people when left laying around. You really can't help but pick it up and mill through it, imagining how the foods in all those amazing pictures must actually taste. Simply put, this book makes you want to cook (and eat!).
NOTE: I used a mini scone pan. But if you don't have one, you can also use a parchment lined cookie sheet and simply form these into slightly flattened balls.
TRIP UPDATE:
Today we spent the majority of the day in town. My Mama hadn't been to the downtown shops here in Cobh yet, so we enjoyed the day and the occasional downpour here as we went from shop to shop. The green Centra sign on the right above the red car is where we did our grocery shopping. The food seems to spoil here a lot faster (fewer pesticides?), so our trips to the Centra store are frequent.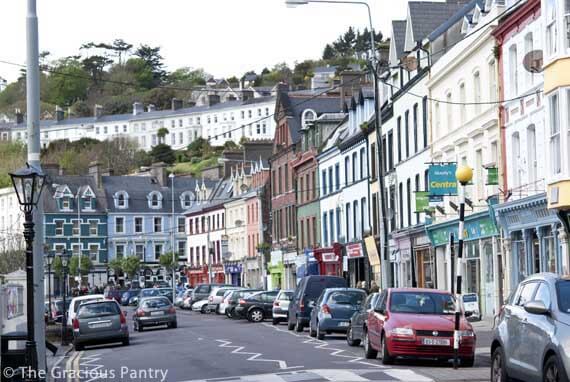 We also took a train tour through town which was very informative on the history of this town. So much so, that it's nearly impossible to remember it all. I do remember that we passed the house of the doctor who was Napoleon's personal physician. And we got to stop at St. Coleman's Cathedral. An impressive church which can be seen from nearly all of the downtown area.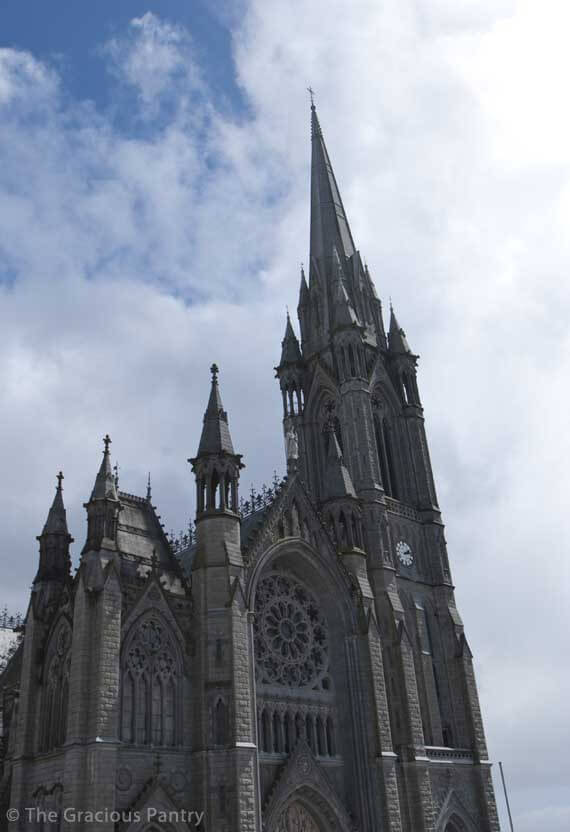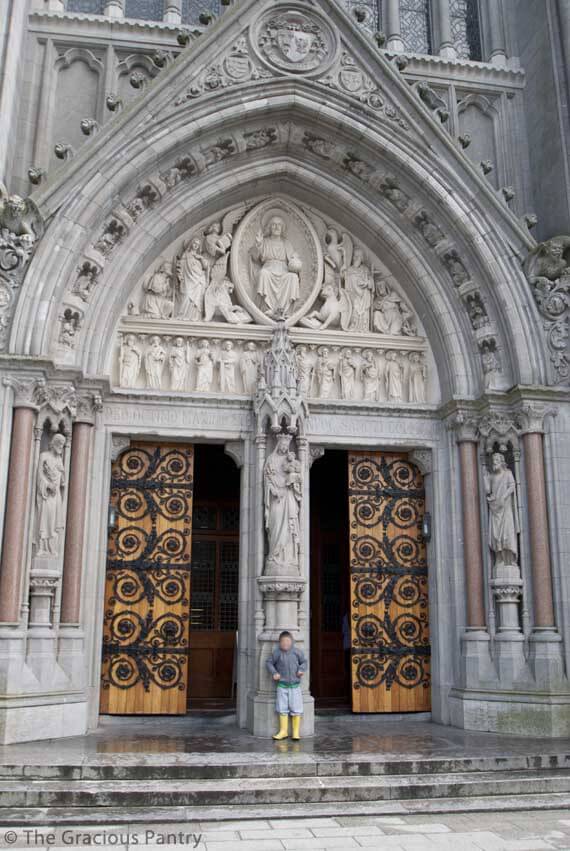 We also learned a lot about the Titanic. In fact, we were so inspired by what we learned that we decided to also visit what's called, the Titanic Experience.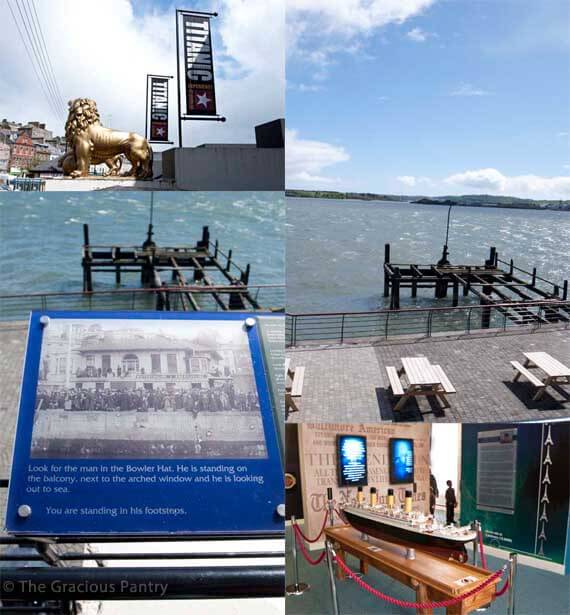 The broken down pier you see above is the actual pier that third class passengers walked along to board the smaller boat that took them to their own, separate entrance on the Titanic which was docked not too far away.
The black and white photo is the building I was standing in when I took that photo. If you can read the sign, we were standing in the same spot that man on the balcony is standing in (just to the left of the window). Kind of a strange feeling…
We got to see replicas of the rooms in the Titanic. Pretty impressive, even by today's standards!
On the way back, we got caught in a downpour again. But around here, it seems the rain only lasts for a minute or two. Long enough to hide in a doorway, and then be on your way.
YOU MIGHT ALSO ENJOY:

CINNAMON RAISIN MINI SCONES RECIPE:
Ingredients
3

cups

whole wheat pastry flour

½

cup

sucanat

(coconut sugar works too)

2

tsp.

baking soda

2

tsp.

ground cinnamon

½

cup

unsalted butter

(softened to room temperature)

½

cup

raisins

¾

cup

milk

1

large

egg
Instructions
In a large mixing bowl, whisk together the flour, sucanat, baking soda and cinnamon.

Add the butter to your flour and using your hands, really work it into the flour. Take your time with this as it does make a different. You have to rub the butter in. Pretend you're giving the flour a good massage with a bottle of massage oil. Okay, now come back to reality.

Once the flour is ready, mix in the raisins, egg and milk. You can stir this with a wooden spoon, but I quickly gave up on that idea and just used my hands. This should be like a sticky, soft cookie dough when it's done.

Divide the dough into 13 equal pieces and either press them into your scone pan, or form them into balls and flatten them just slightly on the cookie sheet.

Bake for 11-13 minutes or until golden brown and until a knife inserted into one of them pulls out clean.

NOTE: The original recipe called for brushing the scones with egg wash just prior to baking. I omitted this step and they seemed to be fine. But for die-hard scone enthusiasts, you may want to use the egg wash.
Notes
Please note that the nutrition data given here is a ballpark figure. Exact data is not possible.
Nutrition
Serving:
1
scone
|
Calories:
220
kcal
|
Carbohydrates:
33
g
|
Protein:
5
g
|
Fat:
9
g
|
Saturated Fat:
5
g
|
Cholesterol:
34
mg
|
Sodium:
183
mg
|
Potassium:
174
mg
|
Fiber:
4
g
|
Sugar:
8
g
|
Vitamin A:
262
IU
|
Vitamin C:
1
mg
|
Calcium:
40
mg
|
Iron:
1
mg