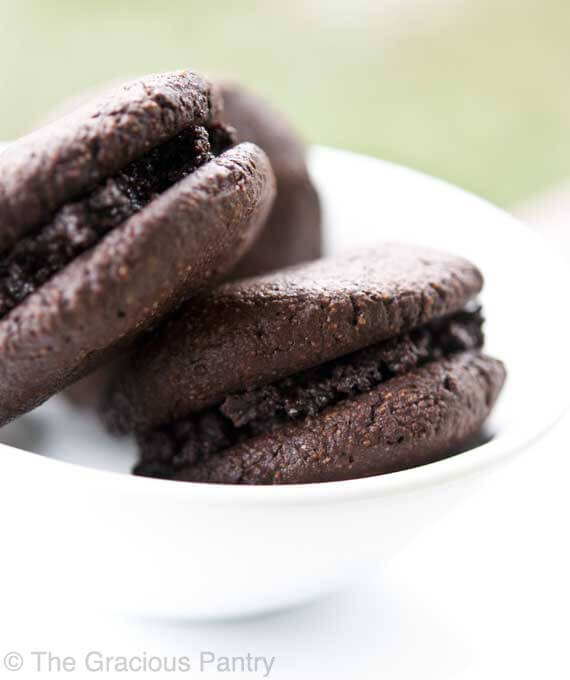 Before I ate clean, Oreos were a foundation stone of my diet. I mean, who doesn't love those things?? But being the chemical storms that they are, I did eventually, begrudgingly give them up. But…
I recently found a pin on Pinterest for these amazing looking, homemade Oreo cookies. Something about that photo just really called out to my sweet tooth. But since I've recently given up grains and dairy, I had to get a little creative.
You see, there are few things that will stand in the way of a girl and her love for Oreos. And while these don't have the exact flavor of an Oreo, they certainly come close enough to satisfy the craving.
I have to say that it's a little hard to admit that I still crave Oreos after 3 years of not having them. I mean, how long can one craving possibly hang on??? But I suppose if I can't give in to a 3 year craving just this once, then there is something significantly wrong with my eating plan. We all need a treat on occasion, and I'm happy to say that, at the very least, these are a much more nutritious (albeit higher in fat) choice to treat myself with.
YOU MIGHT ALSO ENJOY:

Clean Eating "Oreo" Cookies
(Makes 16 cookies or 8 sandwiches)
Cookie Ingredients:
8 ounces slivered almonds made into almond flour
1 cup unsweetened cocoa powder
1/3 cups honey or maple syrup (I used maple syrup)
1/3 cup solid coconut oil or organic butter (I used coconut oil)
1 large egg
1 teaspoon vanilla extract
Filling Ingredients:
1/4 cup solid coconut oil or butter
1/3 cup unsweetened cocoa powder
3 tablespoons maple syrup
1 teaspoons pure vanilla extract
Directions:
In a large mixing bowl, whisk together the almond flour and cocoa powder.
Pour in the honey, coconut oil, egg and vanilla extract and blend will with a wooden spoon.
Using your hands, form walnut sized balls of dough. Flatten them on the cookie sheet. They will not spread or rise during baking, so the shape you create is the shape you end up with after baking. The dough can be a little sticky…

Bake at 350 F. for about 15-20 minutes, or until completely cooked through.
While the cookies bake, mix all the filling ingredients together in a food processor or using an immersion blender.
Allow the cookies to cool after baking and then create your sandwiches using the filling.
NOTE: You can adjust the thickness of the filling by using more or less cocoa powder. Just keep in mind that as it sits, it will thicken more. It takes a few minutes for the cocoa powder to really absorb the liquid.