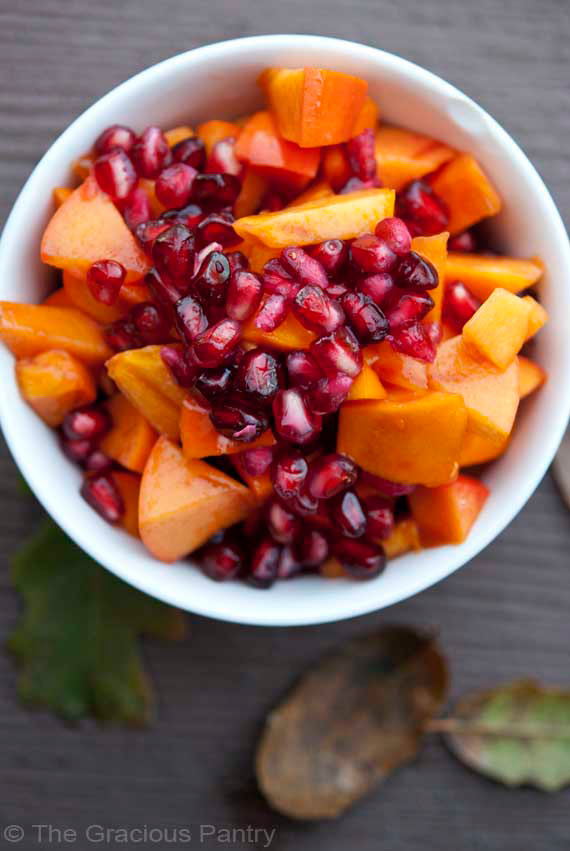 Persimmons and pomegranates were simply born to be eaten together. They are a pairing like no other and every year I look forward to making this salad. It's truly an explosion of sweet deliciousness. The tart sweetness from the pomegranate really plays up the milder flavors of the persimmons.
If your fruit is very sweet and ripe, the lemon juice adds a fantastic accent to this salad. But if they are less sweet, it's probably best to leave it out. Use your judgement here. Either way, this simple combination of flavors will not be a disappointment.
Please know that this salad must be eaten shortly after it is made. It will not last overnight, even in the fridge. The persimmons brown very quickly. So if you don't think you can eat all of this, cut the recipe in half or even quarter it. Adjust it to how much you think you can eat the same day. Enjoy!
YOU MIGHT ALSO ENJOY:
HOW TO DE-SEED A POMEGRANATE IN UNDER A MINUTE!!

Clean Eating Winter Harvest Fruit Salad
(Makes 5 servings)
Ingredients:
4 cups chopped persimmons
2 cup pomegranate seeds
Juice of 1/2 lemon
Directions:
Combine all ingredients in a mixing bowl. Mix well and serve.