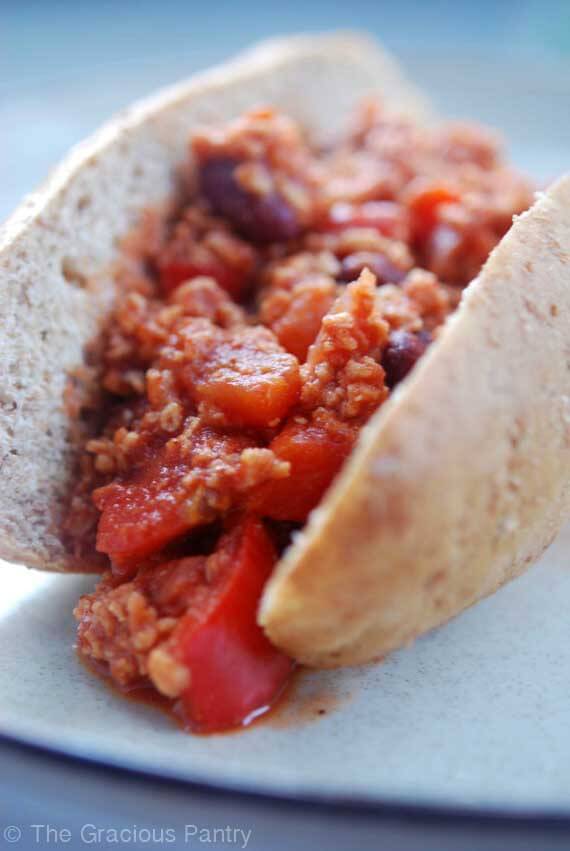 Do you know I've never had a chili dog?
I'm not sure if I grew up under a rock, or if it's because I've never been to a live sports event (~gasp!), but I never had one until I decided to make them tonight for dinner.
I don't know where the wild hair came from, but suddenly, it sounded good.
The funny thing is, I served it to my husband with the grand and prideful announcement that I had made chili dogs for dinner. He was really excited until I put the plate in front of him. The first and only thing that came out of his mouth was… "Where are the dog"? (I think he's had them before.)
I guess chili dogs are supposed to have hot dogs under that mound of chili. Silly me. But we ate them up and practically licked our plates anyway.
If you can find a good source for a low-fat and clean hot dog of some sort, feel free to add it. But I must say, these are good as they are. Even if it is just chili in a hot dog bun!
And if you're feeling really adventuresome, put this in a hamburger bun and you've got sloppy joes, or put it in a bowl and call it……
wait for it….
Chili!!
Am I creative, or what?
Don't answer that.
Clean Eating Chili Dogs
(Make approximately 12 cups of chili)
Ingredients:

2 red bell peppers
1 red onion
6 cloves garlic
3 tablespoons cumin
2 tablespoons chili powder
1 (28 ounce) can stewed tomatoes
3 (15 ounce) cans tomato sauce, no sugar added, low or no sodium is best
1 cup veggie stock
1 tablespoon olive oil
1 (10 ounce) package TVP (textured vegetable protein) or lean, ground turkey meat
1 (15 ounce) can kidney beans
Directions:

Wash, clean and chop your bell peppers, onion, and garlic. Put them in a pan with olive oil on medium heat and cook until onions are translucent.
In a large pot, combine the rest of the ingredients and place over medium heat.
When the onion mixture is done, add it to the pot. Once the entire thing is warmed through, you're finished!
Note: One word of caution, stir the pot frequently. With all that TVP soaking up the liquids, it can burn very quickly.
Nutritional Content:
(Data is for 1 cup chili. I did not include the hot dog bun in this because the nutritional values will differ depending on what you buy. I purchase a whole wheat, no sugar bun from my local health food store.)
Calories: 171
Total Fat: 2 gm
Saturated Fats: 1 gm
Trans Fats: 0 gm
Cholesterol: 0 gm
Sodium: 504 mg – This will depend on the broth you use.
Carbohydrates: 25 gm
Dietary fiber: 8 gm
Sugars: 9 gm
Protein: 15 gm
Estimated Glycemic Load: 8
PLEASE NOTE: Nutritional Information estimated at Nutritiondata.com. Data may not be accurate and is subject to the availability of specific foods in their database. Where one ingredient is not listed, substitutions must be used. Therefore, you should not refer to this data as being exact. It's more of a ballpark figure. The Gracious Pantry does not take responsibility for the inadequacies of the nutrition calculator used. This data is provided as a courtesy and general reference only. It is not exact.