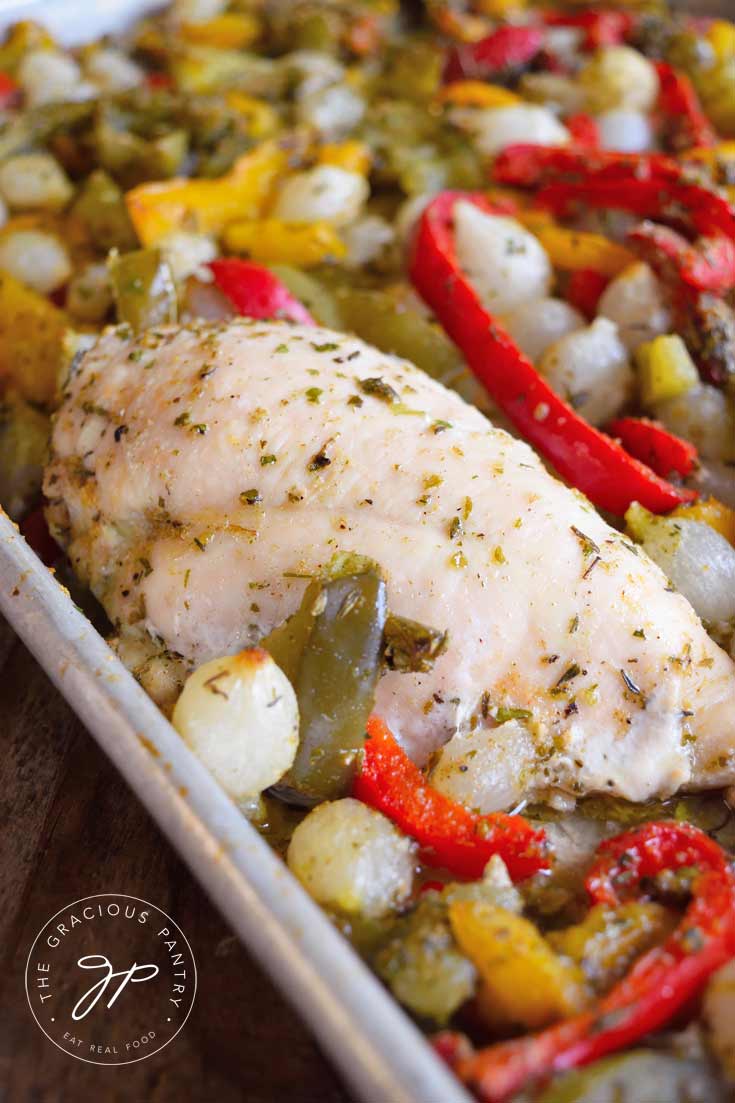 This dish may not look like much, but it's honestly one of the tastiest sheet pan dinners I've done to date. It totally qualifies as clean eating, has a good solid flavor and tons of veggies! What's not to like?
These sheet pan dinners I've been doing lately have been so much fun! And who doesn't love minimal cleanup after dinner? You can easily cut this in half for one person or multiply it as many times as you need to serve more people. Stash it in your freezer for busy weeknights when life is hectic and you don't want to do a ton of cooking. I mean, 5 minutes to put this together for the freezer? We all have 5 minutes on the weekend at some point. So get busy and stock up! It just makes life so much easier…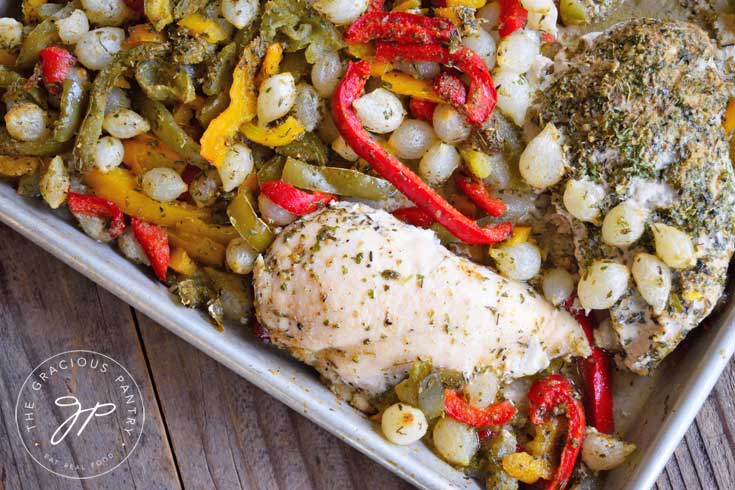 NEED A GOOD SHEET PAN?
This Nordic Ware Half Sheet is very similar to what I have and use. (I got mine at a local restaurant supply store.)
 It's perfect for this type of recipe!

WANT TO SEE THIS RECIPE IN ACTION? PRESS PLAY!
LIKE THESE CLEAN EATING SHEET PAN RECIPES?
Find more sheet pan dinners here!

Clean Eating Chicken And Peppers Sheet Pan Dinner Recipe
Author:
Please note that roasting times can vary based on the thickness of the chicken breasts as well as oven by oven. Please use a meat thermometer to ensure your food is properly cooked.
Ingredients
1 (12 oz.) package frozen pearl onions
1 (14 oz.) package frozen tri-colored bell peppers
2 frozen chicken breasts
1 tbsp. garlic powder
1 tsp. dried oregano
1 tbsp. dried parsley
1 tsp. ground black pepper
2 tsp. ground rosemary
2 tsp. dried thyme
Oil for cooking
Instructions
Combine all ingredients in a 1 gallon zipper top freezer bag, toss to combine and freeze for up to 4 months.
When ready to make, preheat oven to 350 F.
Open the zipper top bag and add oil (I used 1/3 cup). Close it back up and toss to coat.
Pour the contents out onto a sheet pan and bake for 1 hour or until chicken reaches at least 165 F. on a meat thermometer.
Cool slightly and serve.