This post may contain affiliate links. Read my
Privacy Policy.
As an Amazon Associate I earn from qualifying purchases.
These buckwheat waffles are both filling and satisfying!
Buckwheat has a very particular flavor, and that flavor is totally yummy in waffles or pancakes. I've even used it to make crepes! But it is a different animal to work with from regular, whole grain flour.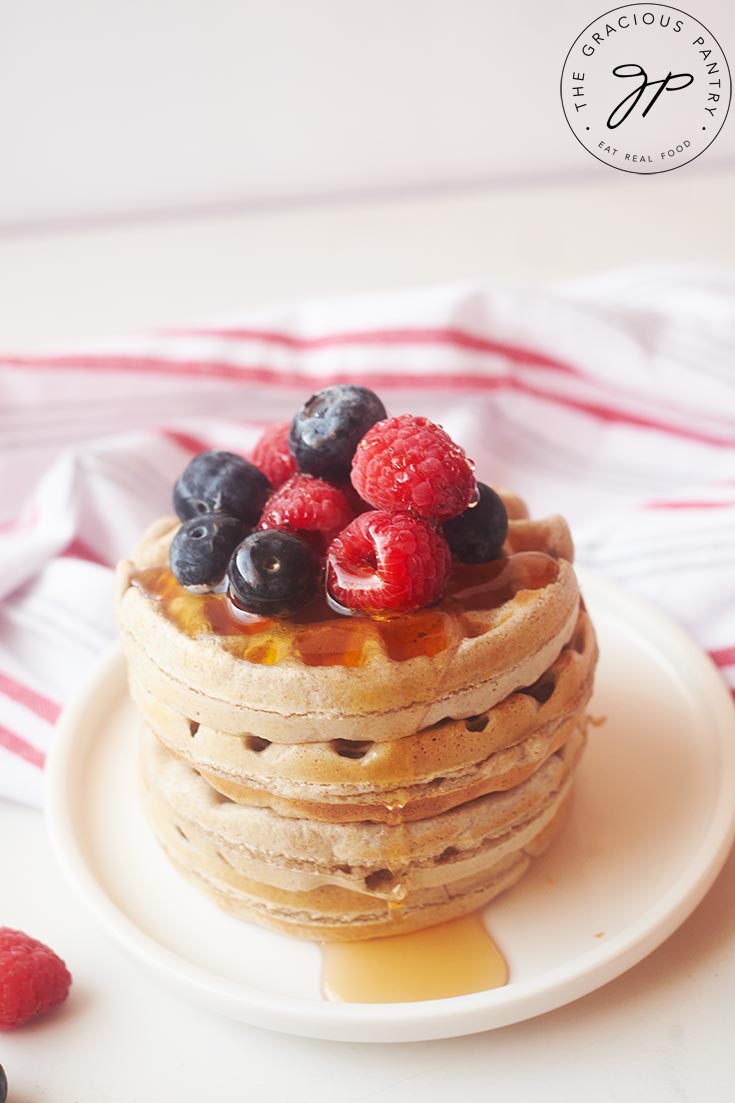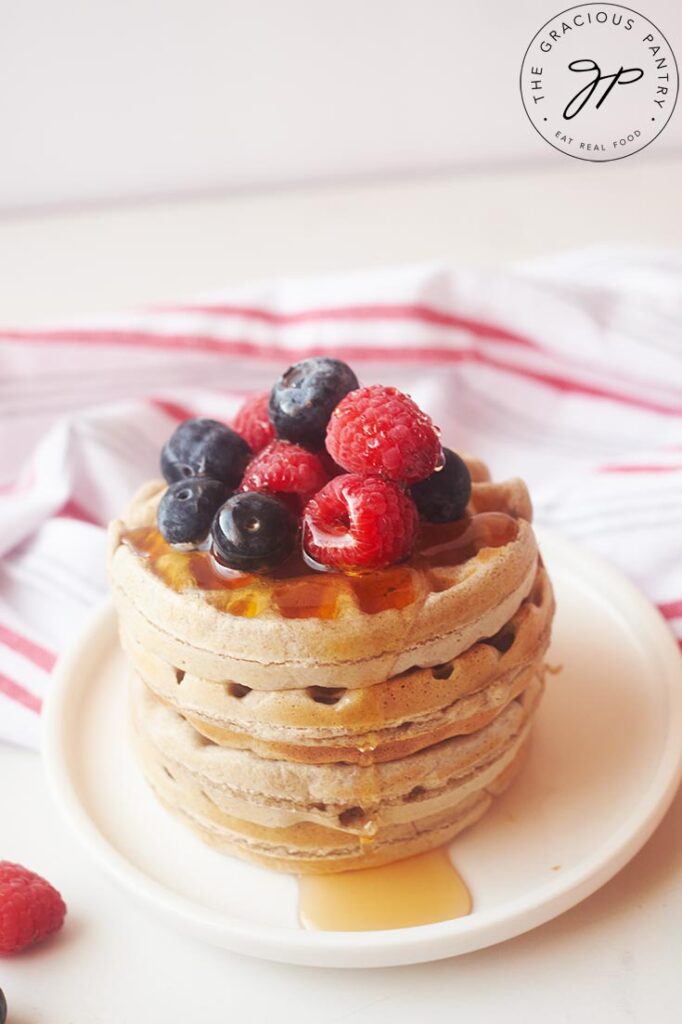 What Is Buckwheat?
Contrary to its name, buckwheat is not related to wheat at all. It's not a grass, but rather a seed and is, therefore, gluten-free. It's often grown as a cover crop and is actually related to rhubarb. It was first cultivated in southeast Asia.
How Do You Use Buckwheat?
Like many flours, there is a lot you can do with it. It makes great waffles or pancakes when ground into flour, but you can also buy the whole seeds to cook much like you would rice or teff. The seeds can also be used to crust bread like you would with sesame or poppy seeds.
Are These Buckwheat Waffles Vegan?
Yes!! These are vegan buckwheat waffles! Believe it or not, these waffles come together just fine without any egg at all. So they are naturally vegan!
Why Are My Waffles Coming Out Soggy?
Thankfully, this is a simple fix. This is all about the temperature of your waffle iron. If it's not cooking at a high enough temperature, the steam from the liquid in the waffles will collect in the waffle maker instead of "burning" off. Simply turn up the heat!
What Are The Health Benefits Of Buckwheat Flour?
Buckwheat contains rutin, which is a type of phytonutrient and antioxidant. This has been known to aid in stabilizing blood sugar and even helps reduce cholesterol levels.
Buckwheat contains lots of fiber, and we all know how good fiber is for us!
Like quinoa, buckwheat is a complete protein. It contains more than the 9 amino acids found in meat!
Thanks to the antioxidants buckwheat contains, it may help fight certain types of cancer as well.
What Can I Use Buckwheat Flour For?
You can use buckwheat in much the same way you would use regular flour! While it contains no gluten (unless it is processed at a plant that also processes wheat), it can be substituted in a 1:1 ratio with all-purpose flour or whole wheat pastry flour.
That being said, do keep in mind that it is gluten-free. If you really need to get a rise out of something you are baking (like a cake), this won't work. You are better off using this for things like:
pancakes
waffles
pizza crust
cookies.
Things that don't need to rise very high.
What is the best overall substitute for buckwheat flour in a recipe? Oat flour!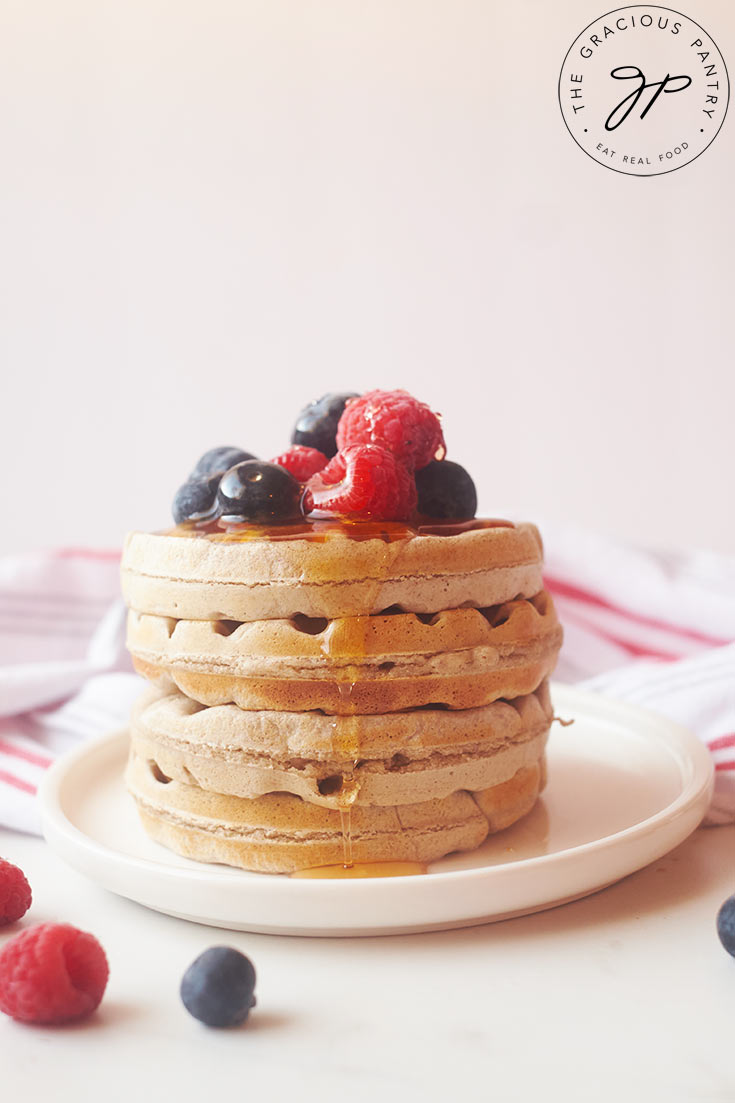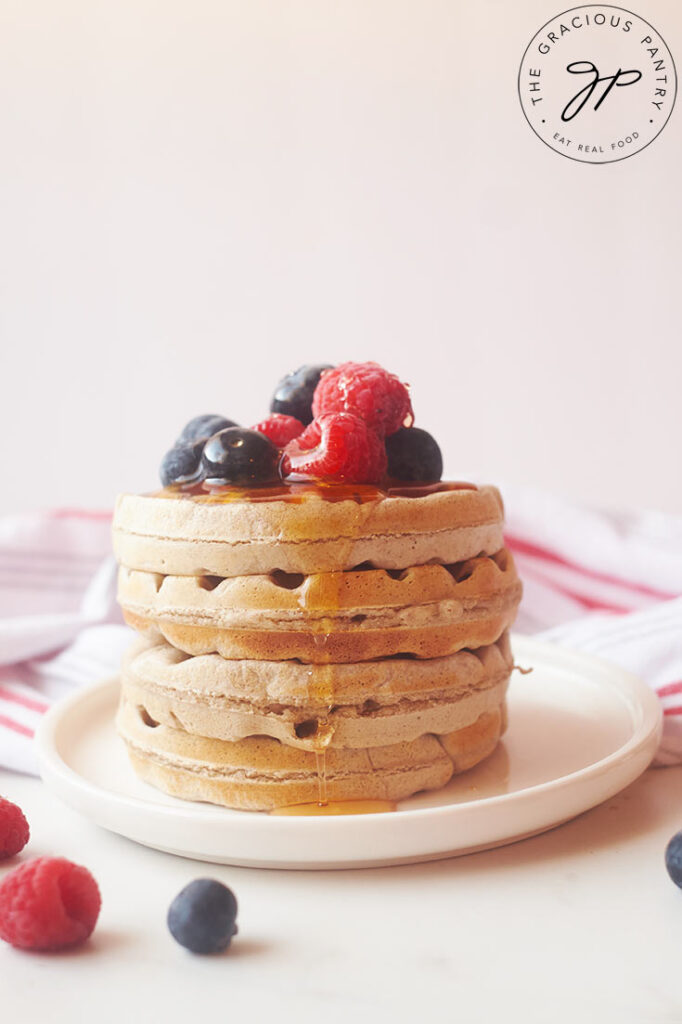 How To Serve These Waffles
These are delicious with some maple syrup and nut butter. I make a big batch and freeze them. When I'm ready to eat them, I just pop them in the toaster for a fast, tasty, and nutritious breakfast!
The Color Of Buckwheat
Like maple syrup, buckwheat ranges in color. All shades of this flour have the same flavor. The only difference is the color itself. You can see here below how different the colors can be. But both colors taste the same. The difference is that the flour of the lighter color is ground from hulled buckwheat, while the darker color is ground from unhulled buckwheat.
I will say, through experience, the lighter-colored buckwheat tends to lend itself to a lighter, "fluffier" result in things like waffles. You can see the slight difference in height between the two photos here. They still rise, but the darker waffles are not quite as tall. Some of that is due to the waffle maker, but the lighter flour does tend to result in a slightly lighter texture as well. Kind of like the difference between something made with whole wheat flour or whole wheat pastry flour. Again, that's just my personal experience talking. Other folks may have a different experience.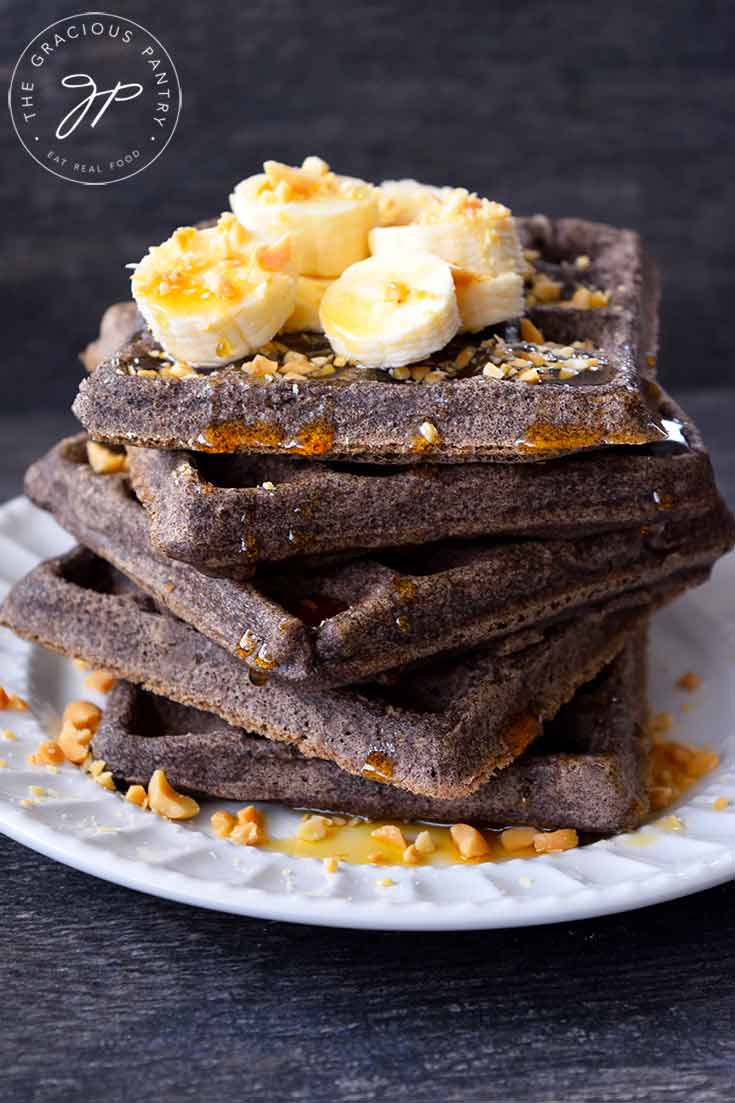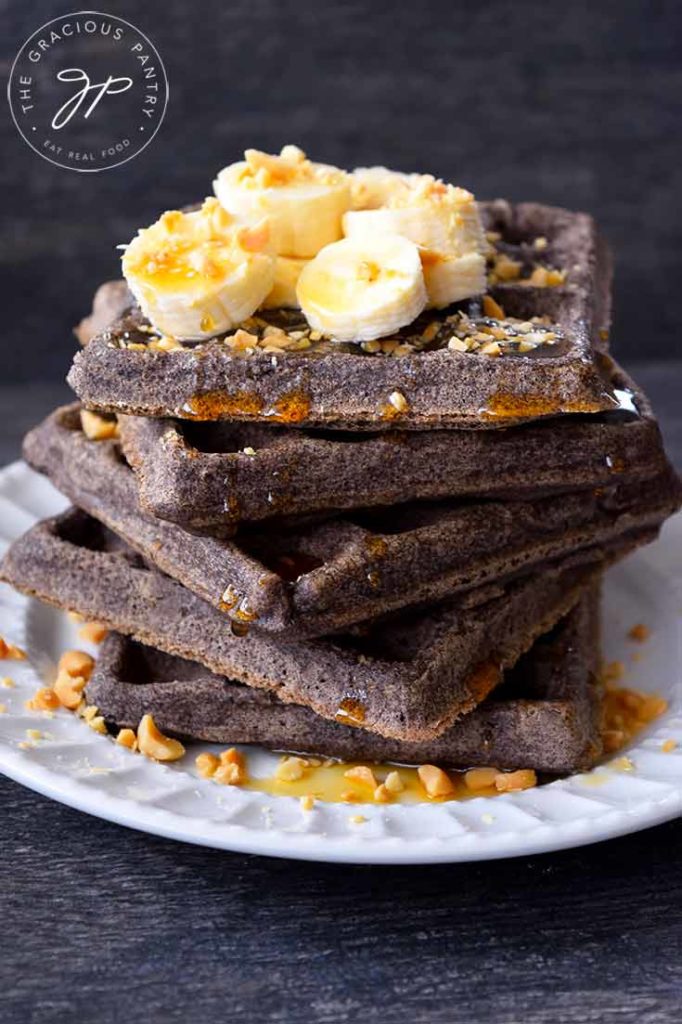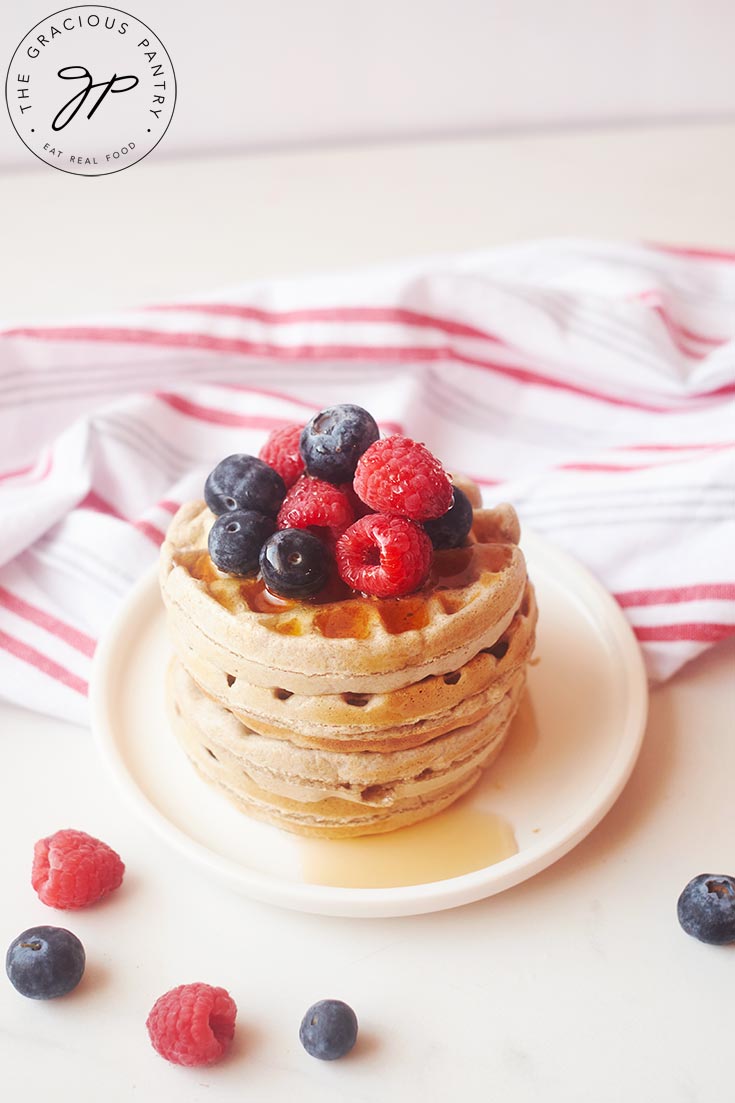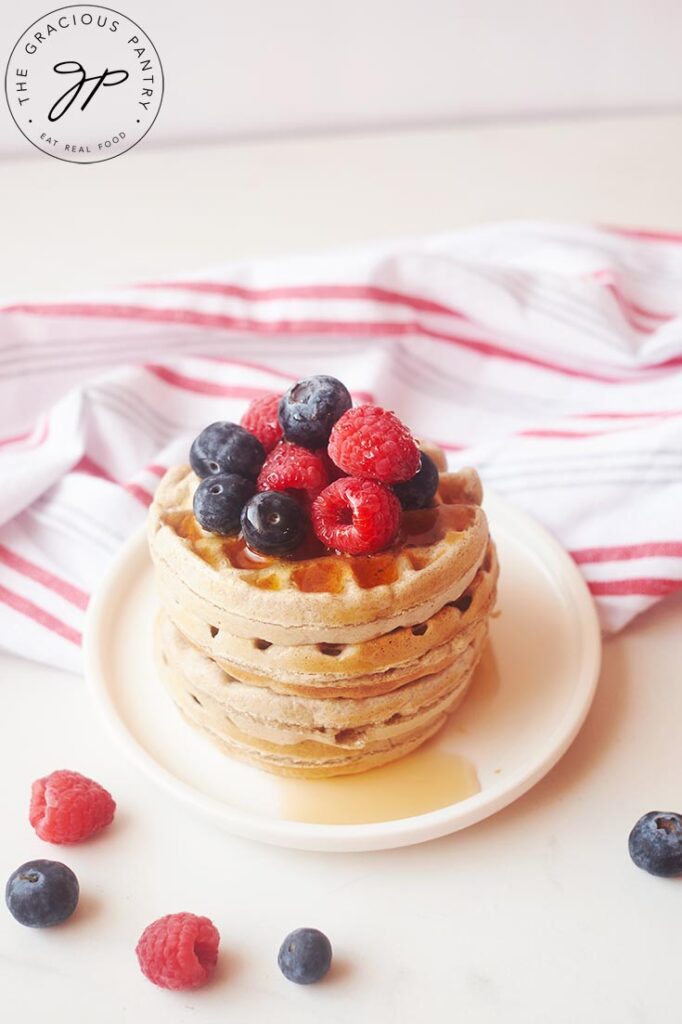 Waffle Topping Ideas
Coconut sugar
Ground cinnamon
Sliced banana
Almond butter
Peanut butter
Fresh berries
Honey
Chopped nuts
Seeds such as flaxseed, chia seed (in the batter), sunflower, or pumpkin seeds for toppings.
Maple syrup
Fresh melon balls
Ice cream – for dessert
Chicken and gravy (for chicken and waffles)
What Are Buckwheat Waffles Made Of?
Let's take a look at the ingredients! (Print recipe from recipe card below)
Buckwheat flour – Again, the color doesn't matter here.
Unsweetened almond milk – or more if needed for consistency. You can use regular dairy milk or even buttermilk if you prefer.
Baking powder – Make sure it's on the newer side, or your waffles won't rise very much.
Vanilla extract – The real stuff, not vanilla flavoring.
Salt – I used pink Himalayan salt. But you can use whatever salt you normally cook or bake with.
If you want to oil your waffle maker, use an oil sprayer with a healthy oil in it. Avocado oil is great with higher heat. Coconut oil is another favorite, though the smoke point is lower.
How To Make Buckwheat Waffles
In a large bowl, combine the wet ingredients and dry ingredients using a whisk. Whisk until you have a thick, smooth batter. It should be roughly the consistency of a thin pudding.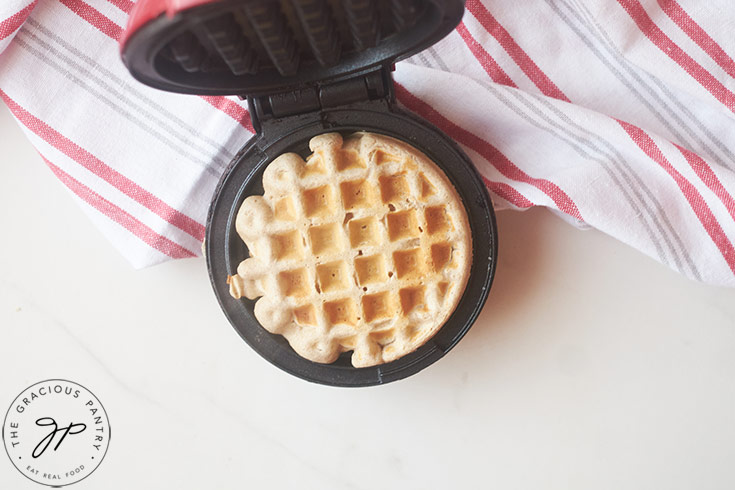 Using a ladle, pour some of the mixture onto an oiled waffle maker and cook to appliance directions.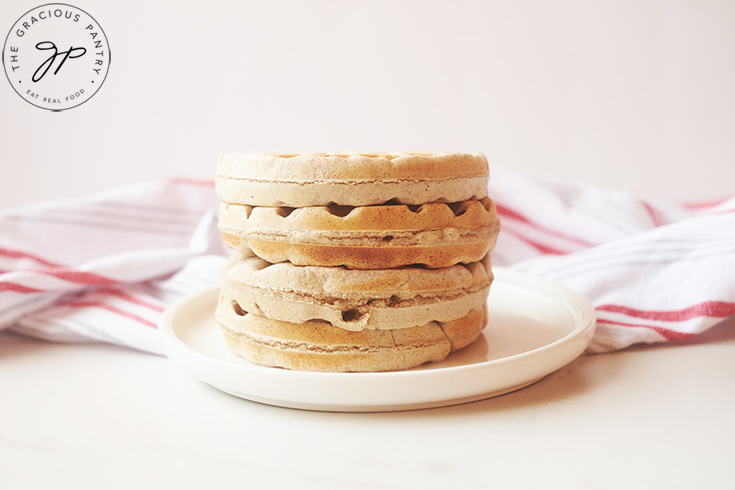 Serve immediately or freeze to enjoy later.
How To Store Buckwheat Waffles
If kept in an airtight container, these will keep for up to 3 days in the fridge. They are, however, best right after making them. They will become less crisp on the outside in the fridge.
How To Freeze Buckwheat Waffles
Consider either putting a piece of parchment between each waffle or freeze them in a single layer before transferring them to a container. If properly packaged, these will freeze quite well for up to 4 months.
How To Reheat Buckwheat Waffles
From Fridge – Pop these in a toaster, or warm them in an oiled skillet.
From Freezer – You can simply pop these in the toaster straight from the freezer!
Recipe Supplies
For this recipe, you'll need a waffle maker, a mixing bowl, ladle, whisk, buckwheat flour, and real vanilla extract, among other ingredients. To purchase these through Amazon, simply click on the image below to be taken to that product on Amazon. (Affiliate link)
More Buckwheat Recipes
I am sadly lacking in buckwheat recipes but hope to rectify this in the near future. However, I do have this buckwheat crepes recipe, and boy, are they delish! You can stuff them with just about anything!
You can also give one of these a try from other bloggers:
SUBSCRIBE
Remember to subscribe to my free, Gracious Pantry Newsletter to receive all my latest recipes in your inbox! Click here to sign up!
More Healthy Waffle Recipes
Buckwheat Waffles Recipe Card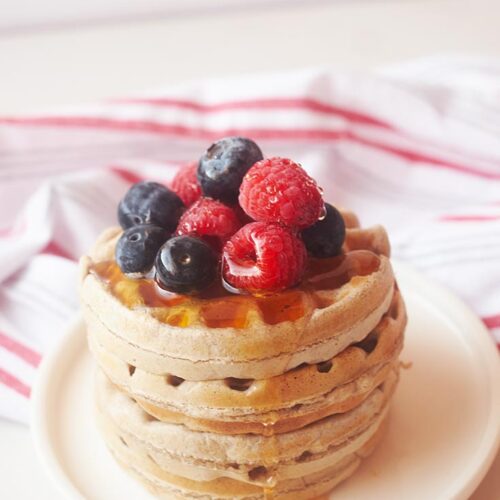 Buckwheat Waffles
A delicious alternative to regular waffles. Note that the size of your waffle maker may affect the final recipe yield.
Print
Pin
Rate
Add to Collection
Go to Collections
Servings:
16
standard waffles
Ingredients
4

cups

buckwheat flour

3

cups

unsweetened almond milk

(or more if needed)

1

tbsp.

baking powder

2

tsp.

pure vanilla extract

¼

tsp.

salt
Instructions
In a large mixing bowl, combine all the ingredients using a whisk. Whisk until you have a thick, smooth batter. It should be roughly the consistency of a thin pudding.

Ladle some batter onto an oiled waffle maker and cook to appliance directions.

Serve immediately or freeze to enjoy later.
Notes
Please note that the nutrition data given here is a ballpark figure. Exact data is not possible.
Nutrition
Serving:
1
waffle
|
Calories:
109
kcal
|
Carbohydrates:
22
g
|
Protein:
4
g
|
Fat:
1
g
|
Saturated Fat:
1
g
|
Polyunsaturated Fat:
1
g
|
Monounsaturated Fat:
1
g
|
Sodium:
101
mg
|
Potassium:
250
mg
|
Fiber:
3
g
|
Sugar:
1
g
|
Calcium:
101
mg
|
Iron:
1
mg
Recipe from the Gracious Pantry® archives, originally posted 3/10/19.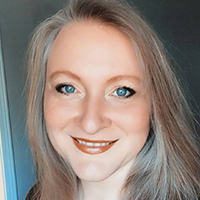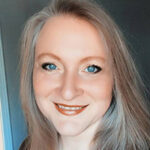 I'm Tiffany, a writer for MSN and the AP Newswire, a cookbook author, digital publisher, food lover, and mom. I create healthy, clean eating recipes for everyday living.