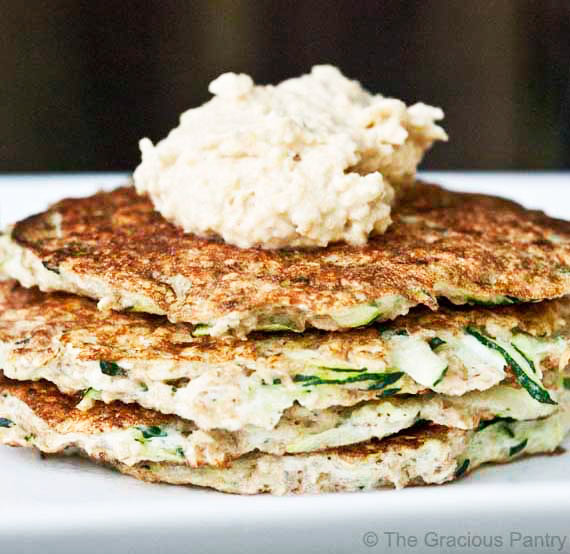 These are definitely not your traditional zucchini fritter. They are lighter (both in calories and in fat), but still really fill you up and keep you going.
This recipe is a simple twist I did on my protein pancake recipe.
While I love protein pancakes (I eat them nearly every morning now), sometimes a little variety is in order to keep things interesting. If there's one thing I can't stand in life, it's being bored. Drives me nuts. And when boredom applies to the food I'm eating, I know I'm in for a downfall pretty quickly. So I rely on variety to keep me on track.
I think I'll be trying more variations on this recipe in the future. I just love my protein pancakes. Nothing starts my day better!
YOU MIGHT ALSO ENJOY:

Clean Eating Breakfast Zucchini Fritters
(Makes about 4 fritters)
Ingredients:
6 egg whites
1/2 cup raw quick oats
1 small zucchini, grated
Hummus
Oil of choice
Directions:
Combine the egg whites, oats and zucchini in a mixing bowl and mix until well combines.
Spray or coat a non-stick pan with a light layer of oil and ladle the pancake mix onto the pan as you would a regular pancake.
Note: Watch the heat on these. You may need to keep it closer to medium and allow these to cook longer. You want the eggs to cook completely without letting the pancake burn. Adjust accordingly.
Remove pancakes from the pan when cooked through and top with a bit of hummus (guacamole is a nice topping as well!).