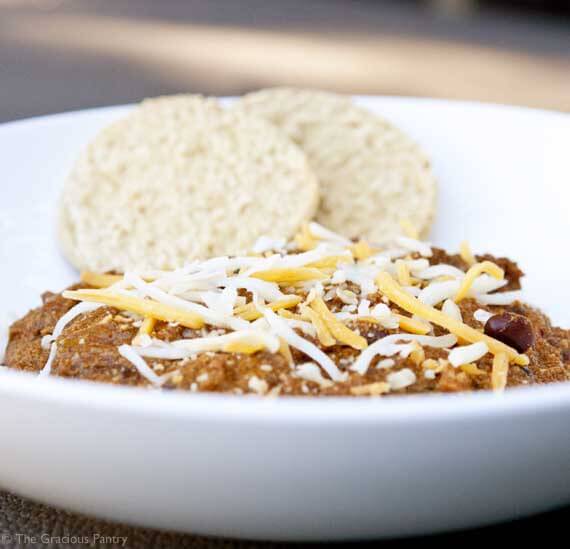 I'm not sure where the idea for this recipe came from. Maybe I saw something about it on the internet, or maybe it's this fall weather we're having in September that got me thinking about pumpkins. Either way, I fell in love with the idea and couldn't get it out of my head.
I put all this stuff in the crock pot and was really looking forward to dinner the night I made this. The house smelled wonderful when I came home and I thought for sure that I was in for a really yummy dinner.
So imagine my surprise when I took my first bite and nearly spit it out again! It was awful! It wasn't that the flavor was bad, it was the fact that there just wasn't any flavor!
So I set about adding this and that and keeping track as I went along. A dash of this, a teaspoon of that, and before you know it, this chili was tasting a whole lot better and certainly far more like the wonderful smells that had taken over the kitchen that day!
I don't think I put enough spice in to begin with. Stirring in additional and even some new spices at the end really brought out the flavors. So that's what my instructions say to do here too. It turned out to be just as delicious as it smelled, thank goodness. Dinner was saved that night!
YOU MIGHT ALSO ENJOY:

Clean Eating Black Bean Pumpkin Chili
(Makes approximately 4 quarts)
Ingredients:
1.5 pounds lean ground turkey meat
1 (15 ounce) can pumpkin purée
2 (15 ounce) cans black beans with their water – do not drain (no sugar added)
2 cups chicken broth or stock (no sugar added)
3 tablespoons cinnamon
3 tablespoons chili powder
1 tablespoon cumin
1 tablespoons garlic powder
2 tablespoon onion powder
1/4 cup honey
1 teaspoon curry powder
2 teaspoons vanilla extract
1 teaspoon balsamic vinegar
Directions:
Place the turkey meat, pumpkin purée, black beans with their water and chicken broth in a slow cooker. Mix well.
To this, add 1 tablespoon cinnamon, 1 tablespoon chili powder, 1 teaspoon cumin, 1 teaspoon garlic powder and 1 tablespoon onion powder.
Cook on high for 4-6 hours, depending on your slow cooker.
When the meat is completely cooked, stir in 2 tablespoons cinnamon, 2 tablespoons chili powder, 2 teaspoons cumin, 2 teaspoons garlic powder, 1 teaspoons curry powder, 1 tablespoon onion powder, honey, vanilla extract and vinegar. Stir well and serve.