One of the things that always strikes me as funny when speaking to people who do not eat clean, is that many cannot fathom the idea of fruit as a dessert. "That's diet dessert". "Fruit is a snack, not a dessert". "Fruit??! For dessert??!!"
Yes people, fruit can make an amazing dessert! Lets take a look at cherries for example…
This recipe created and shared in collaboration with eBay.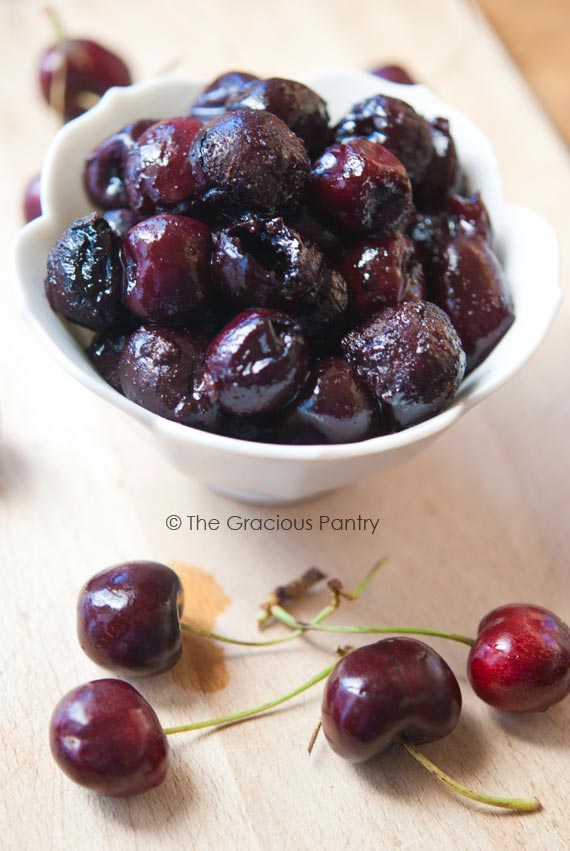 These barbecued cherries have a deep, rich, full flavor with a hint of chocolate. This is delicious by itself, but it's also wonderful over ice cream or plain Greek yogurt (there's a snack idea if you really cannot fathom fruit as anything other than a snack!)
If you are a cherry lover like Mini Chef, cherries don't last long in their natural state. They are little globes of sweet magic! But if you happen to have a lot of them, this is a wonderful way to use them up before they go bad!
You can freeze this into small portion sizes once cooked. Keep it well wrapped and it will last for up to about 4 months.
YOU MIGHT ALSO ENJOY:

This recipe originally created in collaboration with eBay. You can VIEW THE ORIGINAL RECIPE ON EBAY.

Clean Eating Barbecued Fresh Cherries Recipe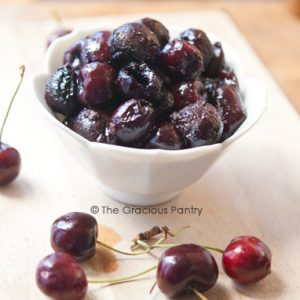 Author:
Tiffany McCauley | The Gracious Pantry.com
Ingredients
1 lb. cherries, pitted
1 tbsp. coconut oil (or oil of your choosing)
1 tbsp. honey
1 tsp. pure vanilla extract
1 tbsp. almond meal/flour
½ tsp. unsweetened cocoa powder
Instructions
Once your cherries are pitted, put them in a cast iron or other grill-safe pan with the oil and pour the honey and vanilla over them.
In a bowl, mix together the almond meal and cocoa powder.
Sprinkle the topping over the top, cover with aluminum foil and place on the grill.
Cook for at least 30 minutes (it might need more time based on the temp of your grill). It's done with you have bubbly juice in the pan. Cool slightly and serve.