Edible Cookie Dough Recipe
This post may contain affiliate links. Read my
Privacy Policy.
As an Amazon Associate I earn from qualifying purchases.
We all love cookie dough. But edible cookie dough is something you make when you just want to eat the dough. And yes, it's a wonderful dessert.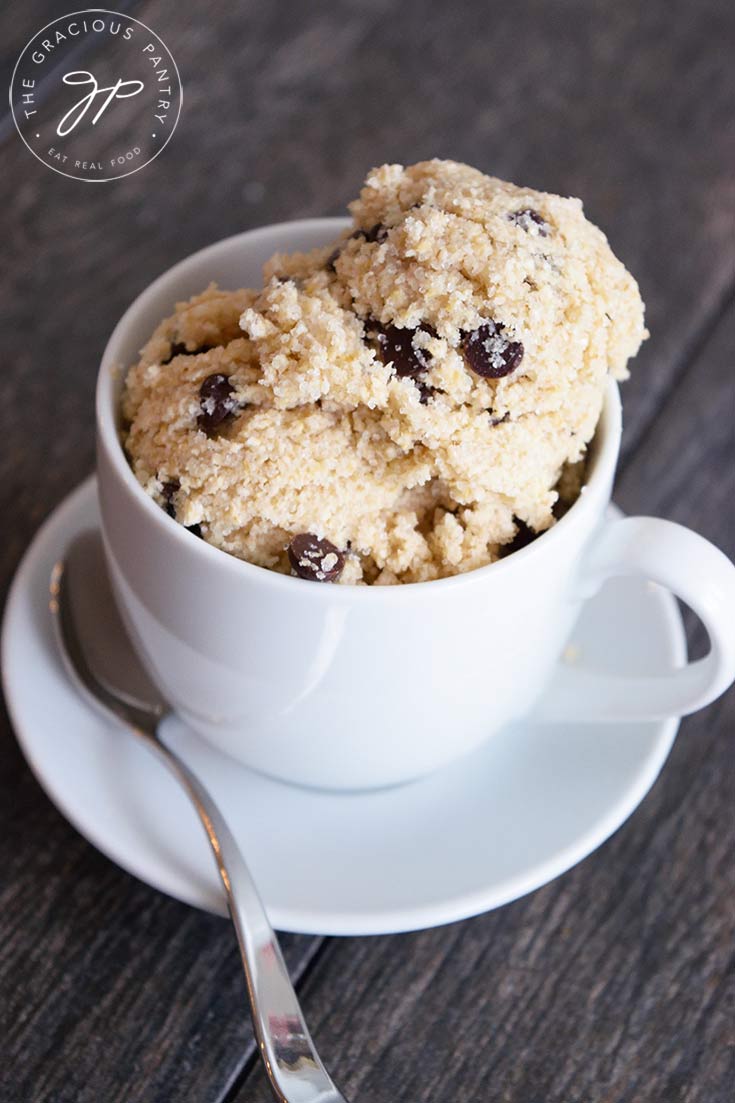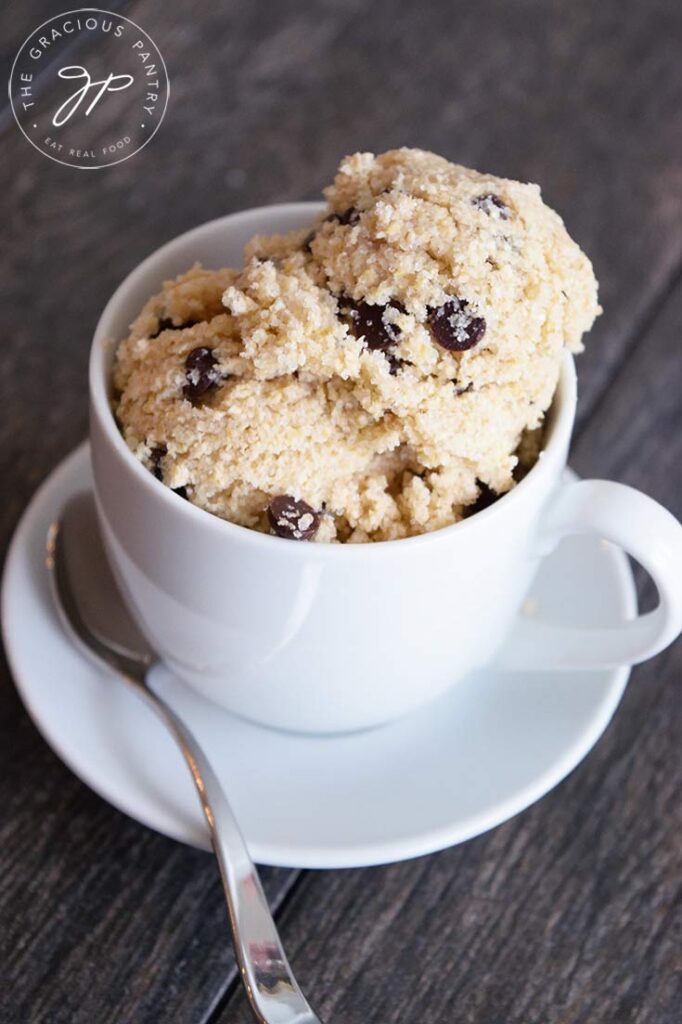 What Makes Cookie Dough Edible?
Edible cookie dough is edible for a couple of reasons. The first is simply because it has no eggs in it. Raw eggs are the main food safety issue when it comes to eating any raw cookie dough. Remove the eggs, and the cookie dough becomes pretty safe to eat where food safety is concerned.
Also, wheat flour is usually not recommended to be eaten raw without pre-heating it in the oven to kill off anything that could make you sick.
Oat flour is much safer to eat raw. After all, if you've ever eaten overnight oats or muesli, you've eaten raw oats. Raw oats are safe to eat, and that doesn't change when you grind them into flour.
This edible dough keeps things naturally gluten free by using gluten free ingredients. If that is an issue for you, be sure to specifically purchase gluten free oats or oat flour because oats can be highly cross-contaminated with gluten. Particularly if they are processed on the same equipment as wheat.
Note that this dough is more on the crumbly or "sandy" side. It presses together pretty well and can be scooped if you pack the scooper down a bit.
Edible Cookie Dough Ingredients
Oat flour – You can buy this, or simply grind up some oats in a food processor at home. But if you grind it at home, make sure you get a fine grind. A coarser grind will make these far too crumbly.
Almond flour – Again, you want a fine grind here. I prefer almond flour (from blanched almonds) to almond meal (flour with the peels still on the almonds when they are ground). It does a much better job in this recipe.
Coconut flour – And again, the finer the better here. Opt for unsweetened coconut if there is a choice or if you are grinding it yourself.
Granular sweetener – I use xylitol because it works best for my blood sugar. But you can use any granular sweetener you feel good about. Suggestions are Sucanat, coconut sugar or monk fruit.
Maple extract – Not all stores carry this, but many do. I ordered mine off amazon. This should be just a pure extract like vanilla extract. No added ingredients that you wouldn't normally want in your baked goods.
Vanilla extract – Use the real stuff. Vanilla flavoring is loaded with processed sugar and other additives. So look for the pure stuff (hint: it's more expensive than vanilla flavoring). I used Bourbon Vanilla Extract from Trader Joe's (Not paid to mention that. It's just what I use.)
Unsweetened almond milk – You can use regular milk if you prefer, or opt for a different non-dairy milk. The only one I recommend avoiding here is coconut milk. But you could probably get away with using that one too, depending on which one you use. Read ingredients here!
Salt – I used pink Himalayan salt, but any salt you have will do the trick here. It's just a small amount to help round out the sweetness.
How To Make Edible Cookie Dough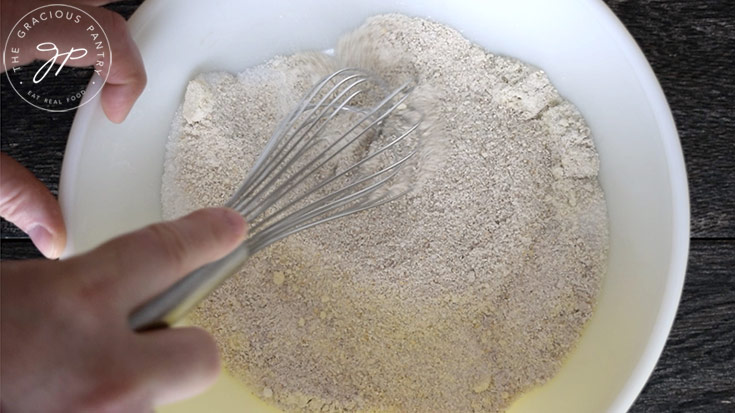 Whisk together all the dry ingredients.
Add the wet ingredients and mix well.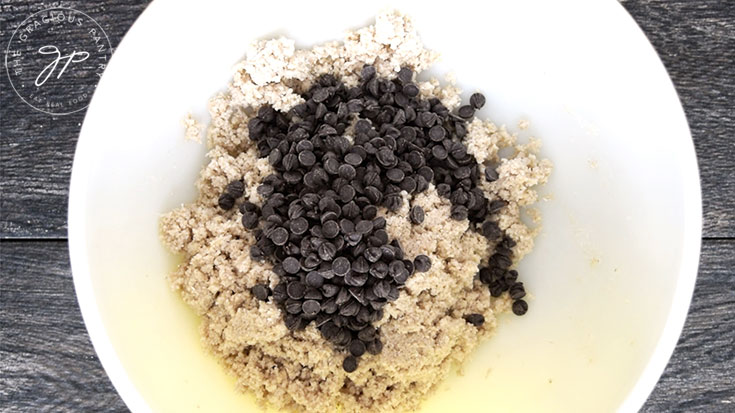 Add your favorite flavoring.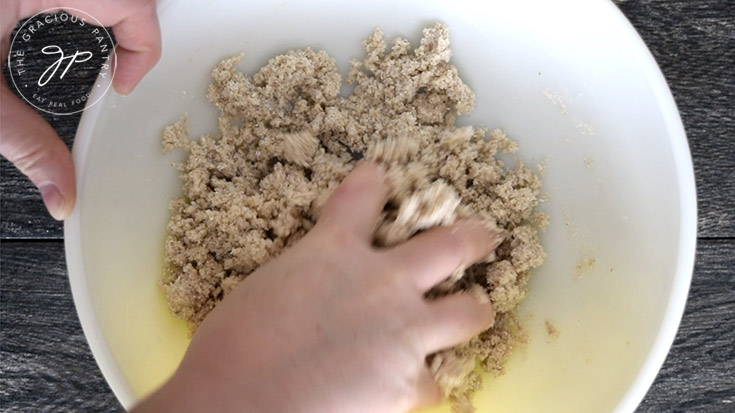 Mix well.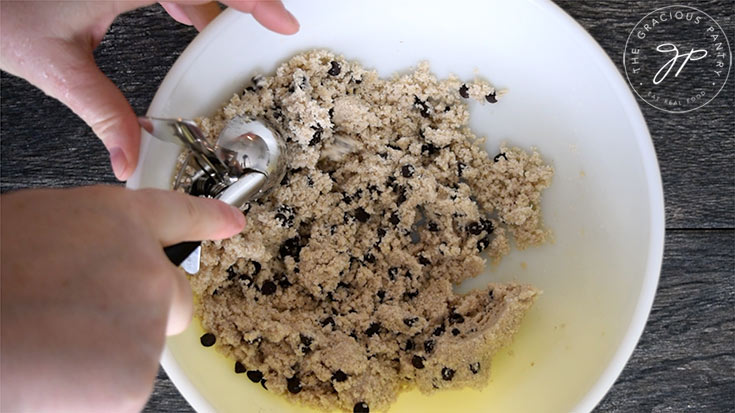 Scoop edible cookie dough out with an ice cream scoop for a nice presentation.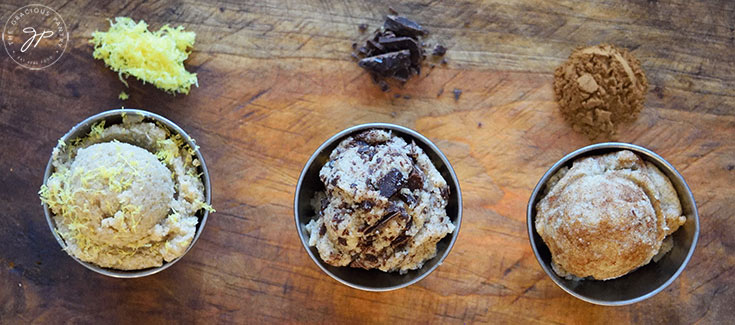 Edible Cookie Dough Flavors And Additions
We love adding dark chocolate chips to our edible cookie dough around here. But there are other flavors you can add too. Here's a list along with suggestions for how much to add.
Use these measurements as a jumping off point because you can flavor this dough as much or as little as you like.
Each suggestion is independent of the others and the measurements are meant to flavor the entire batch of dough. So if you are doing multiple flavors from one batch, cut back on the amounts.
Chocolate chips – 1/2 cup
Lemon – 1 ½ tsp. lemon extract + 1 tbsp. fresh lemon zest.
Snickerdoodle – 1-2 tsp. ground cinnamon
Mint – 1 tsp. mint extract
Butter pecan – 1/2 cup chopped pecans + 1 tsp. butter extract OR 1-2 tbsp. regular, salted butter
Making This Recipe For One Person
If you don't want a big batch of this because you are looking to make this for one person, cut this recipe down with the following measurements:
¼ cup oat flour
2 tbsp. almond flour (fine)
1 tbsp. coconut flour (fine ground)
¼ cup granular sweetener
½ tsp. maple extract
2½ tsp. vanilla extract
2 tbsp. unsweetened almond milk (or any unsweetened milk)
⅛ tsp. salt
2 tbsp. chocolate chips OR 1/2 tsp. lemon extract + 1 tsp. fresh lemon zest, OR 1/2 tsp. ground cinnamon, OR 1/4 tsp. mint extract, OR 2 tbsp. chopped pecans + 1-2 tsp. butter.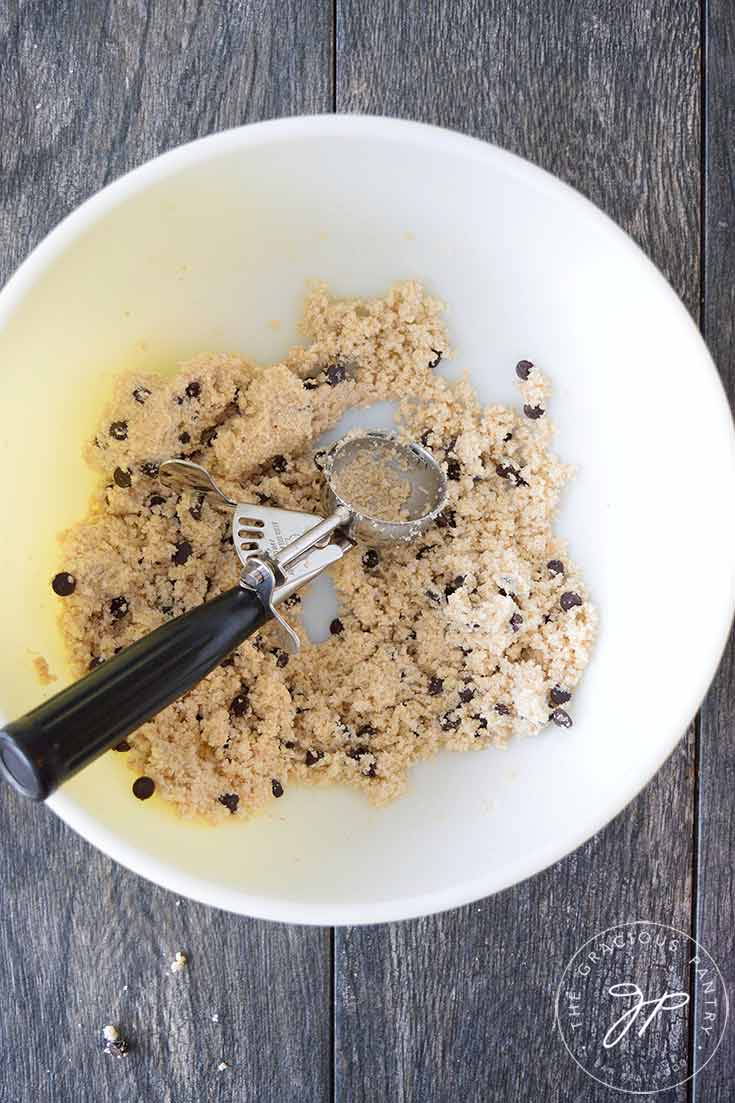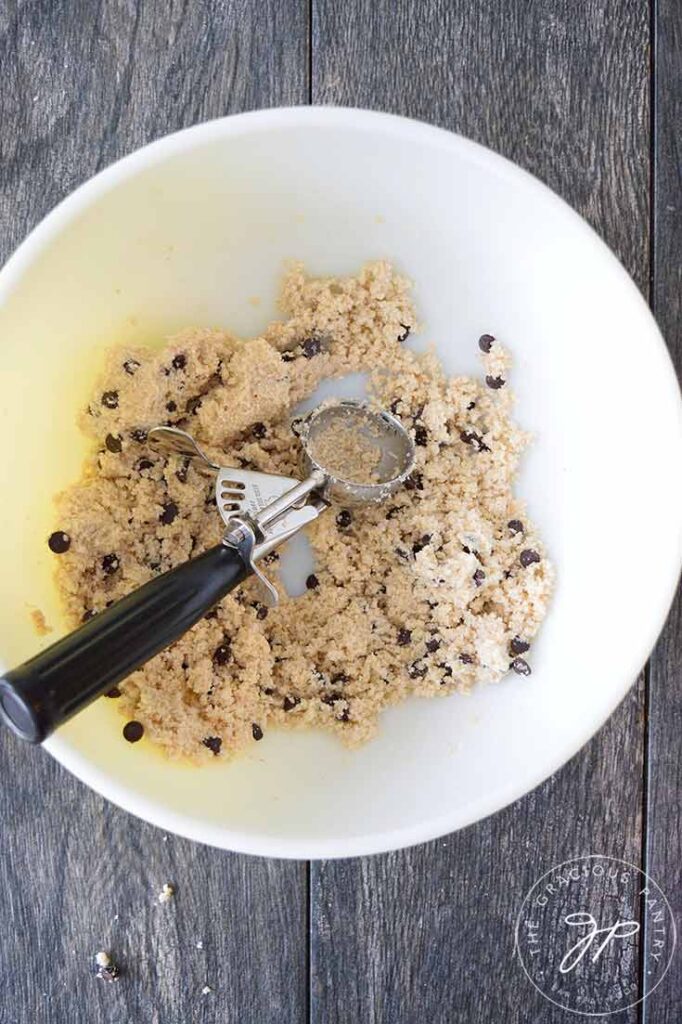 Can You Freeze Edible Cookie Dough?
Yes, you can. This particular recipe can be frozen up to 3 months without losing flavor or texture.
How Long Does Cookie Dough Last In The Fridge?
Raw cookie dough made without eggs will last longer in the fridge than egg-based dough. This sill stay in the fridge without a problem for up to 5-7 days. If you add other ingredients to actually make cookies out of this, it will last only 3 days.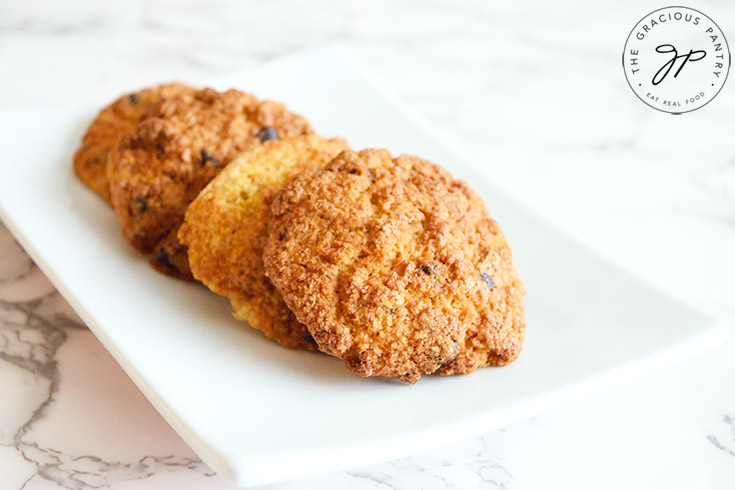 How To Make Cookies From Edible Cookie Dough
Many edible cookie dough recipes can't be baked. But that's not the case here. If you find you can't eat all of this, you can absolutely bake this.
The main thing with this particular dough is that there are no eggs or added fats. Add those along with some baking powder, and you can bake this dough into cookies!
Using the entire batch, blend in 2 large eggs and 2 tbsp. salted butter OR coconut oil. 2 tsp. of baking powder will do the trick here.
Scoop dough onto a parchment lined cookie sheet, flatten them a bit and bake at 350 F. for approximately 15-20 minutes, or until they have a nice, golden brown color to them. Test one cookie to make sure they cooked through all the way.
Need Supplies?
SUBSCRIBE:
Remember to subscribe to my free, Gracious Pantry Newsletter to receive all my latest recipes in your inbox! Click here to sign up!
MORE COOKIE RECIPES: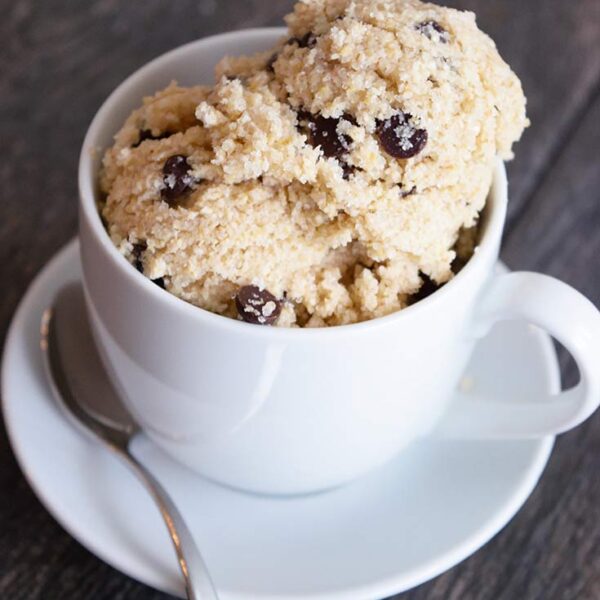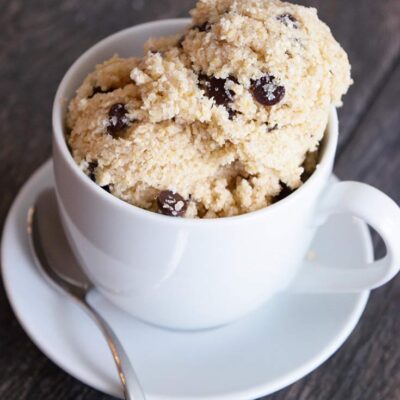 Edible Cookie Dough Recipe
Delicious cookie dough you can eat without food safety concerns. Plus it's gluten free and vegan!
Print
Pin
Rate
Add to Collection
Go to Collections
Servings:
1
entire recipe
CLICK TO WATCH THIS RECIPE IN ACTION!
Ingredients
1

cup

oat flour

½

cup

almond flour

(fine)

¼

cup

coconut flour

(fine ground)

1

cup

granular sweetener

2

tsp.

maple extract

2

tsp.

vanilla extract

½

cup

unsweetened almond milk

(or any unsweetened milk)

¼

tsp.

salt

½

cup

chocolate chips
Instructions
Whisk together all the dry ingredients.

Add the wet ingredients and mix well.

Add your favorite flavoring.

Scoop edible cookie dough out with an ice cream scoop for a nice presentation.
Notes
Please note that the nutrition data given here is a ballpark figure. Exact data is not possible. Data is for the entire recipe and does not include flavorings or additions. Divide this by the number of servings you use.
Nutrition
Serving:
1
entire recipe
|
Calories:
2218
kcal
|
Carbohydrates:
370
g
|
Protein:
39
g
|
Fat:
65
g
|
Saturated Fat:
21
g
|
Cholesterol:
14
mg
|
Sodium:
794
mg
|
Potassium:
503
mg
|
Fiber:
27
g
|
Sugar:
261
g
|
Vitamin A:
202
IU
|
Calcium:
462
mg
|
Iron:
10
mg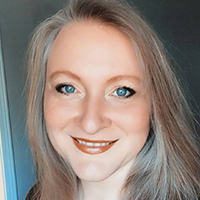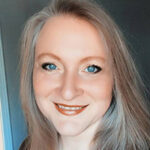 I'm Tiffany, a writer for MSN and the AP Newswire, a cookbook author, digital publisher, food lover, and mom. I create healthy, clean eating recipes for everyday living.