This post may contain affiliate links. Read my
Privacy Policy.
As an Amazon Associate I earn from qualifying purchases.
This easy tuna wrap recipe is made with tuna and a few other easy-to-find ingredients.
Tuna makes a great base for a lunch wrap because it's low in calories, but still provides plenty of protein and other nutrients. Tuna wraps are a healthy make-at-home option that can be mixed and matched with different vegetables and herbs. It's a versatile and filling meal that will fuel you through your day.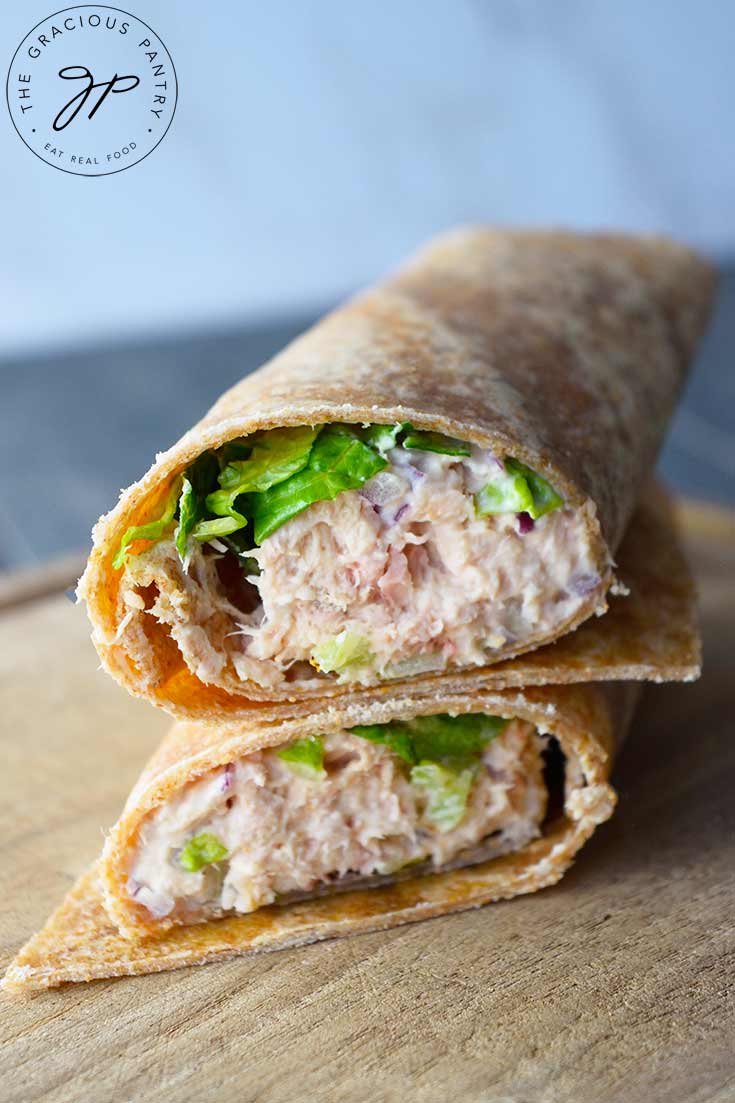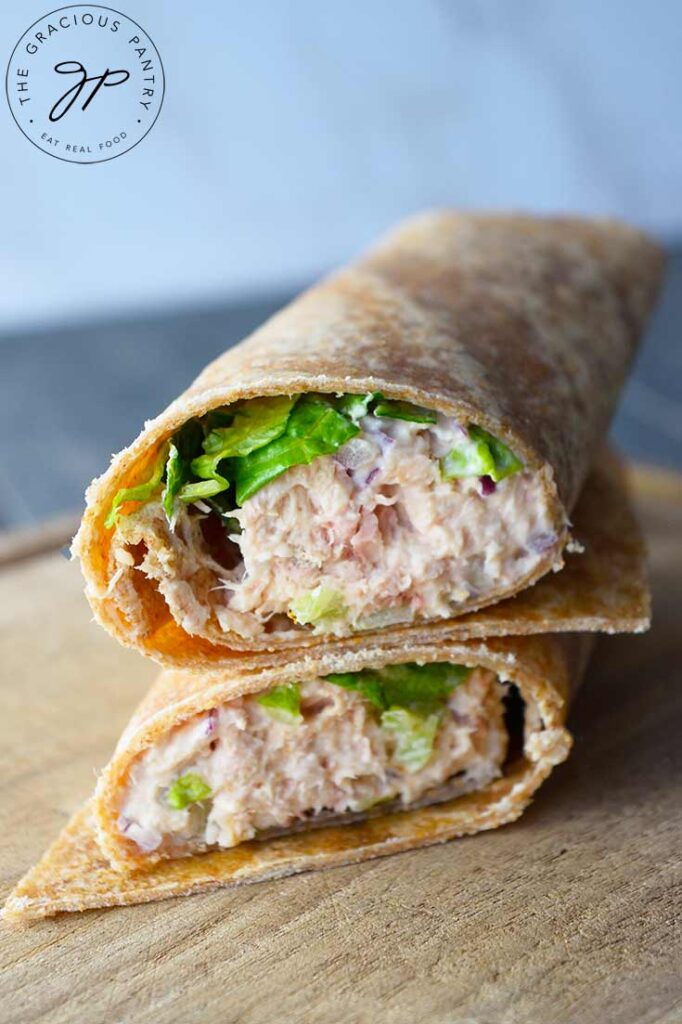 What Are Tuna Wraps?
Simply put, tuna wraps are basically tuna sandwiches. But instead of bread, you use a tortilla. That's pretty simplified though because you can add other things to your wrap. So don't let the simplicity convince you this is boring. Read on…
Are Tuna Wraps Healthy?
Ask ten people and you'll get ten different answers. Tuna is a lean protein, but it's not without its issues. (Mercury, mainly)
Mayo can certainly be made in a healthful way, but many people use mayo from the store that is filled with sugar. So you have to pick your mayo carefully too.
The wrap itself is healthy if it's whole wheat, but many people consider grains to not be healthy at all.
So the answer is, it's healthy if you make it right and if it fits into your eating plan and lifestyle.
How Many Calories Are In A Tuna Wrap?
This particular wrap has 291 calories, give or take. It's packed with protein and will definitely power you through your day!
Which Tuna For Tuna Salad?
Cheap tuna comes with its own issues. If that doesn't bother you, use it. If it does, you can opt for ethically caught, wild tuna that is packed in water.
Generally speaking, it's best to avoid any tuna packed in oil. But again, if that works for you and your lifestyle, use it. Nobody is going to stand behind you in your kitchen shaking a finger at you.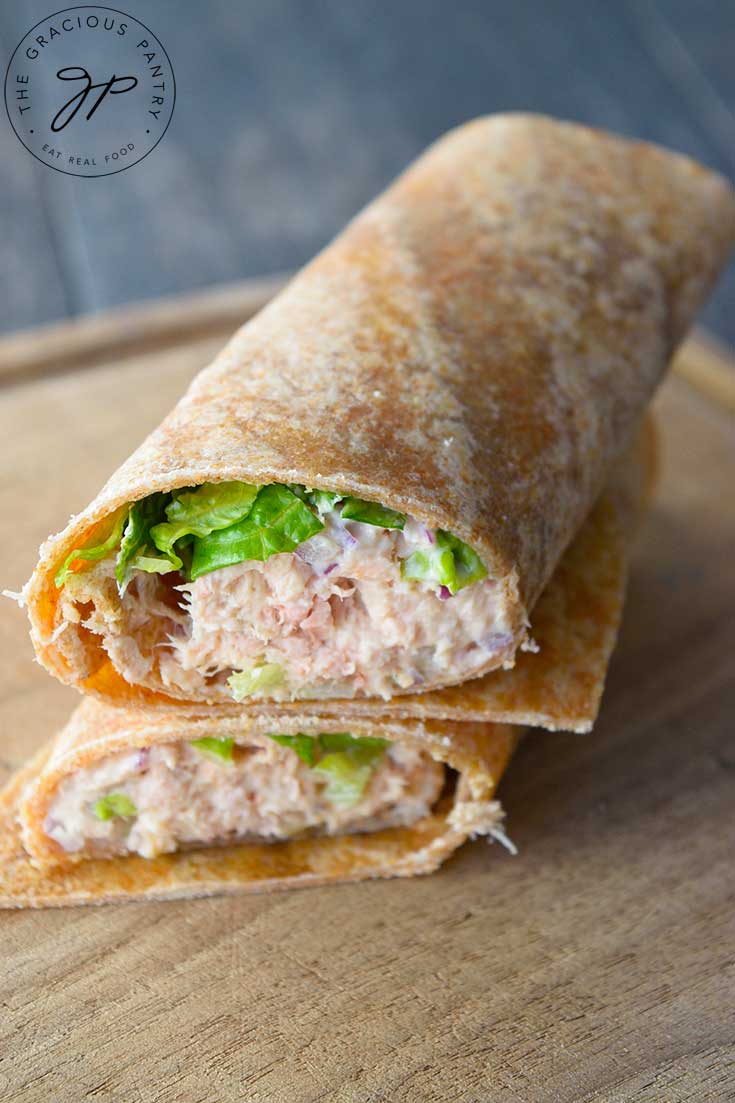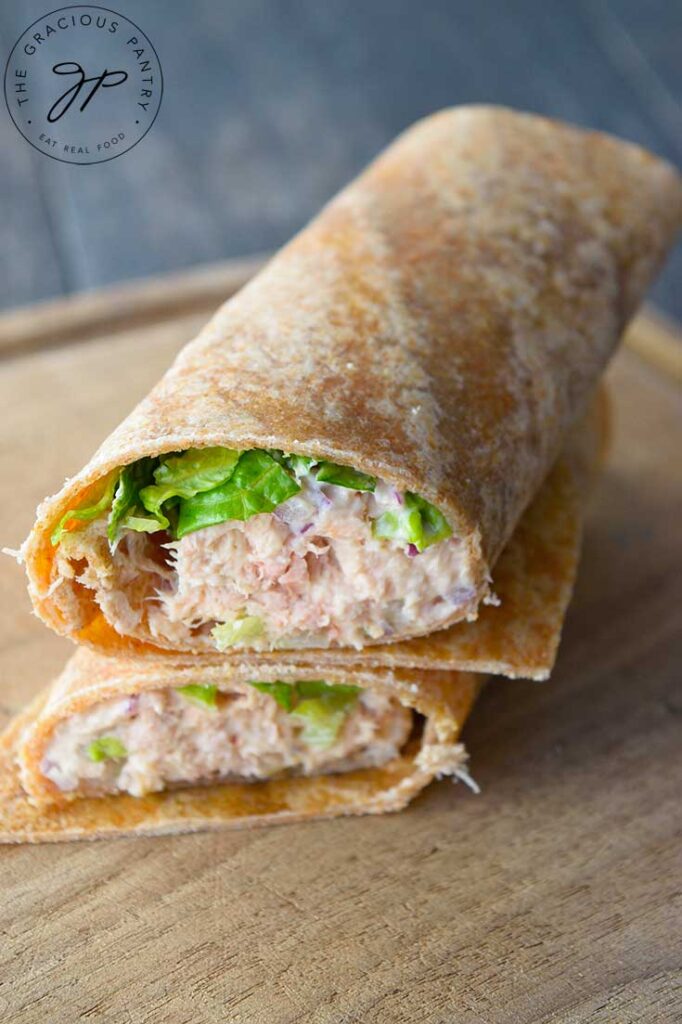 How To Stop Tuna Wraps From Going Soggy
If this is something you want to take with you and it will be sitting for a while, a little bit of sogginess is bound to happen. So if you want to avoid it completely, you'll need to pack your tuna separately from the lettuce and wrap and then assemble it when you are ready to eat it.
Ingredients Swaps
There are so many ways to prepare a tuna wrap! Here are some suggestions for changes you can make to fit your eating plan.
Spicy Tuna Wrap
Most spicy tuna wraps are made spicy using Sriracha sauce. Normally, this wouldn't be a problem except that Sriracha sauce has lots of processed sugar in it. (I'm working on a recipe, so stay tuned!) So if you want to avoid that, you can go the simpler route of adding spicey spices to your tuna roll. Cayenne pepper or even just black pepper will get the job done nicely.
Tuna Lettuce Wrap
If you want tuna lettuce wraps, you'll omit the shredded lettuce and tortilla and simply use a large lettuce leaf to wrap up your tuna salad. You can add other veggies like carrots, celery and/or cucumber to round out the filling a bit.
What's The Best Lettuce For Making Tuna Lettuce Wraps?
Look for heads of lettuce that have large, rounded lettuce leaves. Try:
Butter lettuce
Boston lettuce
Romaine (if you don't mind more of a "tuna taco")
Cabbage leaves – sounds odd, but they hold up great!
Vegan Tuna Wrap
If you are vegan, you can make a faux tuna salad using chickpeas, vegan mayo, and dried dill along with some minced red onion. I don't have a specific recipe for it here, but a quick google search will pull that up for you.
Keto Tuna Wrap
For a keto eating plan, add extra mayo and use a lettuce wrap or low carb/keto tortilla.
Gluten-Free Tuna Wrap
If you are gluten-free, the only thing you'll really need to change is the tortilla. I'm not sure if mayo is an issue or not, but if it is, make sure you use a gluten-free mayo as well. (It's crazy what they add to condiments these days!)
Dairy-Free Tuna Wrap
These are naturally dairy-free! So unless your tortillas have a milk-based ingredient, you should be fine with this recipe.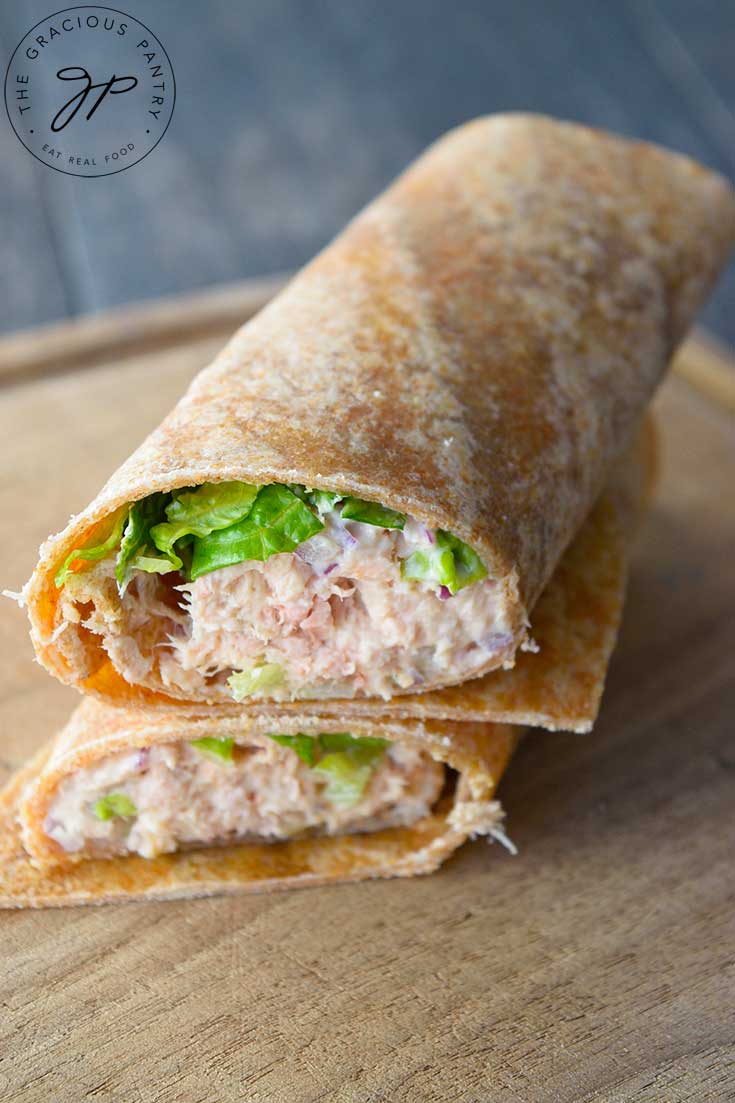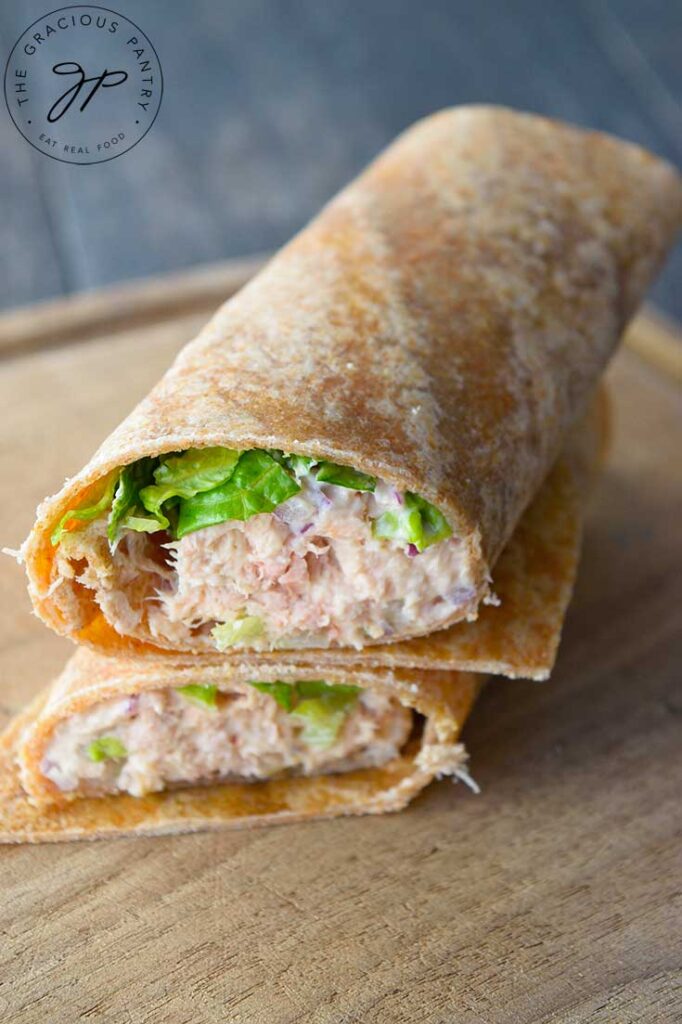 What To Serve With A Tuna Wrap?
A good side dish to round out the meal would be some chips, veggie sticks with ranch dip, or a green salad on the side.
What Can I Put In Tuna Salad Besides Mayo?
This question can be interpreted in two different ways. So let's cover them both!
To Replace Mayo
The only replacement in a recipe like this is yogurt. Plain Greek yogurt is the usual replacement. But it will definitely add some tang to your salad. If it's something you are trying to get used to, you may want to mix half and half (yogurt and mayo), to help make the transition easier.
In Addition To Mayo
Here are some ideas for additions you can easily add to your tuna wrap:
Shredded carrots
Strips of cucumber
Minced celery
Tomatoes
Baby spinach leaves
Fresh parsley
Garlic powder
Dijon mustard
Hot sauce.
Fresh lemon juice
Avocados
Olives
Capers
Corn
Any crunchy veggies to give your wrap a nice crunch.
How To Make A Tuna Melt Wrap?
If you love a good tuna melt, you can certainly do that here.
Preheat an oven to 350 F.
Lay out the tortilla on a baking pan. Parchment helps.
Spread the tuna salad over the center of the tortilla.
Sprinkle as much grated cheddar cheese as you want over the tuna salad. (It should be grated because it will melt faster)
Bake for about 10 minutes, or until the cheese is melted.
Remove from oven, add any extras you want to add, and roll up the wrap.
Slice and serve.
Tuna Wrap Ingredient Checklist
Canned, water-packed tuna – Drained
Mayo – No sugar added
Onions – Red onions taste best, but white or yellow will work too.
Lettuce – I used romaine. But use what you have handy.
Salt – I used pink Himalayan salt, but use whatever you normally use in the kitchen.
Whole grain flour tortillas – Or whatever type of wrap you want to use.
How To Make A Tuna Wrap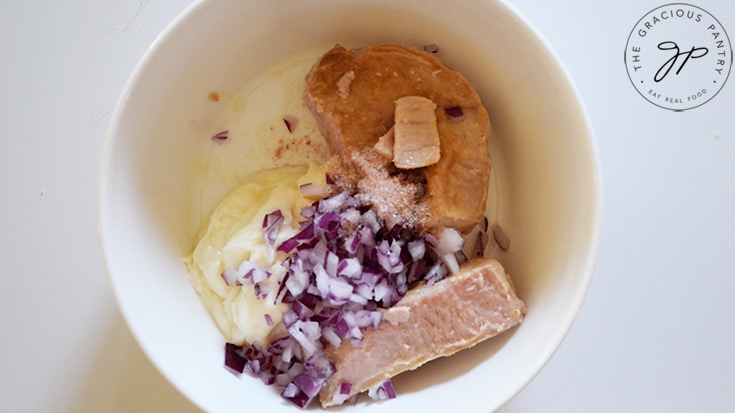 Place the tuna, mayo, onions, and salt in a mixing bowl.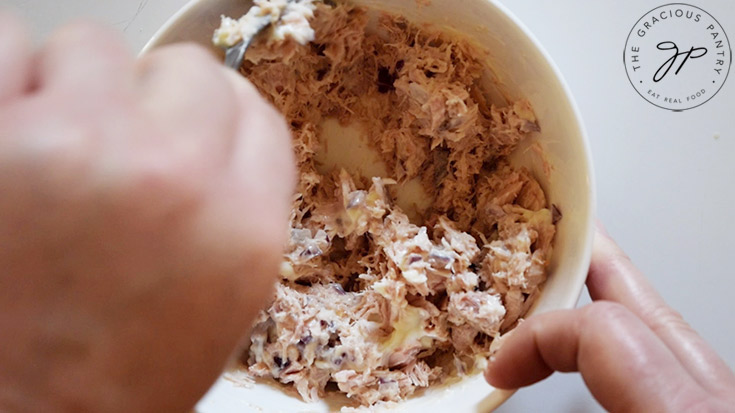 Using a fork, mix until well combined.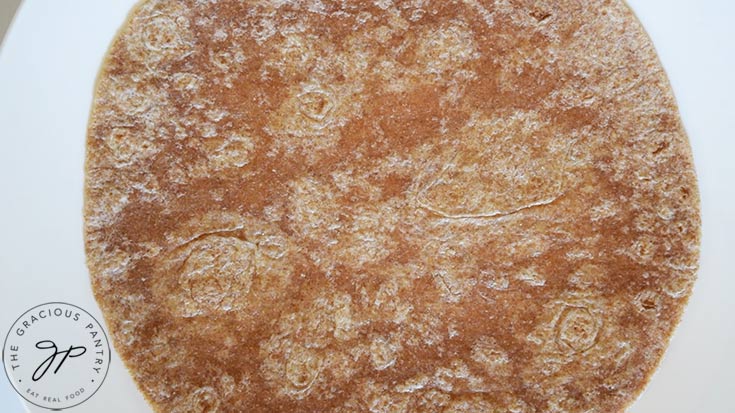 Lay out your wrap or tortilla.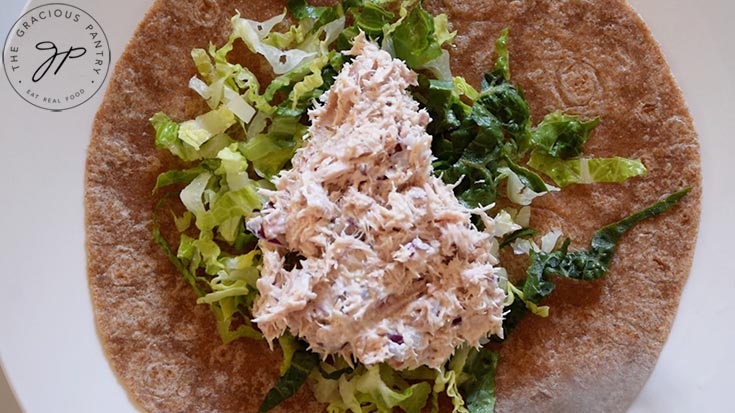 Put down a layer of lettuce and then spread half the tuna salad over that.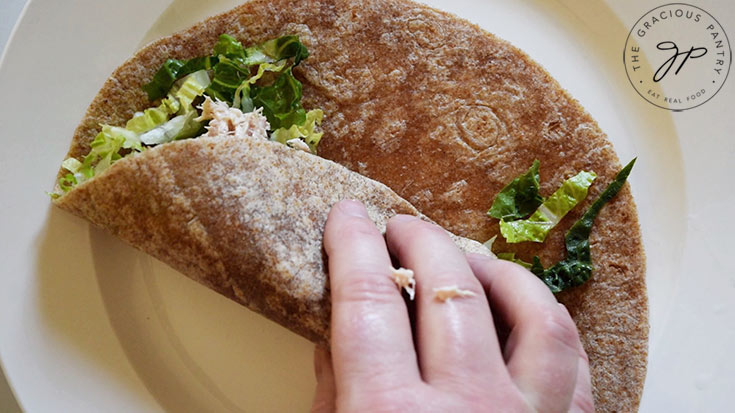 Roll up the wrap as tightly as you can.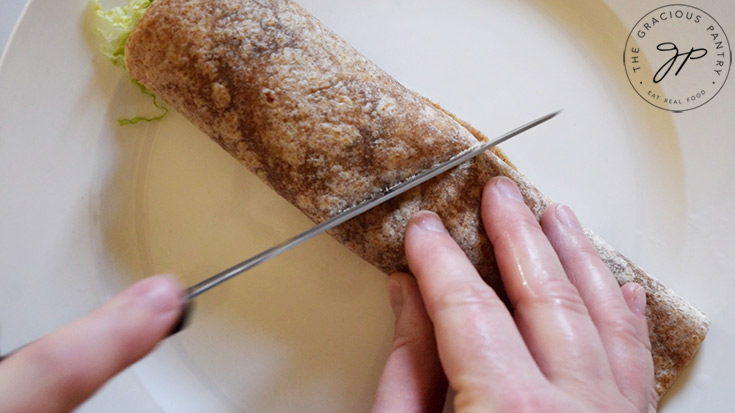 Cut in half.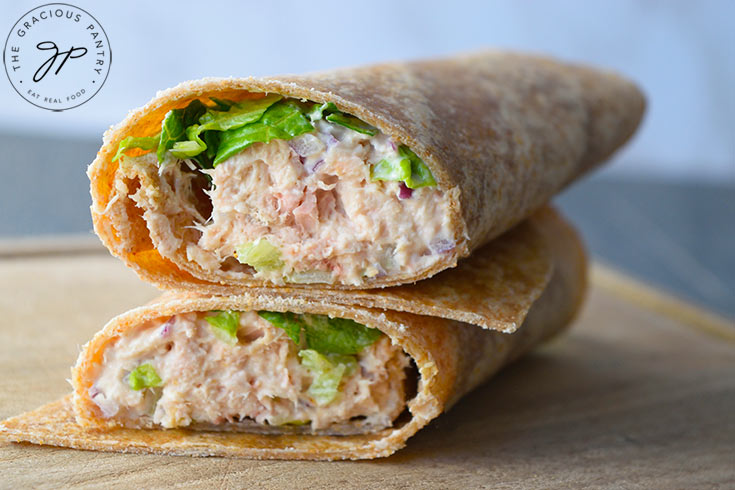 Serve.
How To Store A Tuna Wrap
The best way to store these is to store the fillings separately from the wraps. These are more of a "build it at the last minute" type of meal. But the good part about that is you can make everything ahead of time, and then assemble this in under 5 minutes.
Keep leftovers in the refrigerator for up to 3 days in an airtight container, no matter how you store them. Tuna should never be left out of the fridge. This is true for all seafood.
Can You Freeze A Tuna Wrap?
It's not recommended. Mayonnaise doesn't freeze well. But you can freeze the remainder of your tortillas if you won't be using them up fast enough.
Recipe Supplies
Click the image to be taken to the product on Amazon. (affiliate links)
More Healthy Wrap Recipes
SUBSCRIBE
Remember to subscribe to my free newsletter to receive all my latest recipes in your inbox. Click here to sign up!
Tuna Wrap Recipe Card + Video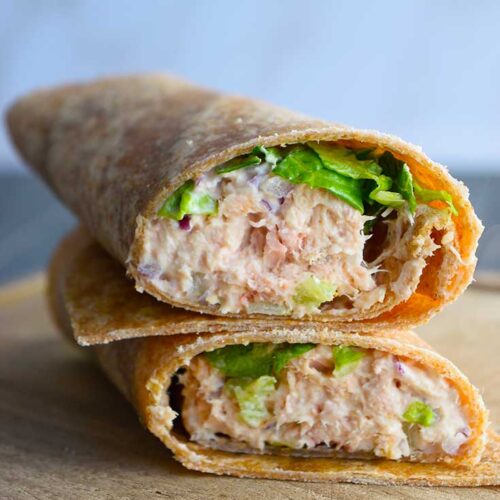 Tuna Wraps
A deliciously easy wrap you can enjoy for lunch or dinner.
Print
Pin
Rate
Add to Collection
Go to Collections
CLICK TO WATCH THIS RECIPE IN ACTION!
Ingredients
5

oz.

can water-packed tuna

(drained)

¼

cup

mayo

(no sugar added)

2

tbsp.

finely diced onions

(whatever kind you like best)

½

cup

finely sliced lettuce

(I used romaine)

¼

tsp.

salt

2

standard

whole grain tortillas
Instructions
Place the tuna, mayo, onions, and salt in a mixing bowl.

Using a fork, mix until well combined.

Lay out your wrap or tortilla.

Put down a layer of lettuce and then spread half the tuna salad over that.

Roll up the wrap as tightly as you can.
Notes
Please note that the nutrition data given here is a ballpark figure. Exact data is not possible.
Nutrition
Serving:
1
wrap
|
Calories:
291
kcal
|
Carbohydrates:
2
g
|
Protein:
17
g
|
Fat:
23
g
|
Saturated Fat:
4
g
|
Polyunsaturated Fat:
13
g
|
Monounsaturated Fat:
5
g
|
Trans Fat:
1
g
|
Cholesterol:
42
mg
|
Sodium:
744
mg
|
Potassium:
214
mg
|
Fiber:
1
g
|
Sugar:
1
g
|
Vitamin A:
123
IU
|
Vitamin C:
1
mg
|
Calcium:
20
mg
|
Iron:
1
mg
Recipe from the Gracious Pantry® archives, originally posted on 3/16/22.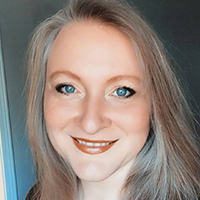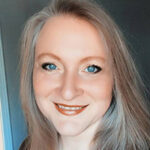 Who me?
I'm Tiffany, a cookbook author, food lover, mom, and writer for MSN and the AP Newswire.
   
Looking to stock your freezer for busy weeknights?
I wrote the book! Grab a copy of my book, Clean Eating Freezer Meals on Amazon here, or at select bookstores nationwide!   
Did you make one of my recipes?
Tag @graciouspantry on Instagram or post your pic on Facebook! I love to see my recipes in action!