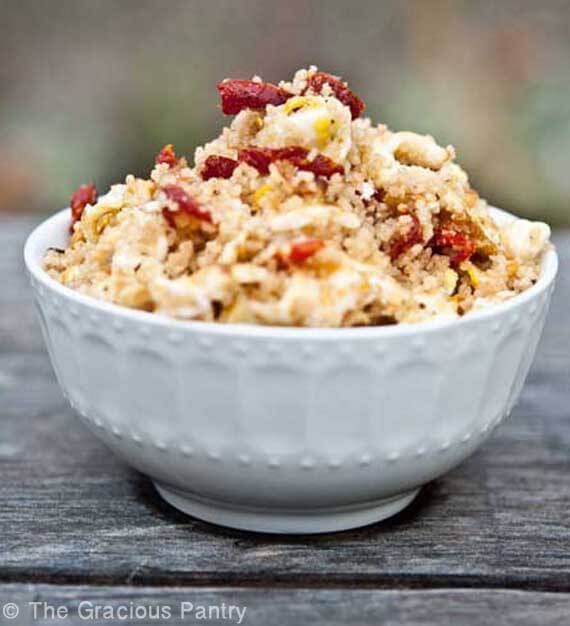 Pasta for breakfast?
You betcha! At least when it comes in the form of couscous…
This is a recipe that I don't enjoy very often. It's a little higher in fat and carbs, but it makes a great treat on a Sunday morning when you just want something a little different for breakfast.
It's definitely a lightly flavored dish, but the great thing is that you can add as much spice as you like. Season this one to your tastes because couscous is very forgiving.
I have to say that I enjoyed this dish all by my lonesome the other morning. And I can tell you that it was completely enjoyable. Not only did I have a delicious breakfast, but I had peace and quiet at the breakfast table. Mini Chef had better things to do than hang out with boring old Mom, so this boring old Mom lived it up and enjoyed the quiet that so rarely happens around here.
A perfectly delicious morning.
YOU MIGHT ALSO ENJOY:

Clean Eating Sun Dried Tomato Breakfast Couscous
(Makes 2 servings)
Ingredients:
1/3 cup dry, whole wheat couscous, cooked to package directions
4 egg whites
2 tablespoons sun dried tomatoes, drained if packed in oil
2 teaspoons olive oil
1/2 teaspoon garlic powder
1/4 teaspoon onion powder
1/4 – 1/2 teaspoon cumin (to taste)
Salt to taste
Directions:
Prepare the couscous to package directions and put into a medium mixing bowl. Set aside.
Scramble the eggs in olive oil.
Chop the sun dried tomatoes.
Add all ingredients to the bowl containing the couscous and mix well.
Note: This would also be delicious made with quinoa!