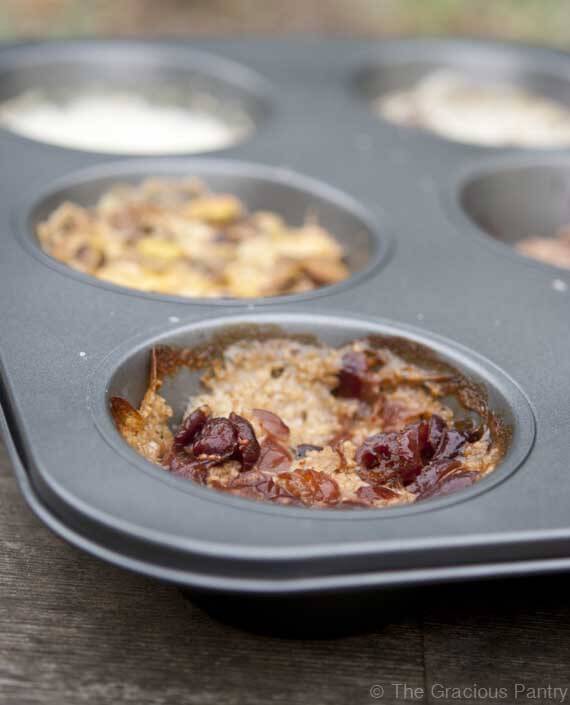 A fan on Facebook gave me this idea. She asked me if I thought it would work out to make individual oatmeal in a muffin pan. I immediately loved the idea and had to give it a try. I even bought a new muffin pan for the occasion.
The muffin pan I got was for jumbo-sized muffins. That was the only way to get a decent serving size out of one "muffin". But if you only have the regular sized muffin pans, simply use 2 "muffins" per person.
NOTE: I'm calling them "muffins" because I don't know what else to call the holes in the pan you usually pour muffin batter into.
While this isn't a recipe per se, I thought it was an awesome idea. This would work well with many of the ideas on my Oatmeal Project page as well (be sure to check the comments for tons of recipes too!)
YOU MIGHT ALSO ENJOY:

Clean Eating Muffin Tin Oatmeal
Ingredients:
1/2 cup water
2 tablespoons steel cut oats
1-2 tablespoons addition of your choice (see below)
Directions:
Combine the water and oats in each individual "muffin".
Stir in your additions
Bake at 350 F. for about 45 minutes, or until you can visibly see that all the water has been soaked up by the oats.
Remove from oven and allow to cool slightly before serving.
Possible toppings:
4 slices banana (is used frozen)
1 tablespoon cranberries
1 tablespoon  grain sweetened chocolate chips
1 teaspoon cheddar and 1 tablespoon pistachios
Kim, the woman who gave me this idea, said that one of her favorites is to add shredded apple and cinnamon…apple pie oatmeal!