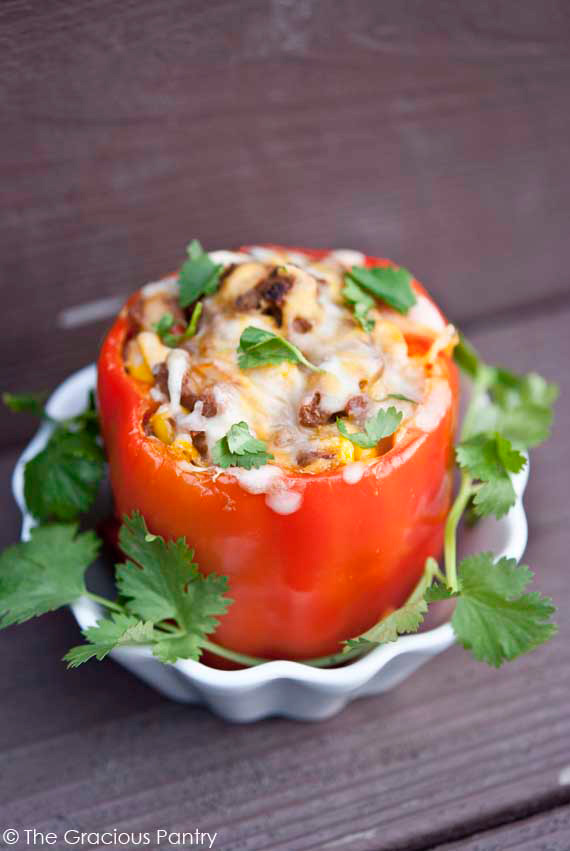 In my second year or so of blogging, I did a recipe for stuffed bell peppers that everyone really seems to enjoy. But it had been long time since I even made my own recipe, and because I need to come up with new ideas for this blog all the time, I thought it would be fun to do a stuffed pepper with a twist.
They went over huge in my house. Mini Chef has never been so eager to eat a bell pepper. I was truly impressed. I left the cheese off for myself, and this would even work for those eating grain free/paleo if you leave the corn out. This recipe is really quite flexible, so adjust any way you like!
Serve a half of one of these bad boys with a salad for a fabulously filling meal!
YOU MIGHT ALSO ENJOY:
PIN ME!!!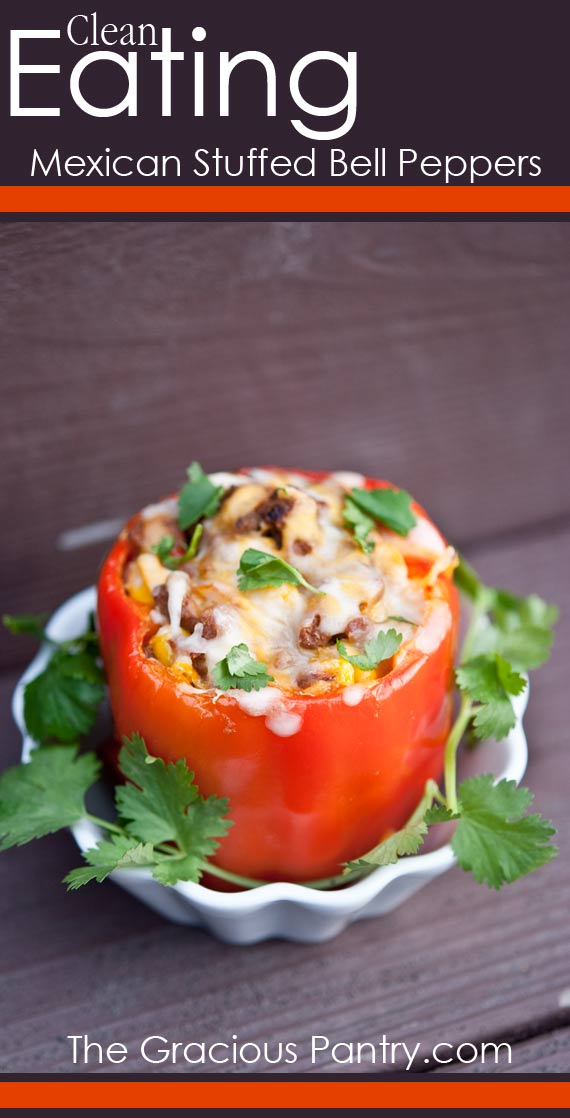 Clean Eating Mexican Stuffed Bell Peppers
Ingredients:
3 large red bell pepper
1 lb. lean, ground turkey
1 tbsp. coconut oil
1 small red onion, chopped
1 tbsp. garlic powder
1 tbsp. onion powder
1 tbsp. ground cumin
2 tsp. chili powder
1 cup frozen corn
1 (15 oz.) can tomato sauce OR 12 oz. jar of your favorite clean salsa
3 tbsp. freshly grated cheddar cheese (any cheese will work)
Fresh cilantro for garnish
Directions:
Cut the tops off your bell peppers, remove the stems and chop up the lids. Set aside.
Sauté the onions first with the coconut oil, then add the turkey in a skillet and cook until just browned. Add the spices, chopped pepper tops and corn and continue cooking until the meat is finished. Don't overcook it as it still needs to bake in the oven.
Stuff the peppers tightly with the meat filling.
In a small casserole dish, pour the tomato sauce into the bottom of the dish, then place your peppers upright. The casserole dish should be small enough to fit the peppers tightly so they stand upright for baking.
Sprinkle 1 tbsp. cheese onto of each pepper, then place the baking dish in the oven.
Bake at 350 for approximately 30 minutes. These taste best if the peppers are not overcooked. They should still be slightly firm when done.
Cut pepper in half, sprinkle with fresh, chopped cilantro and serve.