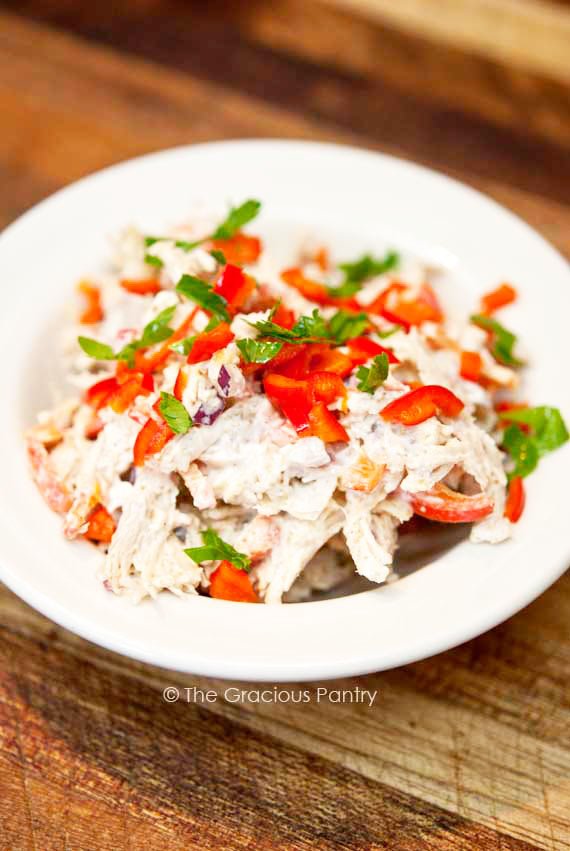 This chicken salad is excellent by itself (for low carb eaters) or used as sandwich filling for regular clean eaters. It's simple to put together and is packed with mouthwatering flavor.
This one came about from a desperate attempt at trying to figure out what I could possibly make for my mother for lunch. She may not be able to eat a lot, but what she does eat, needs to have flavor to keep things interesting. There is nothing worse than bland food when your diet is already restricted. It's flavor that keeps us interested in food, and that doesn't change when you are sick.
So thankfully, I happened to have everything on hand for this. As is often the case, the ingredients told me what to make. I look in the fridge, see what I have, and hope I can make something good out of it. Usually, I do okay! Mom says this one is definitely a keeper.
YOU MIGHT ALSO ENJOY:
RECIPES USED:

From the Gracious Pantry archives. Recipe originally posted 4/11/15.

Clean Eating Low Carb Southwestern Chicken Salad Recipe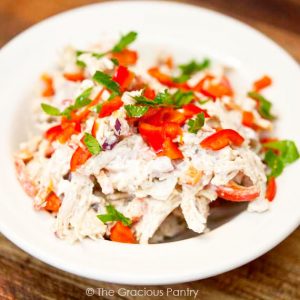 Author:
Tiffany McCauley | The Gracious Pantry.com
Yield:
Approximately 3 cups
Ingredients
2 cups shredded, cooked chicken
¼ cup clean eating mayo (store-bought or homemade)
1 small, red bell pepper, chopped fine
¼ cup chopped red onion (chopped fine)
1 tsp. garlic powder (or more to taste)
1½ tsp. ground cumin
½ tsp. coriander
Salt & Pepper to taste
Avocado for garnish (optional)
Instructions
In a mixing bowl, combine all the ingredients and stir thoroughly.
Serve as a salad or use for making sandwiches.