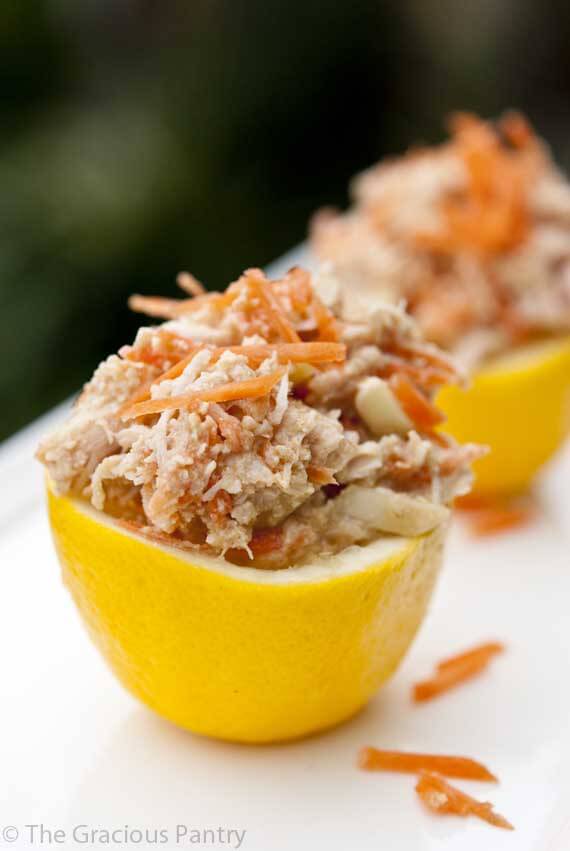 Spring is here and Summer is well on it's way here in California. Thoughts of pools, flip flops and barbecues come to my mind as I sit back and day dream about my upcoming summer vacation. Well, it's just a weekend really, but it's vacation to me!
So while I was day dreaming about the beach the other night, I was also diving into this wonderful summer-style chicken salad. I served it with a green salad, and it was just perfect. Filling, but not too heavy. It may only be spring, but this truly is a great summer meal.
And I should mention, as long as you pack an ice pack, this stuff is fantastic for lunches! Just pack a few cut-up veggies to go with it and you've got a great meal!
YOU MIGHT ALSO ENJOY:
Clean Eating Lemon Almond Chicken Salad
(Makes 2 servings)
Ingredients:
1 (12.5 ounce) can chicken or well-shredded homemade chicken
1 medium carrot, grated
1/4 cup slivered or chopped almonds
1 teaspoon garlic powder
1 teaspoon ground cumin
1 teaspoon coriander
Juice of 1 lemon
Directions:
Place all ingredients in a large mixing bowl and stir until well combined.