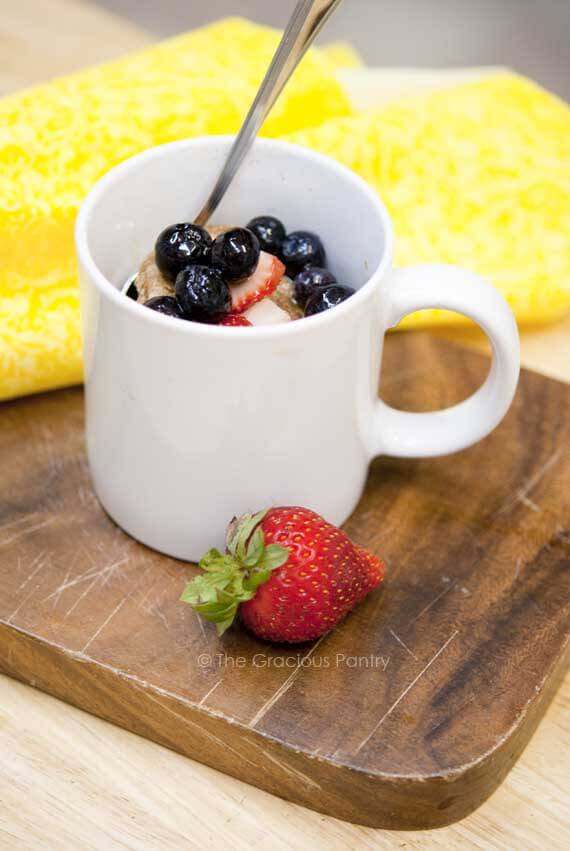 Dorm rooms can be a very challenging place to attempt clean eating. But it's not impossible! In fact, with just 2 minutes in the microwave, you can have clean eating pancakes whenever you like!
Now I will be the first to admit that a microwaved pancake will not be winning you any culinary awards any time soon, and I know that many people don't care for microwaves. But these are pretty darn good, despite coming out of the nuke box, and when you have no other way to cook, it's better than going through the drive-thru!!
The important thing is to mix this batter really well. Otherwise, you end up with parts of the pancake that taste only like egg, or only like baking soda. So don't be afraid to beat the heck out of this. Take your mid-term exam stress out on your pancake batter. You'll feel better.
I should also say that these should be a special treat. They are high in natural fats, so eat these in moderation.

Clean Eating Dorm Room Pancakes
(Makes 1 serving)
Ingredients:
1 standard size mug
2 tablespoons whole wheat pastry flour
1/4 teaspoon ground cinnamon
1/4 teaspoon baking soda
1/4 teaspoon vanilla extract
1 whole egg
3 tablespoons milk
1 tablespoon oil
Pure maple syrup or raw honey for topping
Fresh fruit for topping
Directions:
Whisk together all ingredients in mug. Be very sure to to mix thoroughly. You can't mix this batter too much.
Microwave on high for 2 minutes.
During the microwave process, the pancake will come up and over the mug quite a bit like a weird science experiment. Don't worry, the second the microwave door opens, it will go back down into the mug.
Top with a little maple syrup and some fresh fruit and you've got a Clean Eating Dorm Room Pancake!!