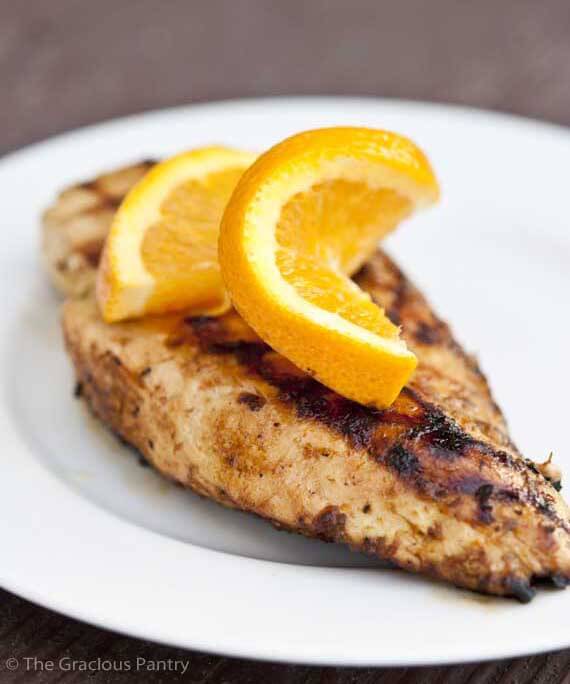 Today, I have a Citrus Grilled Chicken recipe. I chose this recipe because of it's easy-to-find ingredients as well as the fact that the weather is getting quite nice here and it's definitely time to pull out the grill! But don't worry, if you don't have a grill, you can do this in a pan as well. Give it a try!
As many of you know, I have teamed up with eMeals  to introduce you to their fantastic meal planning service for both clean eating and paleo meal plans (and many more)! As a result, I have permission to occasionally blog about the recipes I receive in their meal plans. So far, I haven't been disappointed. The meals are uncomplicated and always delicious.
Disclosure: I receive a portion of all sales on eMeals subscriptions if you purchase a subscription via the link in this post. This money pays for keeping this blog running as well as for buying food to create the recipes you find here.
YOU MIGHT ALSO ENJOY:

Clean Eating Citrus Grilled Chicken
(Makes 2 servings)
Ingredients:
1 orange
1 lime
2 tablespoons extra virgin olive oil
1 teaspoon minced garlic
2 (6 ounce) boneless, skinless chicken breasts
1/4 teaspoon kosher salt
1/4 teaspoon black pepper (I omitted this so Mini Chef would eat it)
Directions:
Zest orange and lime into a large bowl.
Squeeze orange juice into bowl.
Add oil, garlic and chicken, tossing to coat.
Cover and refrigerate 30 minutes.
Prepare grill or grill pan over medium-high heat.
Remove chicken from marinade, and sprinkle with salt and pepper.
Cook chicken 6 minutes per side or until done.
NOTE: The recipe doesn't call for using the rest of the lime. But if you enjoy a lime flavor on your chicken, squeeze the juice over the chicken while it's cooking. Delish! Also, if you don't have a bowl wide enough so the chicken can evenly marinate, just pour everything into a large ziplock bag and let it sit in that. (That's what I did!)