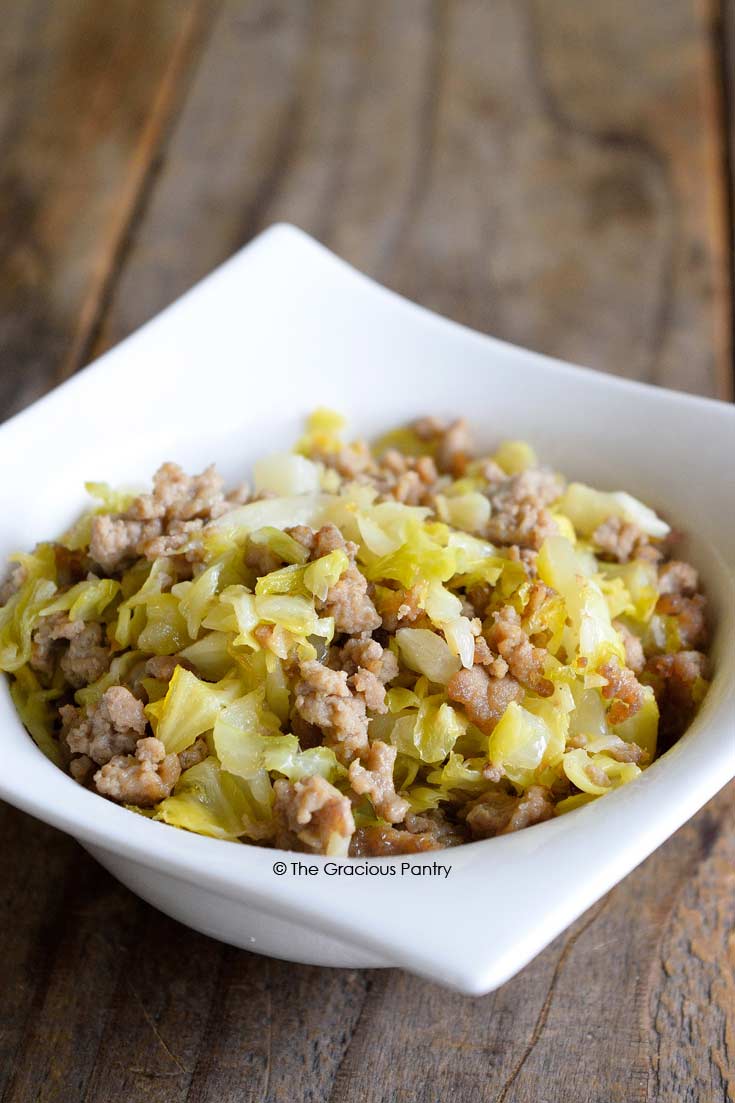 I recently went on a field trip with Mini Chef and his class. We went to a local farm where they raise sheep. One thing I love about this area is how picturesque it is. Everywhere you look there is something beautiful to see. From farms to vineyards and coastlines, this part of Northern California is definitely blessed.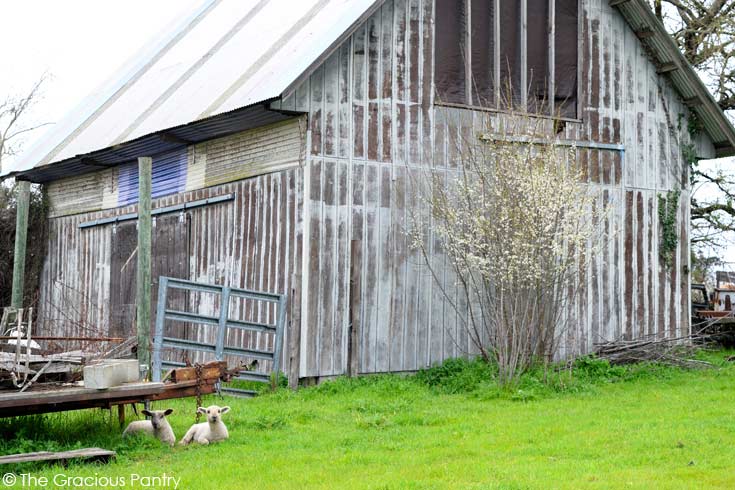 When we got out of the car, all we saw was beautifully green fields (thanks to all those storms we just survived) and sheep as far as the eye could see. We were introduced to the farmer (who's daughter is in Mini Chef's class and the reason we were able to visit this family farm in the first place), and then we met the sheep and other animals who live here.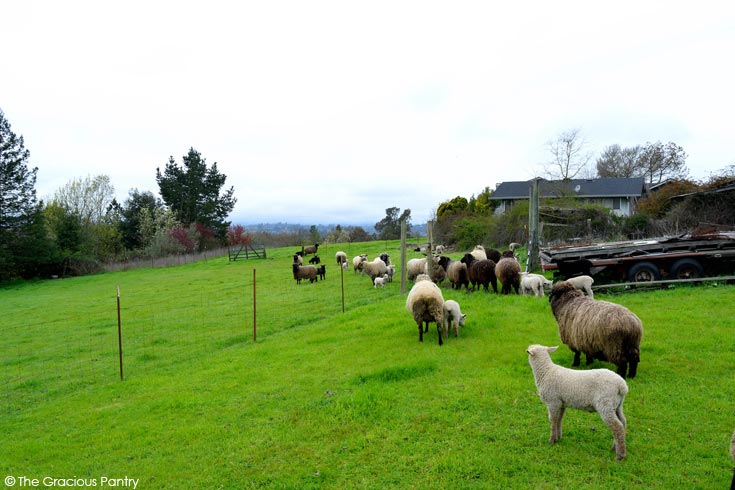 The dogs who help around the farm were incredibly cute. One was named Shamus and the other (pictured here) was named Sandy.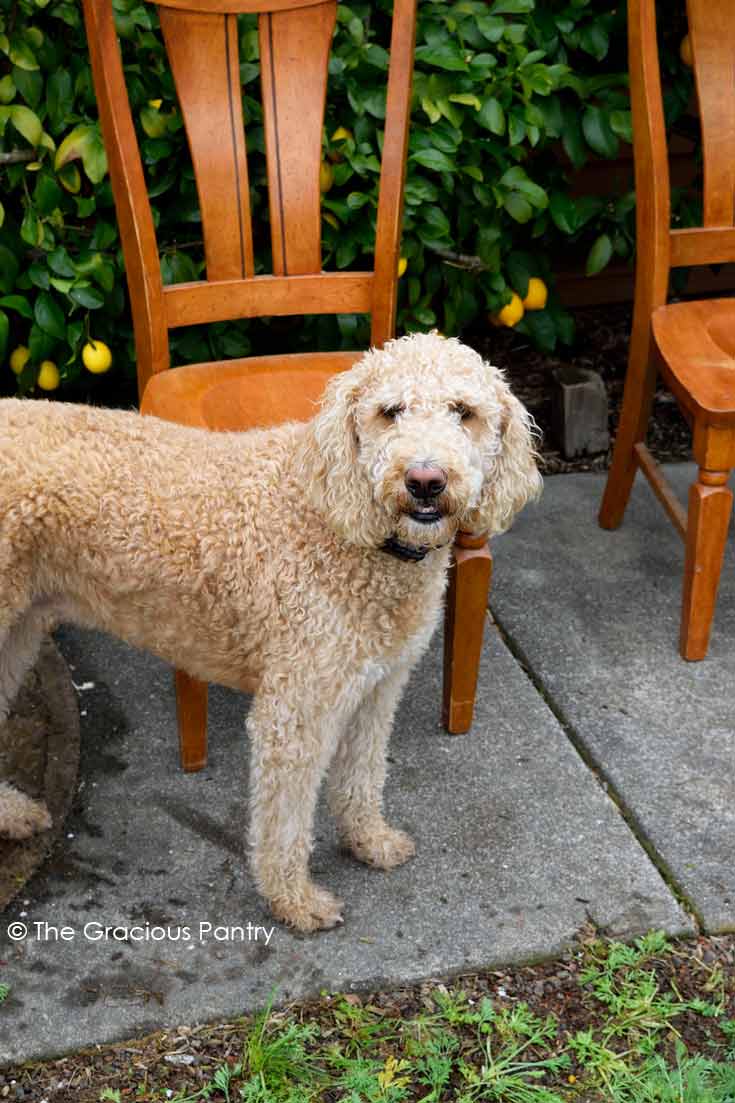 And then, there was Freckles. Freckles the "ba-sheep" as Mini Chef and I still refer to them (some toddler terms never go away). Freckles accompanied us for very nearly the entire field trip and pretty much ate his way through the entire experience. It was marvelous.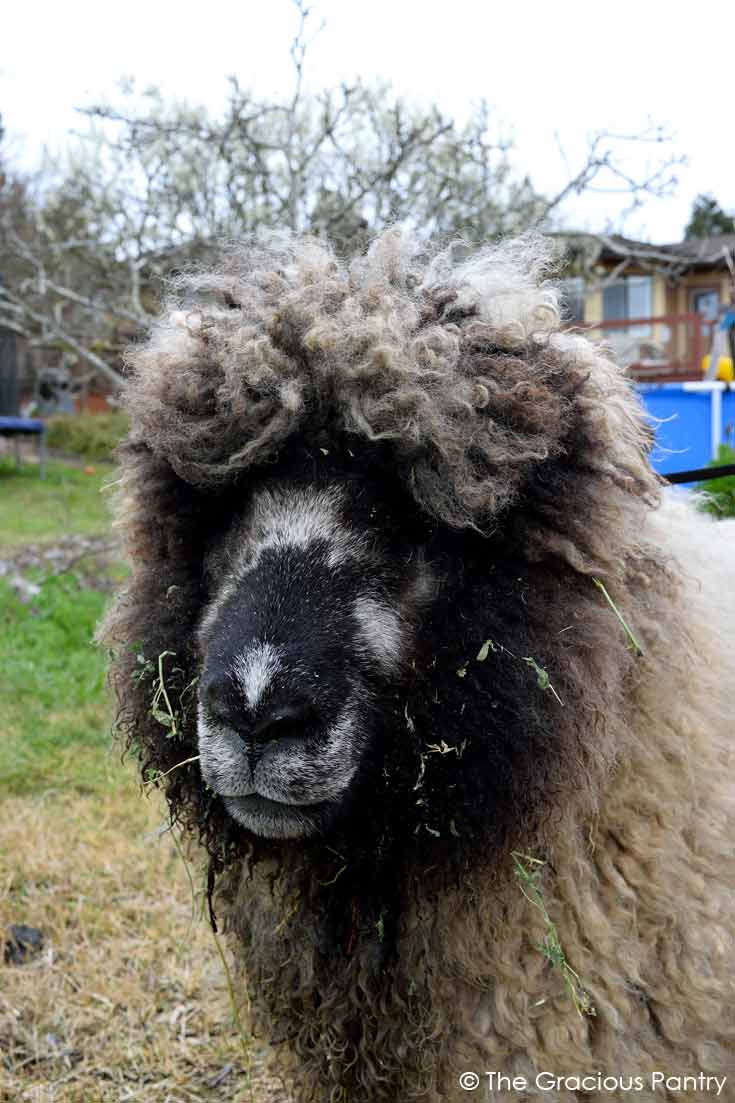 The kids got to play with some of the wool that is produced and sold on the farm and even take a few tufts home with them.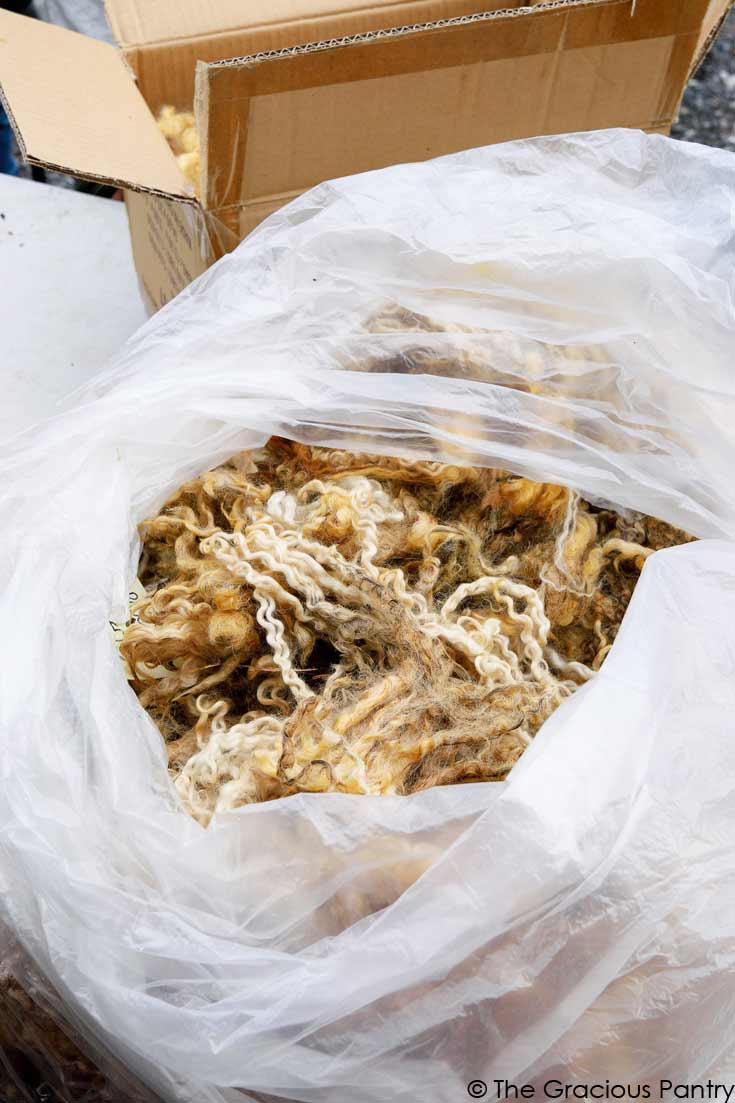 And somewhere along the way, we passed this humble little patch of veggies they had growing. I saw that marvelous head of cabbage and immediately started craving some. But I didn't want to make my usual German Cabbage Soup, so I got to spend the rest of the field trip thinking about what I'd do with the head of cabbage I had at home in the fridge.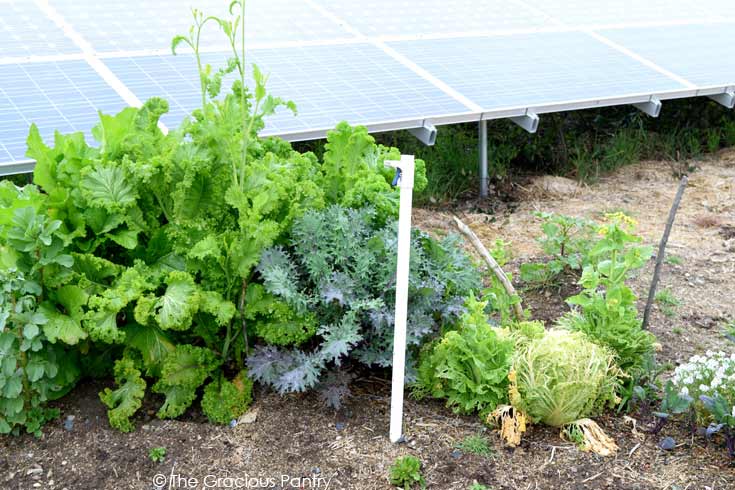 I was tired after the field trip and didn't want to do a lot of cooking when I got home because I still had other things to do that day and the day was disappearing quickly at that point. So I needed something fast.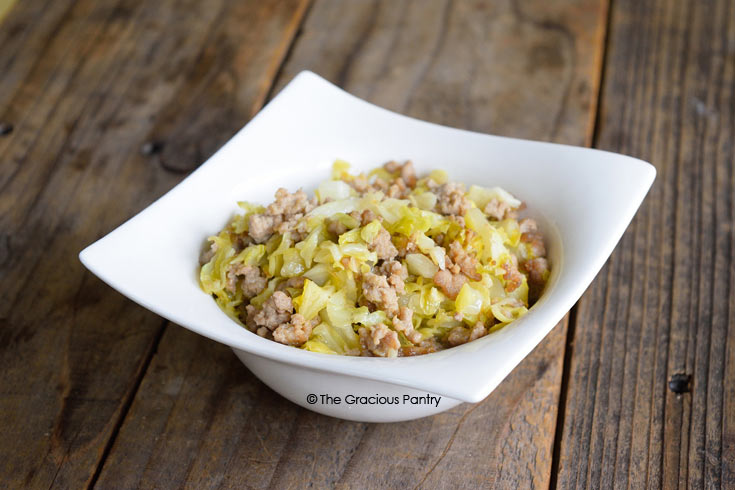 This is hands down one of the easiest recipes I've made in a long time. It was so easy to make with just a few ingredients and was the perfect ending after spending a day on the farm.
YOU MIGHT ALSO ENJOY:
Clean Eating Cabbage Hash Recipe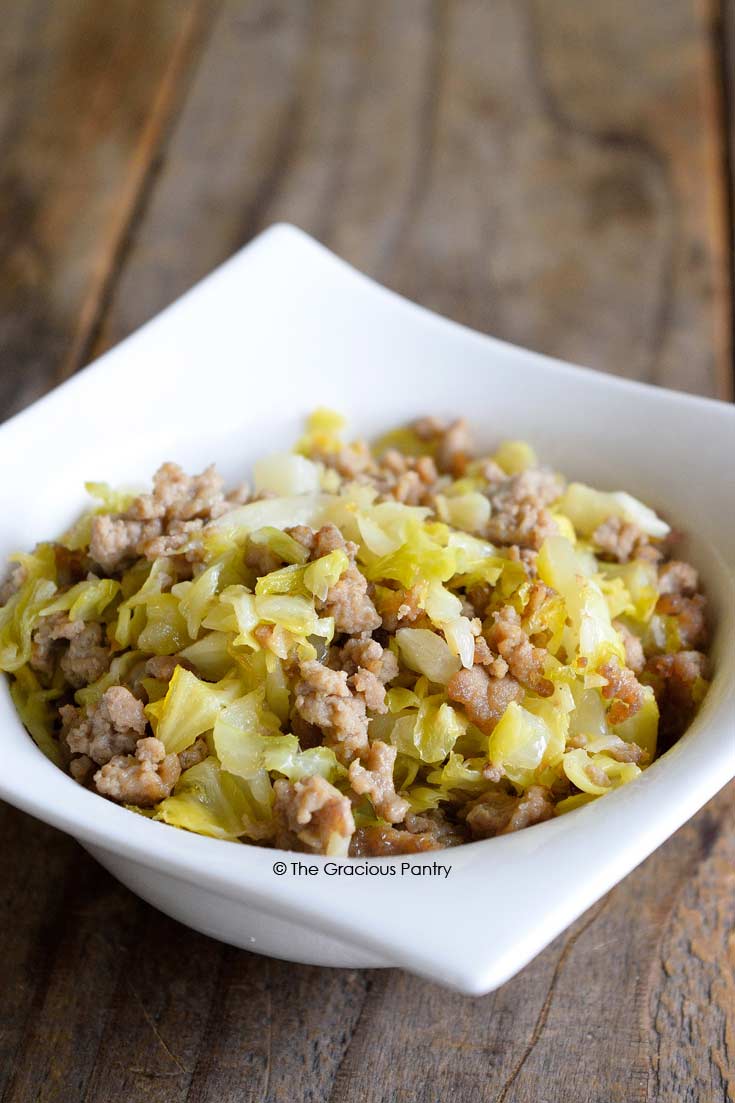 Author:
Tiffany McCauley | The Gracious Pantry.com
Ingredients
1-2 tbsp. good quality oil
1 small head green cabbage, sliced small and thin, core removed
1 lb. ground turkey
¼ medium, yellow onion
Chicken broth as needed for cooking
Salt to taste after cooking
Instructions
Warm the oil in a large skillet.
Add the cabbage and allow to cook down just enough to make room for the ground turkey.
Add the turkey and onion and stir continuously until the meat is fully cooked (approx. 15 min)
If the pan dries out, you can add chicken broth as needed.
Allow to cool slightly, season with salt and serve.