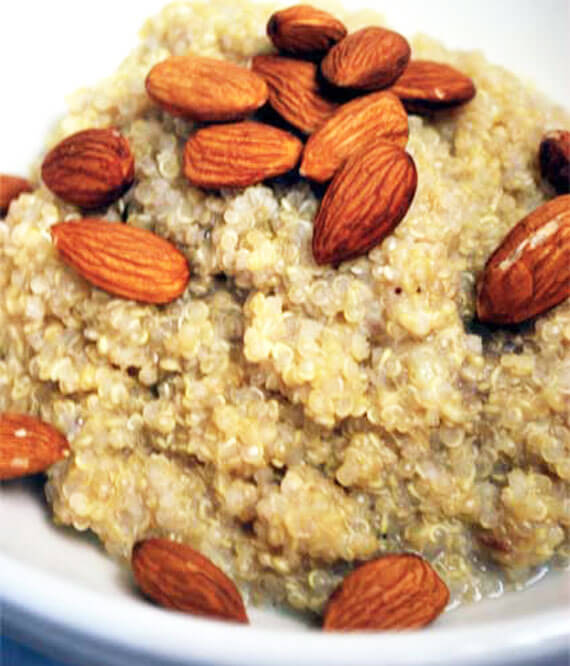 My son loves Quinoa. He'd eat it for breakfast every single morning if I had time to cook it that frequently. Not that it's tough to make, I just usually prepare breakfast (oatmeal) the night before so I don't have to do any cooking at all in the morning when I'm in a rush to get out the door.
But on the weekends, I have more time, and I will usually make a nice big bowl of this for him. And don't worry, adults will love it too!
YOU MIGHT ALSO ENJOY:
Clean Eating Banana Almond Quinoa
(Makes 4 servings)
Ingredients:
1 cup dry quinoa
1 cup non-fat milk
1 cup distilled water
1 medium banana – the more ripe, the better
1 teaspoon cinnamon
1 teaspoon vanilla extract
1/4 cup almonds (I used raw almonds)
Honey to taste
Directions:
Mash a ripe banana in the bottom of your pot.
Measure out your milk and water, and add to the pot. At this point, you can also add your vanilla and cinnamon.
Bring to a soft boil and add your Quinoa.
Cook, uncovered, until the water cooks out and you see translucent edges on the individual grains.
Serve and top with agave and almonds.
Nutritional Content:
(Data is for 1/4 of the entire recipe)
Note: Data does not include honey.
Calories: 259
Total Fat: 6 gm
Saturated Fats: 0 gm
Trans Fats: 0 gm
Cholesterol: 1 gm
Sodium: 31 mg
Carbohydrates: 41 gm
Dietary fiber: 5 gm
Sugars: 8 gm
Protein: 9 gm
Estimated Glycemic Load: 22
Please Note: Nutritional information estimated at Nutritiondata.com. Data may not be accurate and is subject to the availability of specific foods in their database. Where one ingredient is not listed, substitutions must be used. Therefore, you should not refer to this data as being exact. It's more of a ballpark figure. The Gracious Pantry does not take responsibility for the inadequacies of the nutrition calculator used. This data is provided as a courtesy and general reference only. It is not exact.