Jamaican Curry Powder Recipe
This post may contain affiliate links. Read my
Privacy Policy.
As an Amazon Associate I earn from qualifying purchases.
Jamaican curry powder can bring new life to a chicken dinner.
This delicious blend of earthy spices will give chicken night some new excitement and delicious flavor.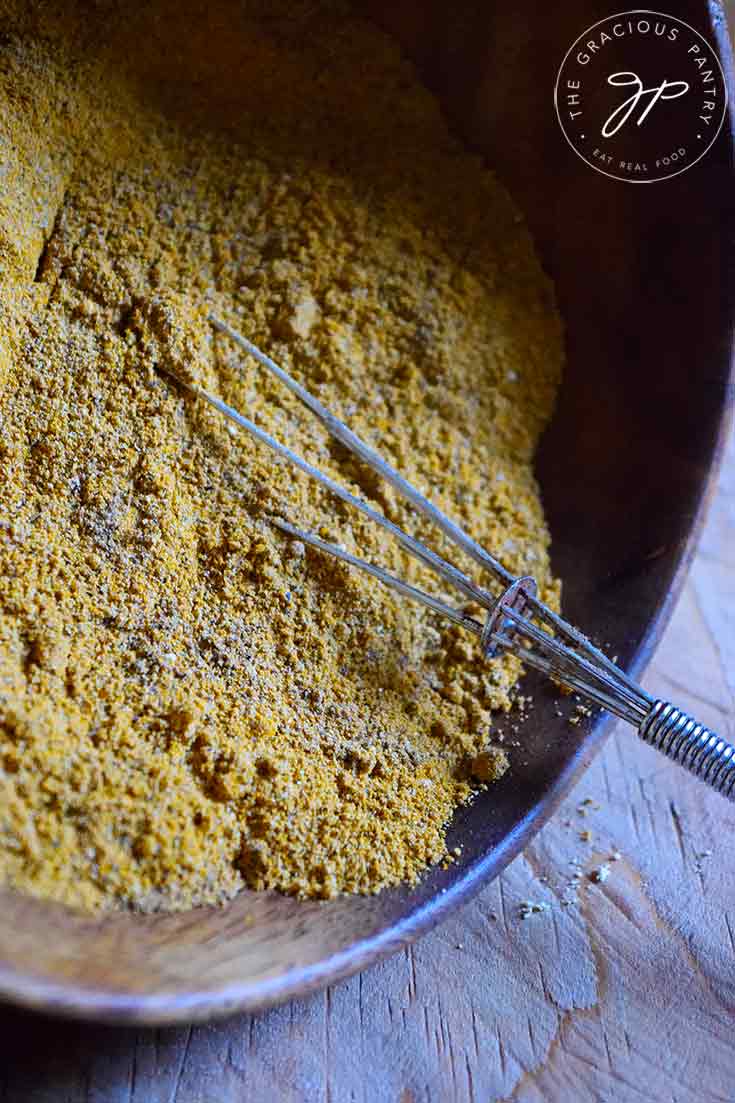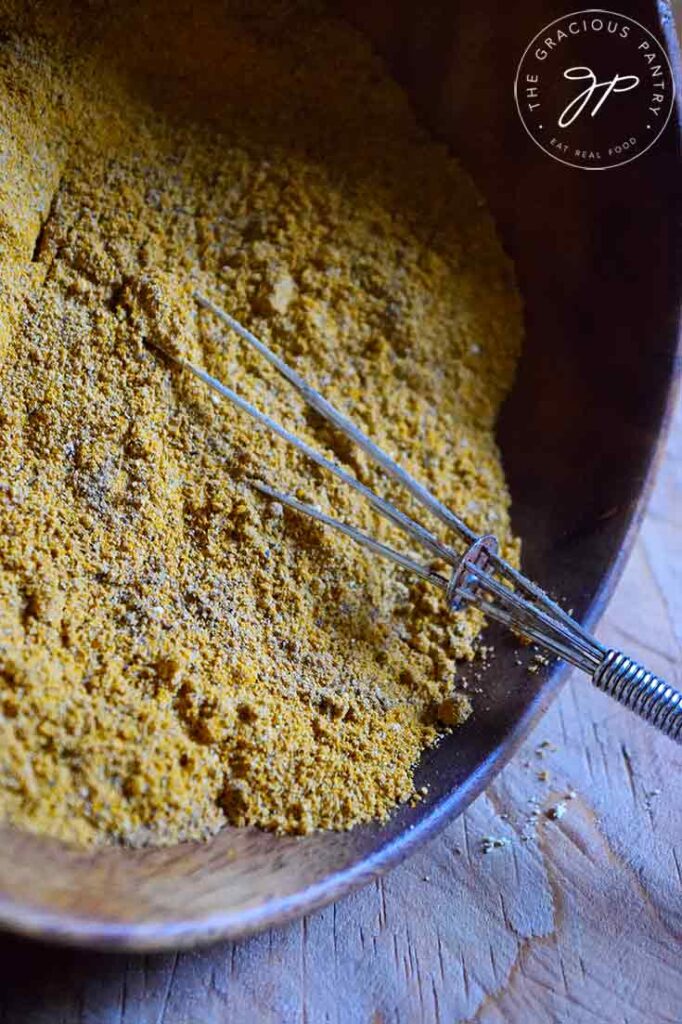 This spice mix goes well with anything and everything, as long as it's not too spicy. This easy cupboard staple is a must-have for any kitchen. It can be used in so many dishes and is easy to prepare quickly so you never have to worry about what you're going to do for dinner!
What Does Jamaican Curry Powder Taste Like?
Jamaican curry powder is different from regular curry powder. It has an earthier flavor with a spice level that is totally adjustable.
Depending on your spices, this can end up being anywhere from bright yellow to the golden color you see in the photos here.
Spice Level
As is, this would be considered a mild to medium heat on the spicy scale. The spiciness, or heat level, is really more of a hint than an absolute presence.
Using Whole Spices
If you prefer to whole spices, you'll want to roast your spices (which really brings out wonderful flavors). You can purchase the whole spices, roast them in a dry pan, and then run them through a spice grinder. See more directions below.
A British Invention
Curry, as we know it here in the states, is actually a British invention. It was an Indian dish that was modified for the British.
Curry, (from Tamil kari: "sauce"), in Western usage, a dish composed with a sauce or gravy seasoned with a mixture of ground spices that is thought to have originated in India and has since spread to many regions of the world.

Britannica
As with most human things, food and cuisines migrate and mingle. Curry is no exception. This Indian and British combination worked its way over to Jamaica in the 17th century. Indian workers came to a British settlement in Jamaica and brought Indian cuisine with them. The rest is history.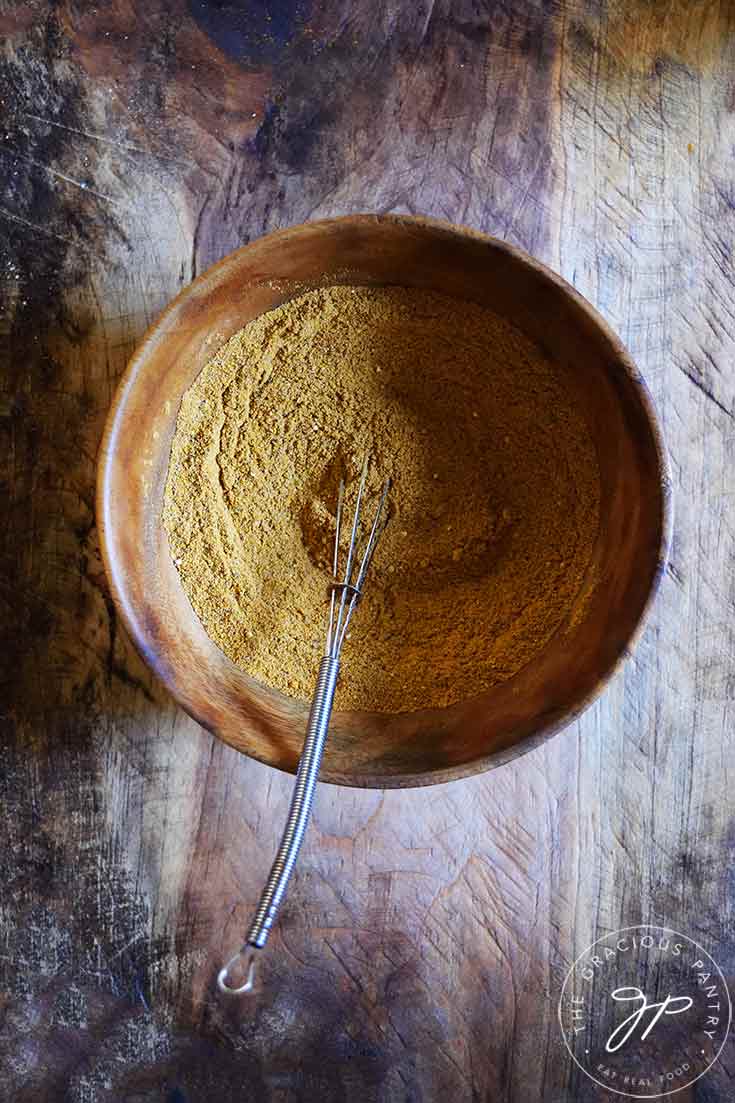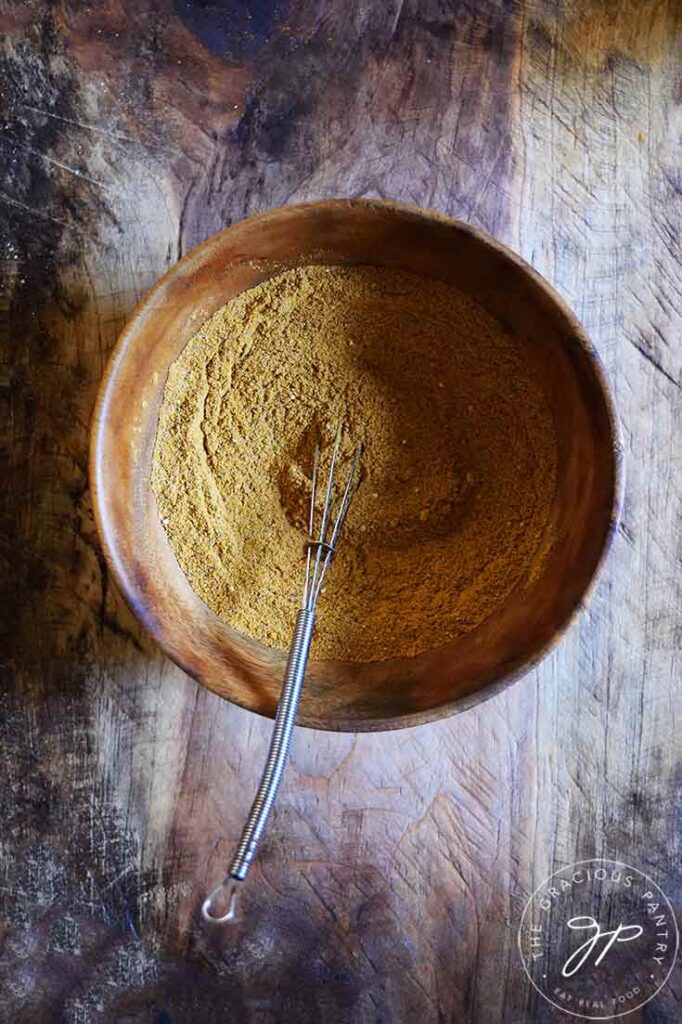 What Is Jamaican Curry Powder Made Of?
Curry powder changes from region to region. There is no one right way to make curry. The spice blend will change based on what's available in a particular area. And so once curry came to Jamaica, Jamaicans put their own Caribbean island flair into it and so we now have Jamaican curry powder.
Curry has all sorts of variations all over the world. Thai curries are another variation that many of us know here in the states.
In Jamaican cooking, one of the most popular uses for this spice mix is goat curry. But it can be easily used with chicken as well. Now I can't say much about goat curry because I've never eaten it. But Jamaican curry chicken is delicious stuff.
What's The Difference Between Curry Powder And Jamaican Curry Powder?
That's a loaded question. In fact, it's almost impossible to answer simply because curry powder changes from place to place.
Very generally speaking though, it has an earthier flavor to it, and it isn't as hot as what we consider "regular" Indian curry.
A quick to the grocery store spice aisle will get you everything you need to make this. If you don't know how to roast spices properly, then your best bet is to purchase ground spices. You won't need any of the curry mixes there. Just individual spices.
Traditional Spice Blends
Traditional Jamaican curry powder has Scotch Bonnet Pepper in it. I did not have access to this, so I left it out. If you have that in your area, it will make a tasty and traditional addition.
Jamaican Curry Powder Ingredient Checklist
3 tbsp. ground turmeric
1 tbsp. ground coriander
1 tbsp. ground cumin
2 tsp. ground fenugreek
2 tsp. ground black pepper
1 tsp. salt
1 tsp. ground mustard seeds (dry mustard)
1 tsp. ground allspice
1 tsp. ground anise
1 tsp. ground nutmeg
¼ tsp. ground cloves
How To Make Jamaican Curry Powder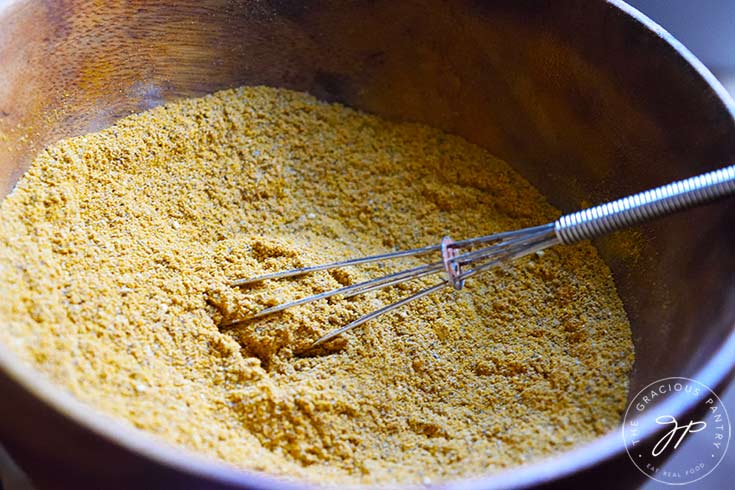 Place all spices in a mixing bowl and blend well.
How To Roast Whole Spices
If you want to roast the whole spices, you'll need to purchase whole spices instead of the ground versions.
Roast the spices together in a dry skillet until you can smell the fragrant aromas. Once you have a good wafting of aromas going, they are done. Transfer them to a bowl and let them cool before grinding them.
How To Store Jamaican Curry Powder
Any airtight container will do the trick. I put mine in a spice jar with a plastic lid. But you can try a small canning jar or even a plastic container. As long as it's airtight, it will store well. Keep in a cupboard or other dry, dark place for up to one year.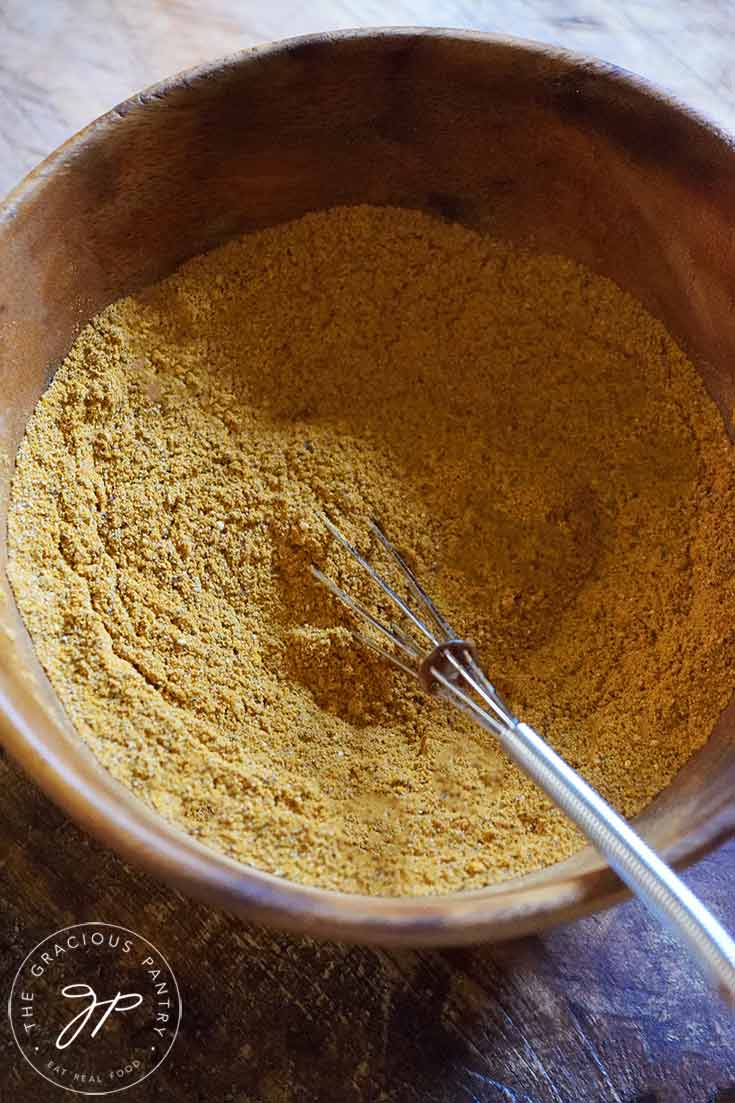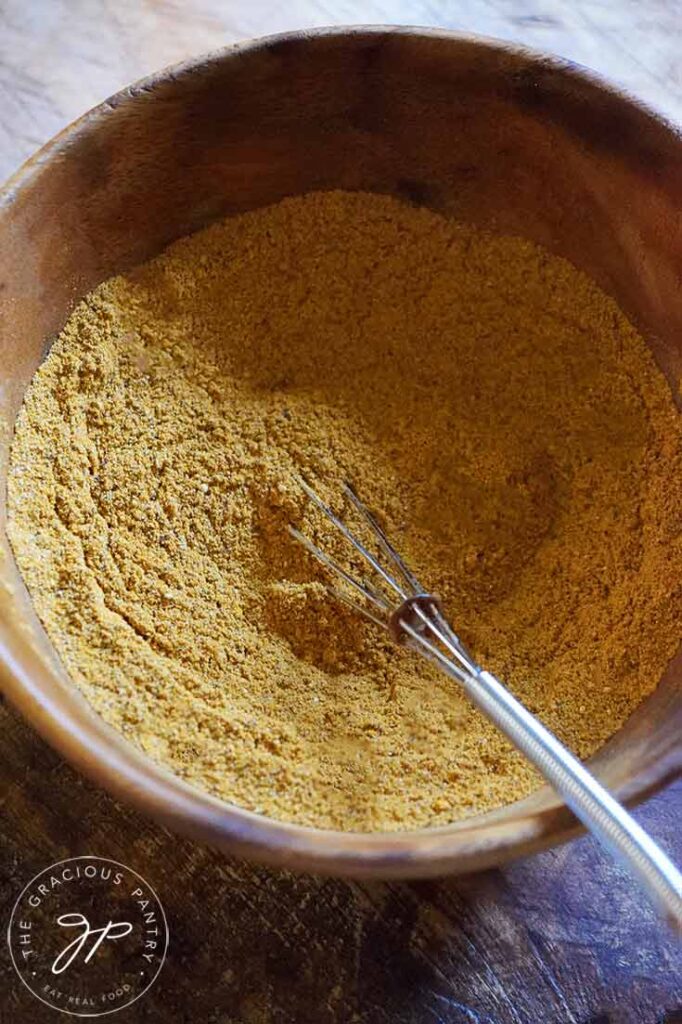 How To Use Jamaican Curry Powder
Aside from the goat and chicken I mentioned above, Jamaican curry powder is often combined with coconut milk for a good curry sauce.
Sometimes, people will add chili powder, cayenne pepper, or chili pepper to kick the heat level up a bit more.
Curry paste or garam masala can also be used, though traditionally, the curry powder we know is not added to Jaimaican curry powder. Lime juice is sometimes used as an accent flavor too, depending on the dish. So as you can see, there are many, many variations on this powder.
Need Recipe Supplies?
More Spice Mix Recipes
SUBSCRIBE
Remember to subscribe to my free newsletter to receive all my latest recipes in your inbox. Click here to sign up!
Jamaican Curry Powder Recipe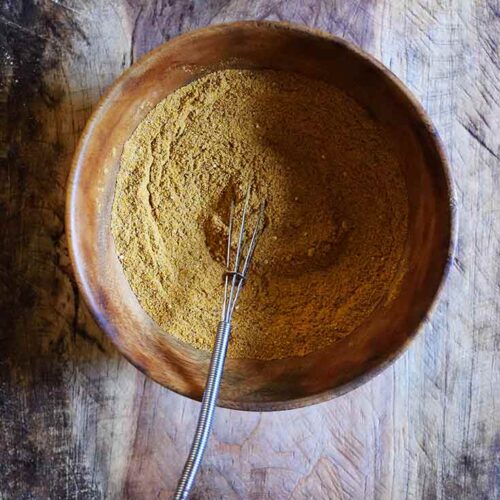 Jamaican Curry Powder
A different type of curry powder that brings new and exciting flavors to your dinner table.
Print
Pin
Rate
Add to Collection
Go to Collections
CLICK TO WATCH THIS RECIPE IN ACTION!
Ingredients
3

tbsp.

ground turmeric

1

tbsp.

ground coriander

1

tbsp.

ground cumin

2

tsp.

fenugreek

2

tsp.

ground black pepper

1

tsp.

salt

1

tsp.

dry mustard

1

tsp.

ground allspice

1

tsp.

ground anise

1

tsp.

ground nutmeg

¼

tsp.

ground cloves
Instructions
Place all spices in a mixing bowl and blend well.
Notes
Please note that the nutrition data given here is a ballpark figure. Exact data is not possible.
Nutrition
Serving:
1
entire batch
|
Calories:
172
kcal
|
Carbohydrates:
29
g
|
Protein:
7
g
|
Fat:
6
g
|
Saturated Fat:
2
g
|
Polyunsaturated Fat:
1
g
|
Monounsaturated Fat:
2
g
|
Sodium:
2358
mg
|
Potassium:
919
mg
|
Fiber:
10
g
|
Sugar:
2
g
|
Vitamin A:
240
IU
|
Vitamin C:
19
mg
|
Calcium:
191
mg
|
Iron:
18
mg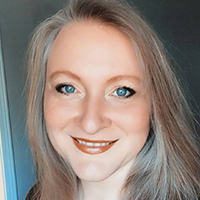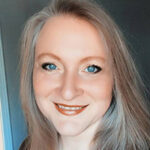 I'm Tiffany, a writer for MSN and the AP Newswire, a cookbook author, digital publisher, food lover, and mom. I create healthy, clean eating recipes for everyday living.