This post may contain affiliate links. Read my
Privacy Policy.
As an Amazon Associate I earn from qualifying purchases.
This fresh ginger tea is easy to make and can help you feel better in so very many ways. It has a long history of relieving all kinds of ailments. Fresh ginger root is something you'll always want to keep on hand.
Need to ease a sore throat or sore muscles? Here's a little something I've discovered over the years, and have found good research recently, to back it up.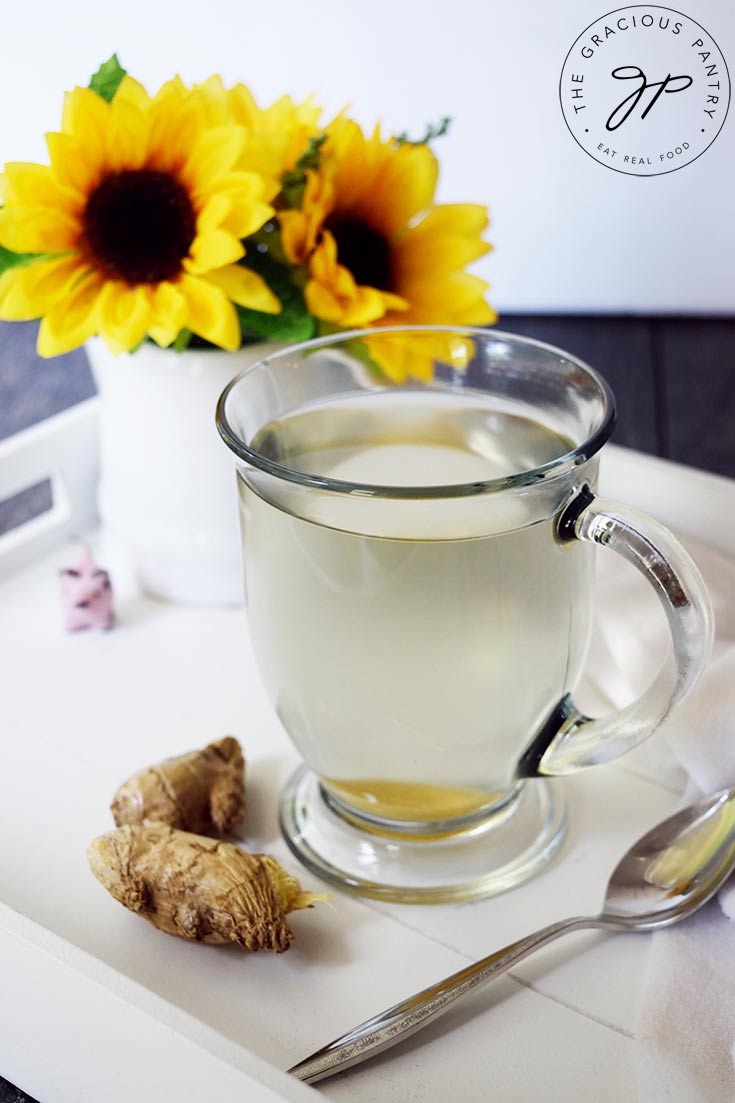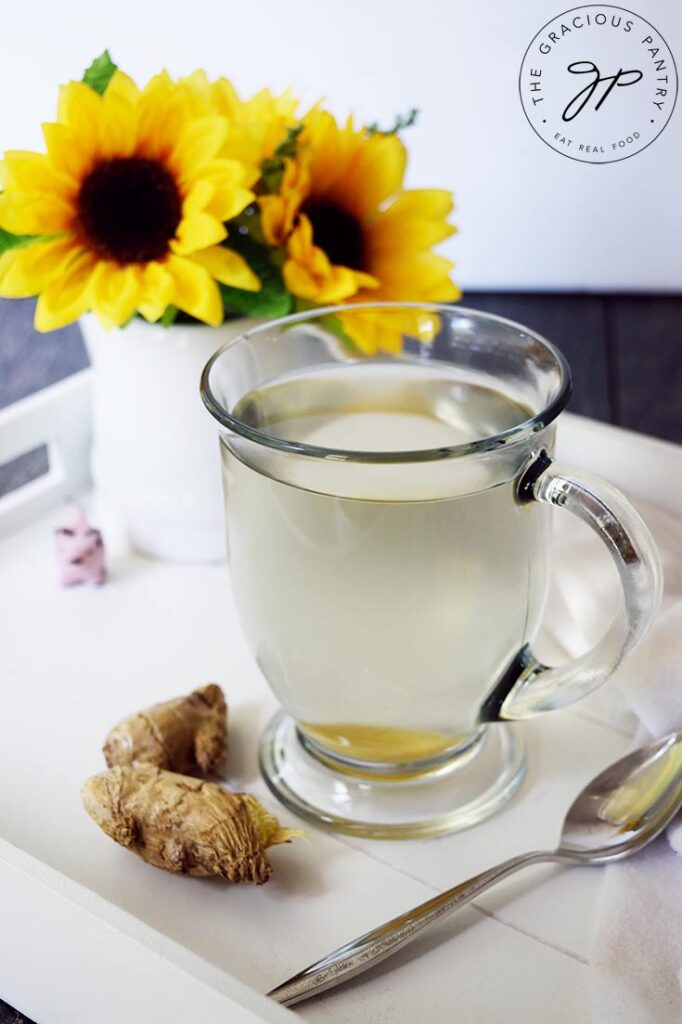 First, I should tell you…
I am not a doctor or dietitian. I'm not even a naturopath. The benefits of ginger are well documented and I'm simply sharing a recipe for it here. This recipe is not intended to be a cure for anything. Please consult your doctor before using this or any natural remedy. Use at your own risk.
What Is Fresh Ginger Tea?
Fresh ginger tea is tea made using fresh ginger instead of the prepackaged tea you would buy at the store. Instead of steeping a tea bag in hot water, you'll be simmering fresh ginger in water on the stovetop.
Why Drink Ginger Tea?
Ginger tea benefits can be many! It is considered to be safe for most people to ingest on a daily basis. However, there are always exceptions to that rule. Please consult your doctor before using it to alieviate any problems you may be having. Ginger can interfere with certain medications. That being said, daily intake has been shown to potentially:
Lower blood pressure
Boost immunity
Reduce inflammation
Actas an anti-inflammatory
Improve blood circulation
Aid digestion
Relieve nausea and upset stomach, heartburn/indigestion and may help alleviate vomiting
Help strengthen the immune system
Aid sleep, particularly with a splash of lemon added
May help with morning sickness during pregnancy (please talk to your doctor first!)
How Much Ginger Tea Can You Drink Per Day?
On average, the safe amount is between 1 and 3 cups per day. This can vary for different people, but that is the average. That said, 3 cups is a lot of ginger tea unless you are sick and want to drink it throughout the day.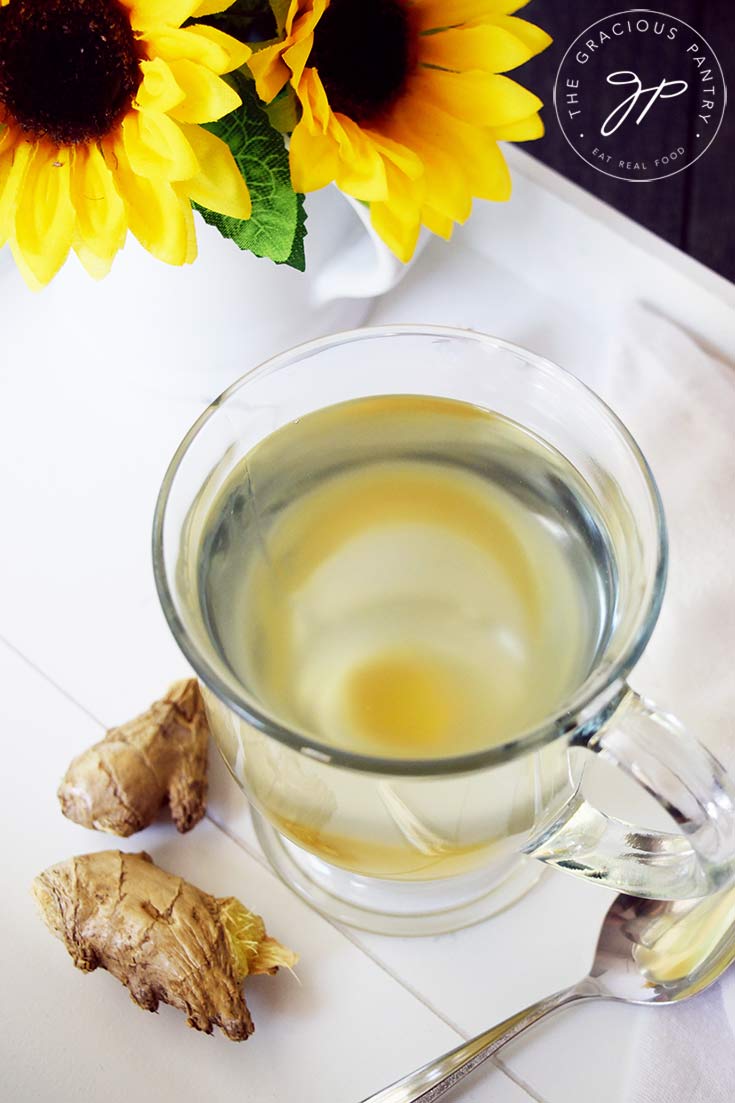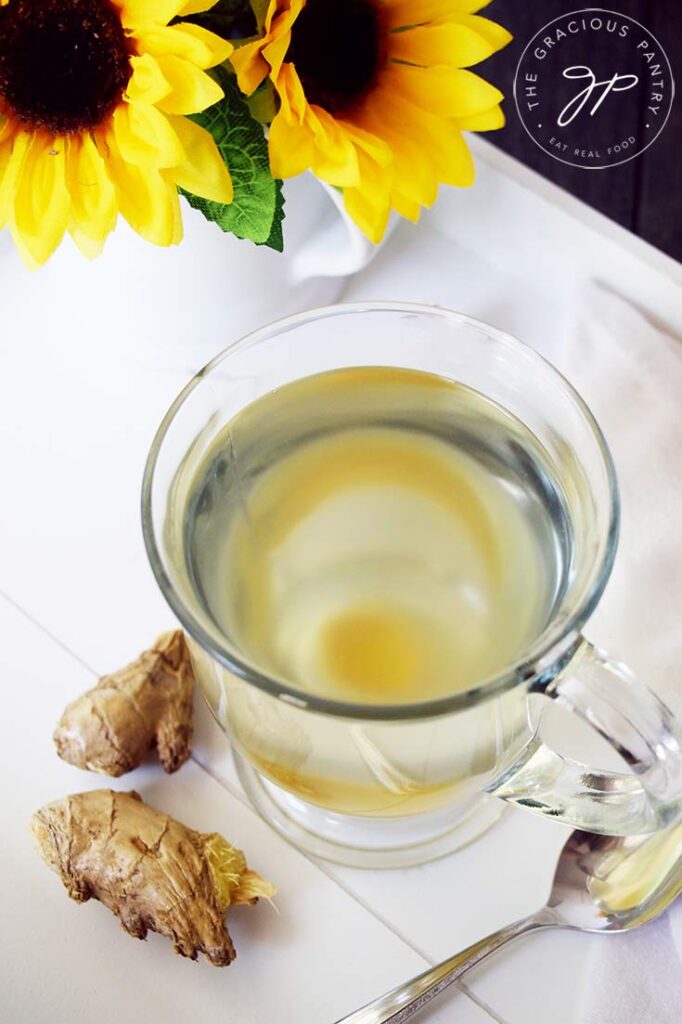 What Is The Side Effect Of Drinking Ginger Tea?
While drinking ginger tea daily is good for you, drinking too much can have negative effects.
According to HealthLine.com:
"Some of the most common side effects of drinking large amounts of ginger tea are gas, bloating, heartburn, and nausea. Studies recommend keeping your intake of prepackaged ginger tea under 4 cups per day."

Healthline.com
How Long Do You Boil Ginger Root For Tea?
This will depend entirely on how much water you use to make it. Generally speaking, you don't want to boil it, you want to simmer it. And you want to simmer it long enough to reduce the liquid by about half if you want a good, strong ginger flavor.
Is It Good To Drink Ginger Tea Before Bed?
It can be, yes! Particularly if you add a bit of lemon juice to your tea. The combination has been shown to help you sleep better. (source)
Is It Necessary To Peel Ginger?
While ginger peel is completely safe to ingest, most people prefer to peel their ginger. It's a personal choice.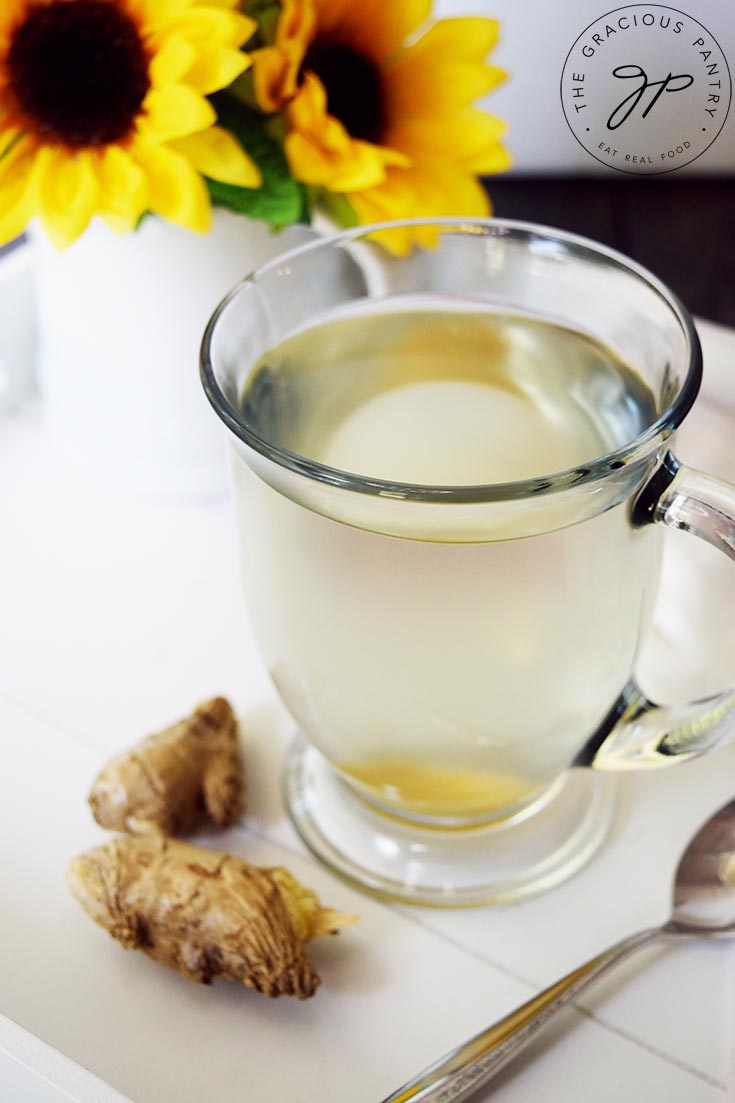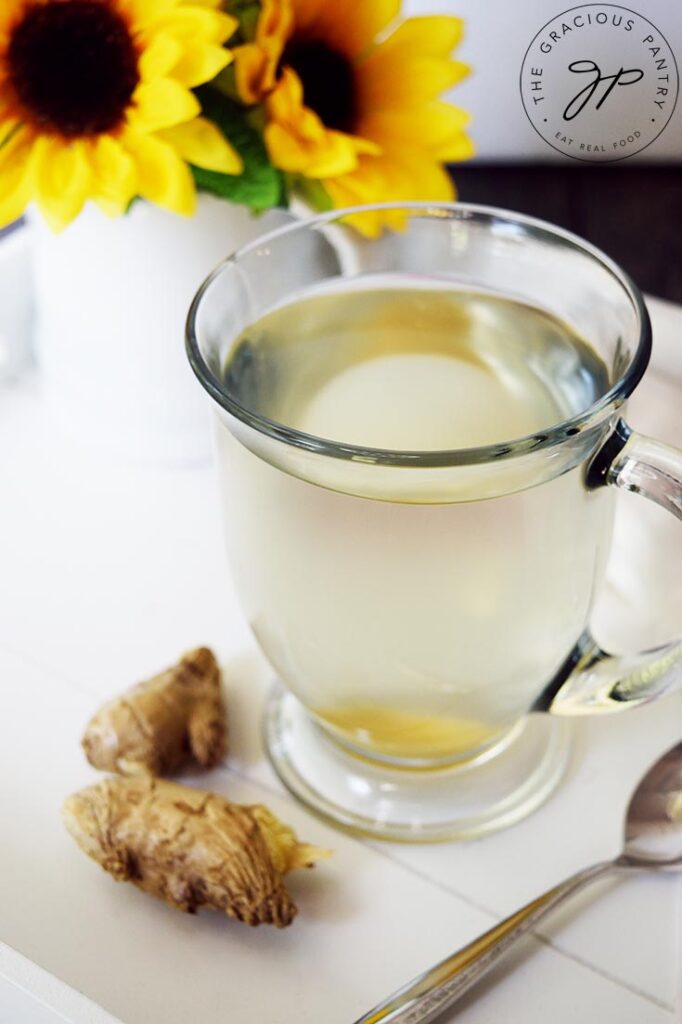 Can You Drink Ginger Tea On An Empty Stomach?
If we were talking about ginger shots, the answer would be no. But we are talking about tea. In smaller amounts (1 cup or so), it's fine to drink on an empty stomach. But this can vary from person to person. So if this is something you want to do, test it first a time or two before making it a routine.
Why? Because ginger stimulates bile. And if you stimulate bile without eating something, you could end up with a bit of nausea. So if you plan to drink this first thing in the morning, don't wait too long to eat something.
Ways To Flavor Fresh Ginger Tea
While I love to drink this plain with no sweetener added (especially if I have a sore throat!), there are many tasty ways to flavor and enhance fresh ginger tea. Here are some ideas on variations:
Lemon juice
Honey
Turmeric or other spice
Orange (either juice or zest for steeping)
Fresh mint
Black pepper
Cinnamon stick (simmer this in the pot with the ginger slices)
About The Ingredients
Fresh ginger – You want it to be as fresh as possible. If you've had ginger in your fridge for a few weeks and it's looking kinda wrinkly, toss it and get new ginger.
Water – Make sure this is drinkable, fresh water. I know many people still drink tap water, but if you are trying to heal from something, you don't want all the stuff that comes with tap water in your tea.
How Do You Make Tea From Fresh Ginger?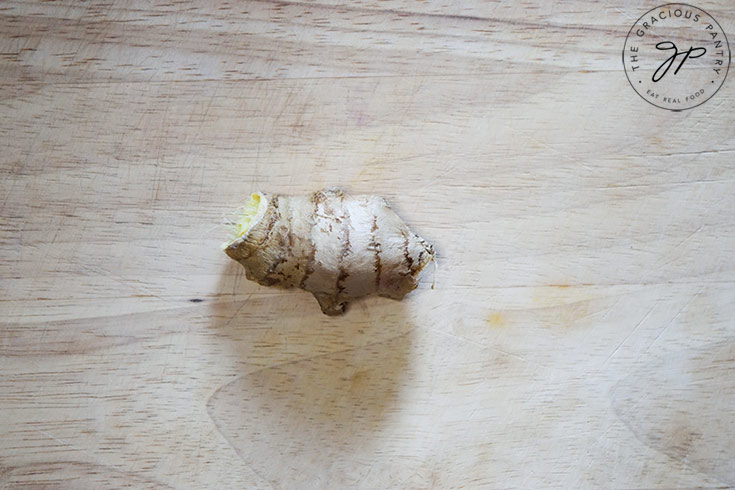 Break off a 2 inch piece of ginger. (about 2 knuckles).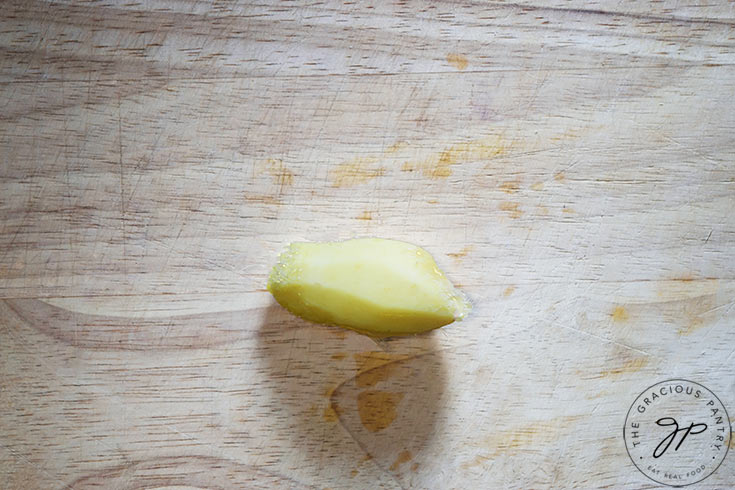 Peel the ginger with a potato peeler or the side of a spoon.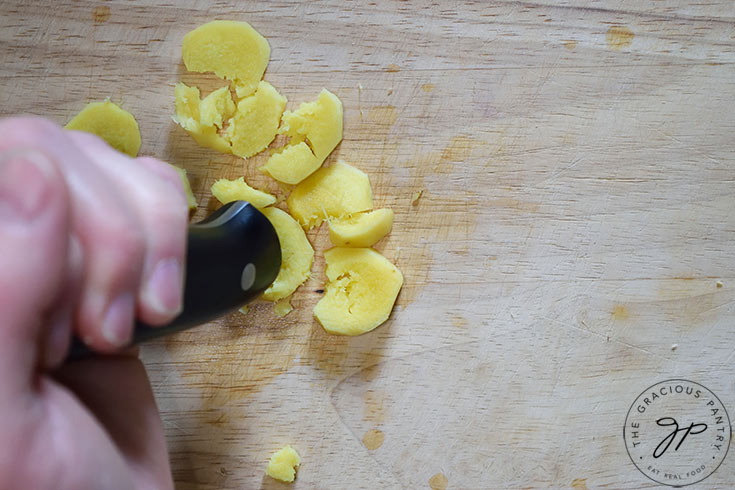 Slice and then crush the ginger pieces with the end of your knife to help release the juices.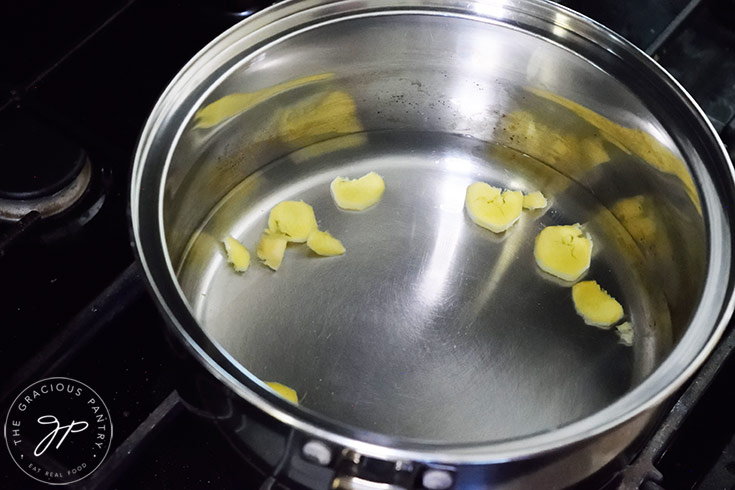 Place the ginger in the water in a small saucepan and bring to a boil over high heat. Reduce to a simmer and let cook until it has reduced by about half for a strong ginger flavor. Strain the ginger from the tea using a fine mesh strainer before serving.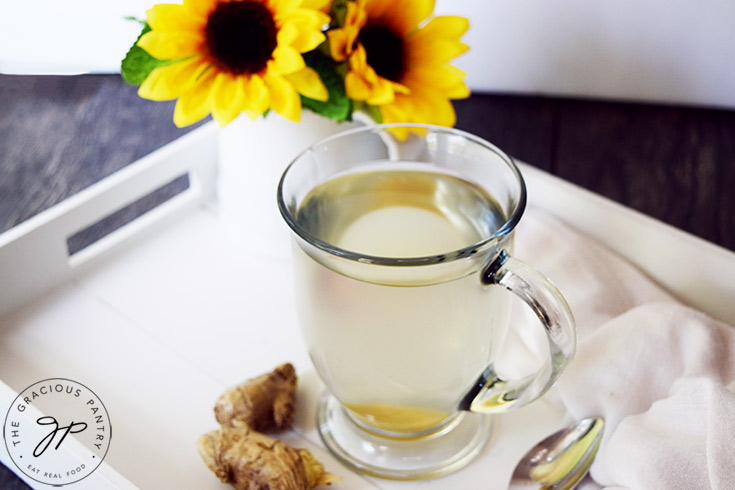 Pour into your favorite mug, stir in a drizzle of honey and splash of lemon juice if you wish, or just serve it as is.
How To Store Fresh Ginger Tea
This tea will keep in the fridge for up to 4 days. Keep it in an airtight container such as a canning jar.
How To Freeze Fresh Ginger Tea
If you happen to have a lot of ginger or you want to keep tea in the freezer long-term for cold and flu season, freeze this in ice cube trays for making individual servings. You can either thaw them in a mug in the microwave or heat them slowly in a pot on the stove.
Recipe Supplies
For this recipe, you'll need a pot, a good knife, and a cutting board. To shop for these items, click on the image below to be taken to the product on Amazon. (Affiliate links)
SUBSCRIBE:
Remember to subscribe to my free, Gracious Pantry Newsletter to receive all my latest recipes in your inbox! Click here to sign up!
More Healthy Drink Recipes
Fresh Ginger Tea Recipe Card + Video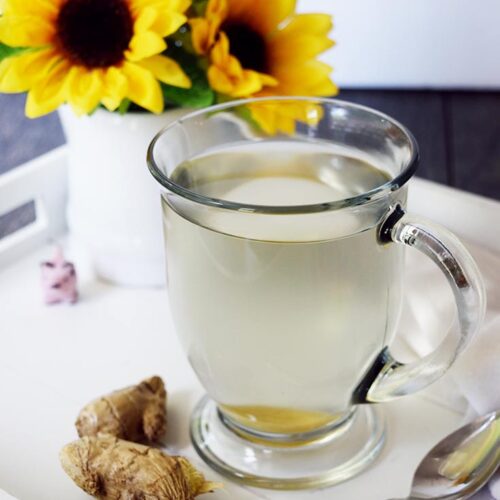 Fresh Ginger Tea
Print
Pin
Rate
Add to Collection
Go to Collections
Ingredients
2

inches

fresh ginger

(peeled, sliced and "smooshed")

2-4

cups

water

(depending on the strength you want)
Instructions
Break off a piece of fresh ginger that is approximately 2 inches in length (about 2 knuckles)

Peel the ginger with a potato peeler or the side of a spoon.

Slice and then crush the slices with the end of your knife to help release the juices.

Place in water and bring to a boil. Reduce to a simmer and let cook until it has reduced by about half for a strong ginger flavor.

Serve in your favorite mug with any additions you want to add (if any).
Notes
Please note that the nutrition data given here is a ballpark figure. Exact data is not possible.
Nutrition
Serving:
0.5
the recipe
|
Calories:
8
kcal
|
Carbohydrates:
2
g
|
Protein:
1
g
|
Fat:
1
g
|
Saturated Fat:
1
g
|
Polyunsaturated Fat:
1
g
|
Monounsaturated Fat:
1
g
|
Sodium:
13
mg
|
Potassium:
44
mg
|
Fiber:
1
g
|
Sugar:
1
g
|
Vitamin C:
1
mg
|
Calcium:
9
mg
|
Iron:
1
mg
Recipe from the Gracious Pantry® archives, originally posted 11/09/10.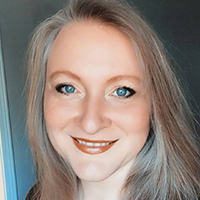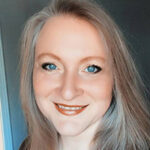 I'm Tiffany, a writer for MSN and the AP Newswire, a cookbook author, digital publisher, food lover, and mom. I create healthy, clean eating recipes for everyday living.