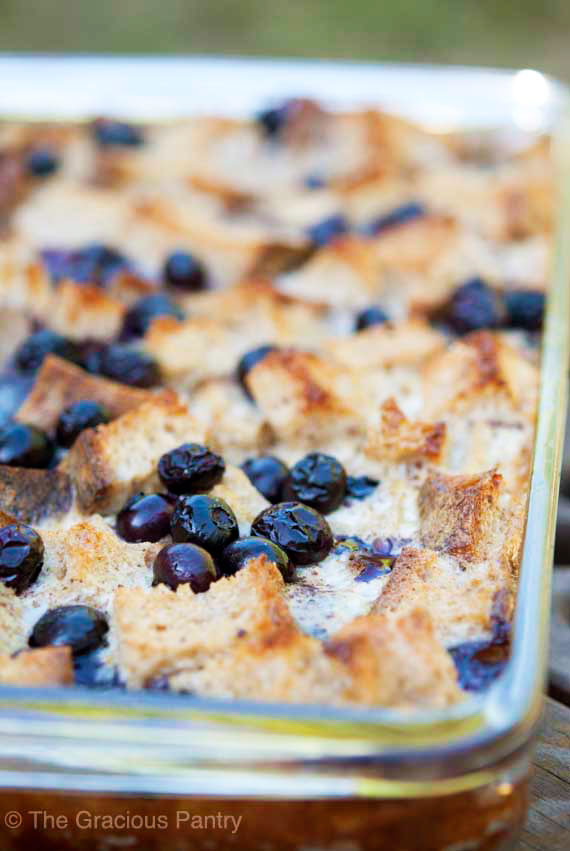 Oh my. This was delicious…
I mean, who doesn't like french toast? It's incredible stuff! Add to that some super power berries (yes, I said super power), and you've got yourself an amazing breakfast for a special occasion, or just a normal day of the week. Either way, you're going to love this. And if you don't think you can handle 12 servings, make it anyway. You can nosh on it all week and stick the leftovers in the freezer!
YOU MIGHT ALSO ENJOY:

Clean Eating Blueberry French Toast Casserole Recipe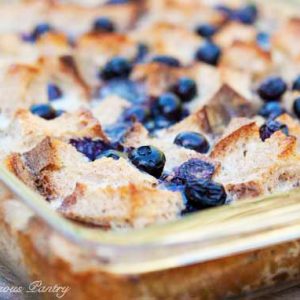 Author:
Tiffany McCauley | The Gracious Pantry.com
Ingredients
6 cups cubed, whole grain bread
8 egg whites
1½ cups unsweetened almond milk
¼ cup honey (or maple syrup)
1 teaspoon vanilla extract
2 teaspoons almond extract
2 teaspoons ground cinnamon
2 cups fresh blueberries (frozen works too, as do other berries.)
Instructions
In a large mixing bowl, combine the egg whites, almond milk, honey, extracts and cinnamon. Whisk well.
Oil a baking dish (about 9 x 13), and fill it with the bread.
Pour the liquid mixture over the bread and allow it to sit for at least 30 minutes, mixing once or twice to be sure all parts of the bread are moistened.
Mix in the blueberries.
Bake the casserole at 350 F. for about 45 minutes or until there is no longer any liquid between the bread.
Cool a bit and serve.