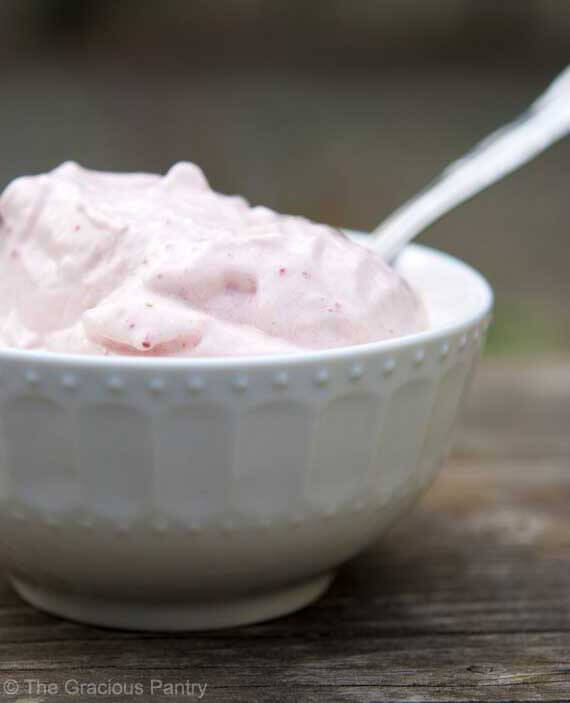 As most of you know, I've been making banana ice cream for a long time now. But more recently, I was surfing the web and came across a recipe that used cottage cheese.
I was interested in what effect cottage cheese would have, especially since this article (which of course, I cannot find now…) claimed you could freeze the ice cream after making it (which is something I don't recommend for my previous recipes).
Since dairy has been slipping back in to my life here and there lately, I didn't think much of giving this a try. Man, I'm glad I did. I could not believe the difference a little cottage cheese could make! It's rich, thick and creamy. Just incredible.
So this is actually an improved version of my previous Strawberry Banana Ice Cream recipe. But the truth is, you could add anything to replace the strawberries. The flavor combinations are only as limited as your imagination. Have fun with it!
YOU MIGHT ALSO ENJOY:

Clean Eating Strawberry Ice Cream
(Makes 8 servings)
Ingredients:
2 bananas, sliced and frozen
1/2 cup low-fat cottage cheese
1 cup frozen strawberries (or 1/2 cup fresh fruit or any other addition)
Directions:
Place all ingredients in a food processor and blend until smooth. You may have to stop it, remove the lid and poke around at everything a few times to convince the processor to blend it all. And if the mixture seems too dry to process properly, add a small splash or two of non-fat milk to get things loosened up enough to blend. Then start it again. Actually, you may have to do that a few times. But it will blend, I promise.