Clean Eating Slow Cooker Pumpkin Banana Bread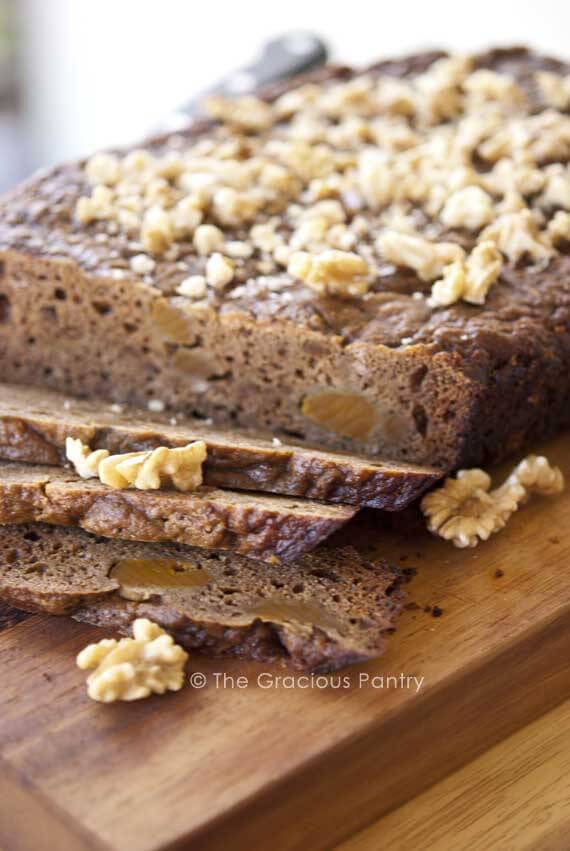 Oh my. Isn't fall wonderful? I love it and I'm crazy happy it's here!! And to help celebrate that fact, I thought I'd make a little something special for Mini Chef as well as a friend of mine.
As you probably well know, pumpkin EVERYTHING takes over the internet this time of year, and for good reason! Pumpkin and pumpkin spice are quintessential autumnal fare! So I'm joining in on the barrage of pumpkin recipes with this delicious sweet bread.
I read recently that it's completely possible to make bread in a slow cooker. The article mentions that it's a great way to have fresh bread during summer without heating up the kitchen, and I thought that was just brilliant. So I tested things out with this recipe. While it's not a traditional loaf of bread, it "bakes" up in a perfect shape for slicing and the slices are not huge. So keeping things in proportion is made fairly simple.
It turned out delicious and Mini Chef loves it with Clean Eating Apple Butter! I hope you'll enjoy it too!
Recipe notes: As you can see from my photo, I did not completely smooth out the texture of my pumpkin, so I ended up with pumpkin "chunks" in my bread. It was pretty good that way! But if you prefer to not have pumpkin chunks in your bread, simply make sure that you get rid of the lumps when mixing the batter.
Also, I made mine in a 5 quart slow cooker. This makes a pretty good sized loaf. So if you can't eat it all, feel free to wrap it up air-tight and store in the freezer for up to 3 months.
YOU MIGHT ALSO ENJOY:
RECIPES USED:

Clean Eating Slow Cooker Pumpkin Banana Bread
Author:
Ingredients
2 cups whole wheat pastry flour
1/2 cup coconut oil
3/4 c honey
2 large eggs
1 tsp. vanilla extract
1 1/2 tsp. baking soda
2 tsp. pumpkin spice mix
3 cups pumpkin puree
1 ripe banana, smashed
Walnuts for topping, optional – you can also bake some into the bread. I recommend about 1/2 cup chopped.
Instructions
Combine the flour, baking soda and pumpkin spice mix in a large mixing bowl.
Make a well in the middle of the flour and add the oil, honey, eggs, pumpkin, vanilla and banana.
Mix well to combine.
If you using canned pumpkin, you will need to mash it a bit to get the lumps out. Homemade puree works well too. Work with what you have, just be sure it's 100% pumpkin.
When combined, oil your slow cooker crock (I used an oil sprayer), then pour the batter into the crock. If you do not want to use the oil, you can line your crock with parchment instead.
Cook on high for 2-3 hours.