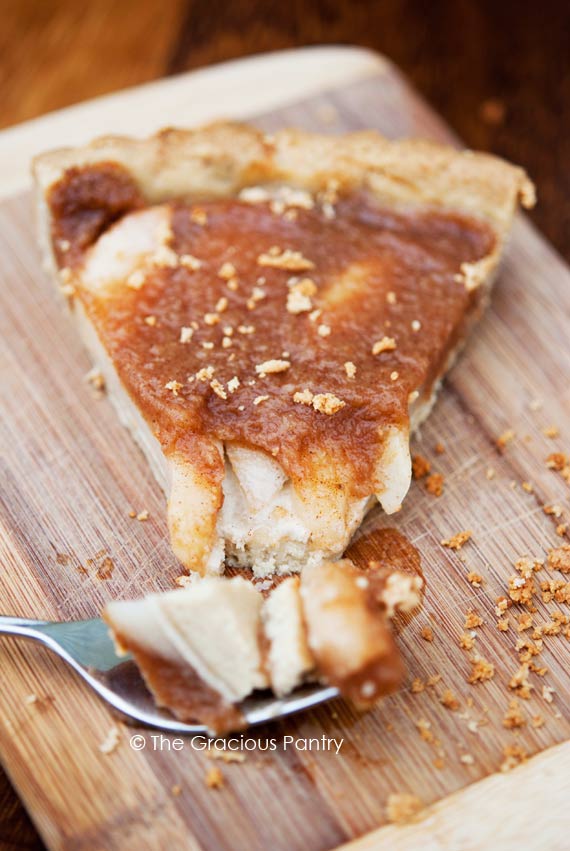 I love simple recipes that use basic ingredients. I truly appreciate the simple flavors that don't go overboard on sweetness in a dessert. Fruit is such a wonderful experience in a dessert recipe. In my opinion, it should never be overshadowed by sweetener, natural or otherwise.
When fruit is present in a dessert, I want to actually taste the freshness of the fruit itself. What I don't want is that cloying over-sweetness that tends to overstimulate your taste buds in many desserts these days. It sort of deadens your tongue to the true flavors that are present.
So I went really easy on the sweetener with this one. A bite of this will allow you to taste each of the fruits, the cinnamon and the delicious nutty crust. It's perfect with coffee, tea or even a glass of milk!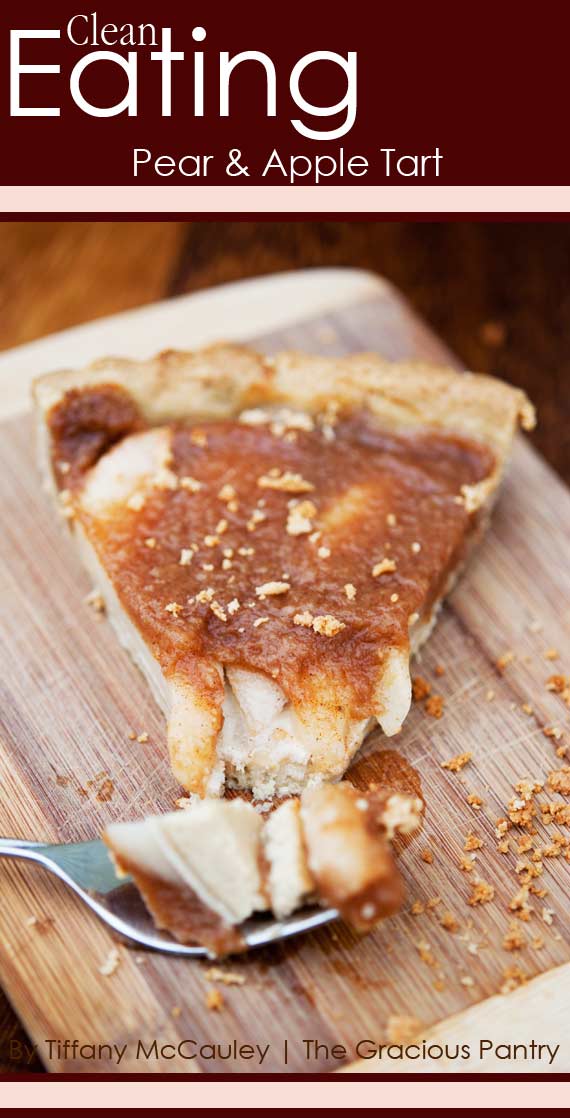 YOU MIGHT ALSO ENJOY:

Clean Eating Pear & Apple Tart Recipe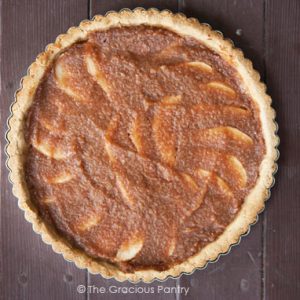 Author:
Tiffany McCauley | The Gracious Pantry.com
Ingredients
CRUST INGREDIENTS:
1 lb. cashews
1 tsp. pure vanilla extract
1 tbsp. coconut oil
FILLING INGREDIENTS:
1½ medium bartlett pears, peeled and sliced into ¼ inch slices
1 cup (240ml) unsweetened apple sauce
1 tsp. ground cinnamon
1 tbsp. honey OR maple syrup
Instructions
Grind nuts in a food processor with vanilla and coconut oil, stopping the processor and scraping the sides of the container twice throughout the entire process. The processing is done when you can pinch some of the mixture between your fingers and it sticks together in your fingers instead of crumbling.
Using a 10" tart pan with a removable bottom, use the bottom to trace a perfectly fitting piece of parchment to cover the bottom of the tart pan. Return the bottom of the pan and place the parchment over that. Using an oil sprayer, lightly spray the sides of the tart pan.
Press the crust into the pan, making sure to build up the sides to about a ¼ inch or so all the way around. It doesn't have to be perfect.
Lay out the pear slices in a nice circular pattern around the crust.
In a mixing bowl, combine the apple sauce, cinnamon and honey, mixing well to combine. Pour apple sauce over the pears, smoothing it out evenly with a spatula.
Bake at 350 F. for 30 minutes.