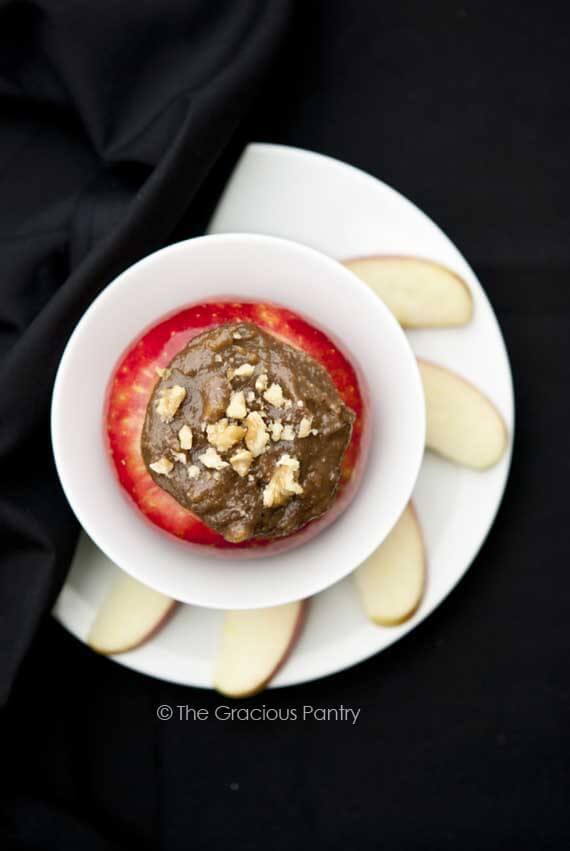 I love fall and winter gatherings. There is something about the people you love and care about gathering together under one roof when it's cold and blustery outside that warms the house far more than any heater ever could. And I'm not talking about body heat either. It's just comforting to have those you care about around you, sharing good food.
Recently, I had just such a gathering and I made this Clean Eating Hot Cashew & Apple Pie Dip. It was such an easy thing to put together and very easily transported in my little, 1.5 qt slow cooker. I heated it up before I went, then set it on warm once I got there. And when people were done with it, I just slipped the crock into the fridge on a towel until it cooled down. It was perfect! And I have to say that most people, just dipped a clean spoon in and ate it off the spoon. They didn't even want the apples that were there for dipping! So ya, this was crazy good, even as a small side dish to another dessert. In fact, you could even forget the apple slices and set a small bowl of clean whipped cream next to this to top it with. Just take a dollop of both and your set!
Notes on the recipe: This does change color when warm or cold. When cold, it has sort of a grayish appearance. But warm it up and it goes right back to being a nice, dark brown. Also, because this is nut-based, it is also dense in calories and fat. Most people won't eat a 1/4 cup of this if you are using it as dip. But I had to use some sort of measure to give you the data below. Use this sparingly and as a treat. It's not something you should eat on a daily basis! My intent with this is simply to share clean treats you can enjoy during the upcoming holiday season.
YOU MIGHT ALSO ENJOY:

Clean Eating Hot Cashew & Apple Pie Dip
Author:
Serves:
Approximately 1 1/2 cups
Ingredients
1 cup cashew butter (or 1/2 lb. raw cashews + 1 tbsp. coconut oil blended smooth in a food processor)
1/4 cup apple sauce
3 tbsp. pure maple syrup
1 to 2 tsp. molasses, or to taste
1 tsp. vanilla extract
1/2 large apple, chopped (1/4 inch dice is best, you don't want big chunks)
1/2 tsp.pumpkin pie spice
1 tsp. ground cinnamon
1/2 tsp. allspice
Instructions
Stir all ingredients together in a small slow cooker. Mine was 1.5 quarts.
You can store the crock in the fridge until an hour before you are ready to serve.
Place the crock in the cooking unit and set on low temp for 1 hour.
Change setting to Warm, and remove lid.
Keep dip warm and allow people to serve themselves from the crock.
Pairs well with cubes of cheddar cheese or slices of apples or other hard fruits that dip well.
Store in fridge for up to 3 days. Do not freeze.