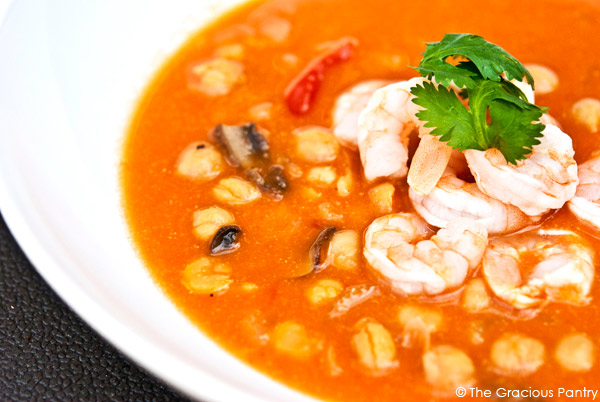 There's nothing like a big bowl of warm, steaming soup when cooler weather starts to roll in.
A reader sent me this recipe link and asked if I could find a way to make it more "hearty". While it was pretty much clean already, I thought it was an interesting flavor combination, so I gave it a try.
I wasn't crazy about the final outcome, so I started tinkering around with it a bit. I added a few more spices and ingredients and came up with a mild, tomato-y soup that makes a wonderfully light meal while still filling you up with protein and fiber.
I'm not sure that the final product is truly a Thai flavor, but it was yummy enough to include it here on my blog. So I hope you'll enjoy it.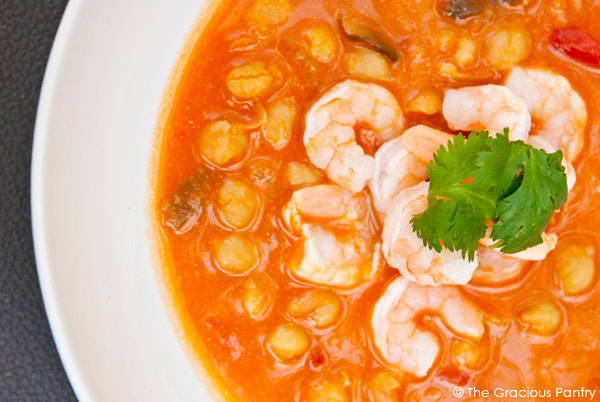 YOU MIGHT ALSO ENJOY:

Clean Eating Thai Shrimp And Chickpea Soup
(Makes approximately 16 servings)
Ingredients:
1 tablespoons olive oil
1/2 cup celery, sliced thin
1 cup onion, chopped
8 cups chicken stock
2 (15 ounce) cans light coconut milk
1 (15 ounce) can tomato sauce, no sugar added
1/4 cup fresh squeezed lime juice (about 3-4 limes)
2 (15 ounce) cans chickpeas, drained (or 4 cups if you make them from dry beans)
3 tablespoons garlic powder
2 tablespoons onion powder
2 tablespoons whole wheat pastry flour (can also use cornstarch or arrowroot powder)
2 large tomatoes, chopped
8 large crimini mushrooms, sliced
1 pound shrimp
Directions:
Sauté the onion and celery in a large soup pot until the onions are translucent.
Put everything, except the shrimp, into the pot and cook until the mushrooms are soft and cooked through.
When the soup is nearly done, add in the shrimp and cook just long enough to cook them to your liking.
Allow to cool and serve.