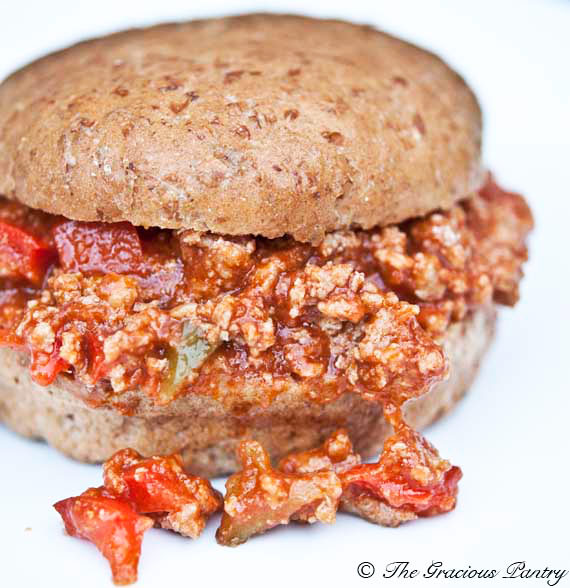 Some recipes just scream, "Summer is coming!"
All the excitement of warm, sunny days, big blue beaches, chlorinated swimming pools and the smells of coconut suntan lotion come flooding back to our memory banks after a long winter has finally ended. A time when we bring out the flip-flops, the tank tops and the BBQ's, and let the fun times begin.
That's what this recipe did for me on the cold, wintery night I made it. Good thing I had my memories to warm me or I might have darn well froze to death!
Yes, I'm a California girl. So all you have to do is hold an ice cube within 10 feet of me and I swear I'm going to die from hypothermia, but still.
I was freezing.
I swear.
Plus, this was an easy dish for my frozen fingers to make, and I got to stand next to a warm stove while I was doing all that day dreaming. So it was a win-win.
YOU MIGHT ALSO ENJOY:

Clean Eating Sloppy Joe's
(Makes about 8 sloppy joe's – depending on how "sloppy" you like them)
Ingredients:
1 tablespoon olive oil
1-1/2 pounds lean ground turkey meat (use TVP if you're vegetarian)
1 (15 ounces) can tomato sauce, no sugar added
1/2 cup clean ketchup (I use the OrganicVille brand)
1 tablespoon garlic powder
1 tablespoon onion powder
1 medium green bell pepper
1 medium red bell pepper
Directions:
Put your olive oil in a large pan, add the turkey meat and cook over medium heat.
Once the meat is cooked, add everything else. Stir until well blended and heated through.
Scoop however much you want onto a clean hamburger bun and "get sloppy with that Joe!"
P.S. – I used the Alvarado Street Bakery brand burger buns. Fantastic flavor, and clean!