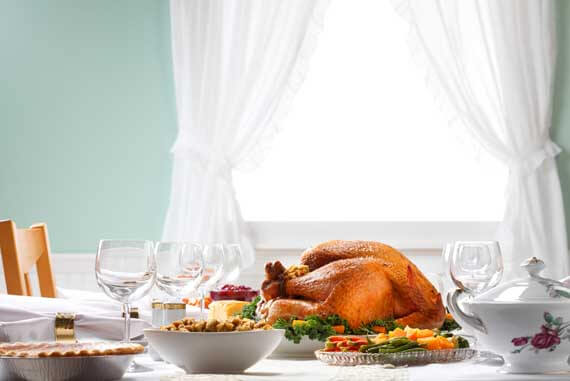 I just couldn't go through the holiday season without using at least one recipe I DIDN'T create. Why?
I've cooked turkeys in the past. Three of them, to be exact. The first time was at 19 or 20 years old when I was living with roommates for the first time in my life. One of the guys insisted that the best turkey he had ever made was basted with nothing but beer. I believed him, and either he was fibbing to see if he could get me to baste the bird that way, or neither one of us had never cooked a turkey before in our lives. I'm betting on the latter. It was awful.
The second turkey I cooked I actually cooked after Thanksgiving when I was somewhere around the age of 27 or 28. There was a huge clearance on turkeys and they were so dirt cheap I just had to bring one home. There was no room in our freezer for a bird that size, so I had to cook it immediately. It was dry and rather similar to cardboard by the time I got done with it.
The third turkey I prepared when I was about 32 or so, and it wasn't my turkey. My sister in law was hosting Thanksgiving for a house full of people and failed to mention that she had never cooked a turkey before either. She panicked slightly when part of the bird came out cooked and the rest was still raw. So together we did a little trouble shooting and actually ended up with a relatively decent bird…. many, many hours later.
So this year, at 39 years old, I'm making my fourth attempt at cooking a turkey….for the entire family. And since I actually care whether my relatives live or die, I thought I'd actually try using a real recipe this year. eMeals was kind enough to let me share this clean and paleo version of a Thanksgiving turkey and I have all the faith in the world that it will be nothing short of perfect. Their recipes haven't let me down yet! Not even once.

Clean Eating Savory Thyme and Garlic Roast Turkey
(Makes one 18 pound turkey)
Ingredients:
18 lb fresh or frozen turkey (thawed)
1⁄2 cup olive oil
1⁄3 cup finely chopped fresh thyme
4 cloves garlic, minced
1⁄2 teaspoon salt
1⁄2 teaspoon pepper
1 lemon, quartered
1 onion, quartered
Directions:
Preheat oven to 325 degrees.
Line a roasting pan with foil; set rack in pan.
Remove giblets from turkey; rinse turkey inside and out with cool water. Place turkey, breast-side up, on rack and pat dry with paper towels.
Combine oil, thyme, garlic, salt and pepper. Gently loosen skin from breast meat, and rub herb mixture under skin and over turkey.
Place lemon and onion pieces in turkey cavity. Tie legs together with heavy kitchen twine. Cover loosely with foil. Bake 3 hours.
Uncover, and bake 1 hour longer or until a thermometer inserted in meaty part of thigh and breast reaches 165 degrees. Cover and let stand 10 minutes before carving.
Note: Garnish turkey platter with Roasted Brussels Sprouts, lemons, fresh thyme, or flat-leaf parsley.