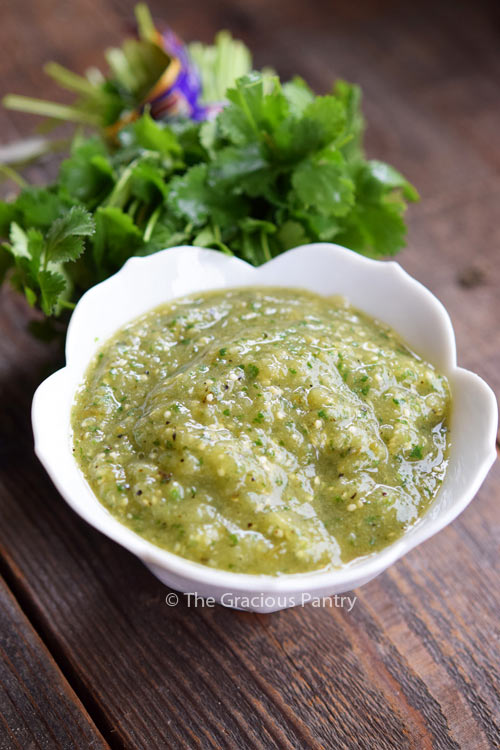 I have a confession to make. I have never, in my life, bought or cooked a tomatillo. I never had a reason to, I guess, but I wanted to make my own verde sauce. I usually buy it, but sometimes I'm not sure if the one I buy is truly clean.
Those of you who follow me on Facebook know that I have started to create Food Guides for clean ingredients. I will also be adding Cooking Guides and Kitchen Tool Guides over the next few months.
The Food Guides will tell you how to select good ingredients, what to do with them once you get them home, how to store them properly and how to cook with them. The first of these guides I created while working on this recipe, simply because I had to do the research on them to be able to create the recipe in the first place! It was a crash course for me and I loved it. So you can look forward to many more guides coming up in the future. It's definitely something I enjoyed putting together, especially because I learned something in the process! I love learning new things, so I'm totally excited about these guides and I hope you'll find them useful!
So here is the guide on how to deal with fresh tomatillos. Once you have cleaned and prepared them, the process of making this verde sauce becomes really, super easy and only involves a food processor and about 10 minutes of your time (once the tomatillos are roasted). I roasted my tomatillos the day before, so this came together super easy for me the next day.
YOU MIGHT ALSO ENJOY:

Clean Eating Salsa Verde Recipe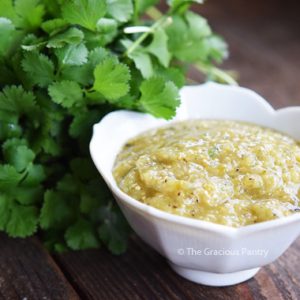 (See process photos below)
Author:
Tiffany McCauley | The Gracious Pantry.com
Yield:
Approximately 3 cups
Ingredients
2 lbs. fresh tomatillos
2 medium serrano chili peppers
1 medium yellow onion
10 medium cloves garlic
½ cup fresh cilantro (optional)
Juice of 1 lime
Salt to taste
Instructions
Prepare and roast the tomatillos.
Cut the peppers in half and remove the seeds with a spoon. Then chop the peppers coarsely.
Chop your onions coarsely. This is really just to make things a little easier on your processor.
Place all ingredients in a food processor and blend until it reaches the consistency you like best.
This is what it looks like with and without the cilantro added. The cilantro flavor is not overpowering. It just adds a nice, subtle flavor enhancement.
Add salt to taste.