This guide to maple syrup will help you understand many aspects about the production and nutrition of pure maple syrup. Particularly maple syrup from Canada!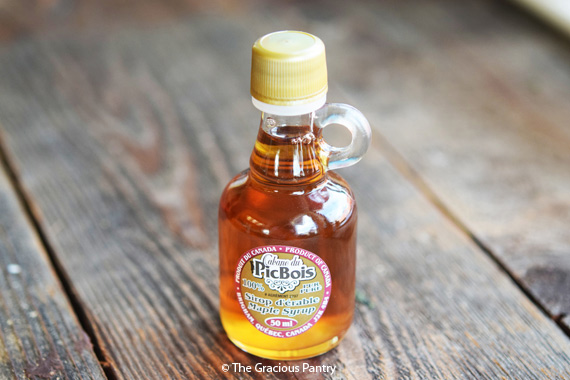 If you follow me on social media, you know that I recently took a trip to Canada. It was a press tour hosted by the Canadian Maple Federation. They took groups from the US, India and the UK to Montreal and Quebec City where we enjoyed many gourmet meals cooked by maple masters and top chefs. All the meals contained maple and displayed an impressive array of possibilities with this amazing ingredient.
When I first accepted the invitation to go, I had no idea how much there was to learn about maple syrup. In the states (at least in my area), maple syrup is just a pancake topping, and often, people mistake the fake garbage for the real stuff.
But true, pure maple syrup is magical stuff and has many health benefits as well as an endless number of culinary uses.
YOUR GUIDE TO MAPLE SYRUP:
In Canada, maple is serious business. It's regulated with strict requirements and is truly a part of the culture and traditions of Canada, particularly in the east where so much of it is produced.
70% of the world's supply of maple syrup comes from Quebec and for those involved with it's production, it's practically a religion. I was continually impressed by the passion these people have for their maple products.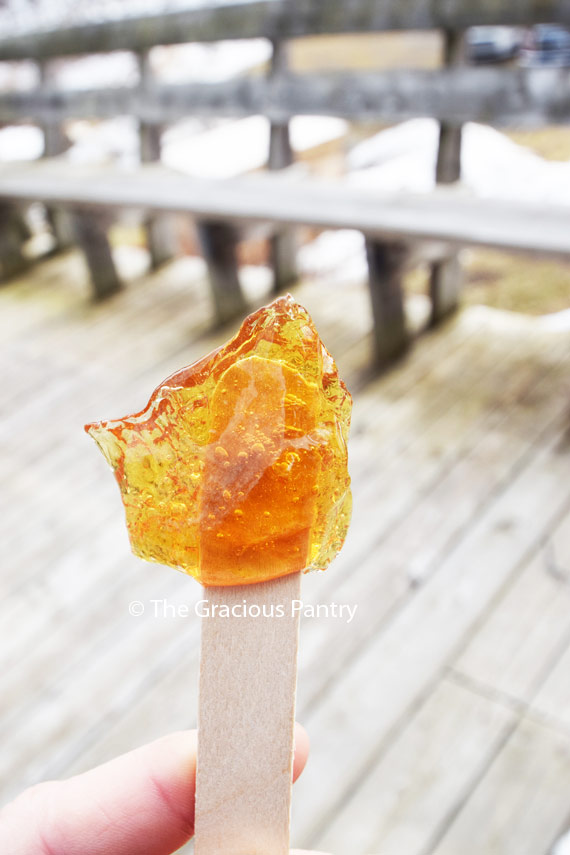 And can I just say… maple taffy is the most amazing thing I have ever tasted!!!
MAPLE PRODUCTS
Some of the maple products available in Canada are:
Maple syrup
Maple candy
Maple sugar
Maple taffy
Maple mustard
Maple vinegar
The possibilities are endless. The one thing that truly struck me about all the dishes I tried was that using maple as a sweetener is not always the intent in a dish. Some dishes simply include it for it's delicate flavor, particularly in savory dishes. It's incredibly versatile stuff and I fully plan to include it in more of my future recipes. Maple vinaigrette anyone? Maple Glazed Pork Chops? Oh, yes…. I think so…
MAPLE SYRUP FACTS
Maple syrup IS organic naturally. So why are there bottles labeled as such and others are not? The bottles labeled as organic are labeled that way because certain chemicals have been avoided in washing and cleaning the tools and machinery used to produce maple syrup.
Maple water and syrup are used by the Canadian olympic athletes to fuel their workouts (that's right, no Gatorade for them!).
The maple collected at the beginning of the collection period produces the light, Grade A syrup. Grade B syrup comes from sap collected later in the "season" and has a stronger flavor. There is a range of color within each grade, and often the different colors are blended to create one consistent color.
Maple collection and production for ALL maple products happens within 12-20 days, once a year. Many producers sleep in their sugar shacks because it must be so closely tended. Product has to move quick so they don't lose the entire batch.
It takes 10.5 gallons of sap to create one quart of pure maple syrup.
Once maple syrup has been produced, the syrup is evaporated/boiled down further to make other maple products. Reducing the syrup down to different temperatures created other products such as maple butter, taffy or sugar.
Canadian maple products are regulated and must adhere to strict protocols.
MAPLE HEALTH BENEFITS
Now mind you, this is all information I learned on my trip. It is also listed on the Federation's website The maple federation there has done a lot of scientific research on maple and it's actually all pretty impressive! But please do not take the following as health advice. I'm not a medical professional.
Maple syrup contains 54 antioxidants.
Maple syrup is an excellent source of manganese, which plays an important role in energy production and antioxidant defenses, and is necessary for normal brain and nerve function. A portion of ¼ cup of maple syrup contains 100% of the Daily Value of manganese.
The sweetener provides 37% of the Daily Value of riboflavin, which aids in the metabolic process.
Pure maple syrup also contains 18% of the recommended Daily Value of zinc, which is essential for a healthy immune system.
Other minerals found in maple syrup are magnesium, calcium and potassium, decreasing the risk of hypertension or stroke.
This is what  maple boiler/evaporator looks like.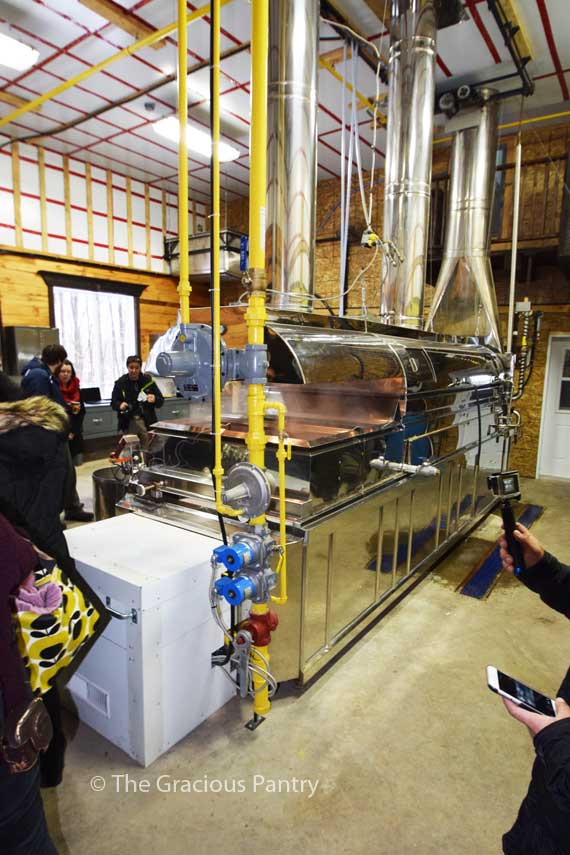 FURTHER TESTING
The federation is currently beginning testing on maple and Diabetes. They have found that the liver processes maple differently than other sugars. But the testing is just in it's beginning stages, so I'm anxiously awaiting those results. I do know that, despite the amount of maple syrup I enjoyed on the trip, my blood sugars remained more or less stable with just a few fluctuations. So I have a strong interest in these new tests and research!
STORING MAPLE SYRUP
Once your bottle has been opened, it's best to keep it in the fridge. Like honey, it will keep almost indefinitely.
USING MAPLE SYRUP
If you'd like to try incorporating real maple syrup into your eating plan (in moderation, of course!) here is an infographic (republished here with permission), you can use for recipe conversions. Click graphic to see a larger image.
One of the women that was on the tour with us, who worked for the Maple Federation, mentioned something that really stuck with me. She said, "when you cook with maple, you don't add maple and end up with a flavor + maple flavor. You end up with an entirely new flavor." And she is right!
Grade A Maple Syrup:
Lighter in flavor and color and typically used as pancake topping and everyday use in many households. It's great for sweetening tea or coffee too!
Grad B Maple Syrup:
Darker in color and heavier in flavor, this grade is often used for cooking and in cocktails as well as being used heavily by the food industry in general.
NEED MAPLE SYRUP RECIPES?
These are all the recipes on my blog that use maple syrup. I hope you'll find one you enjoy!
CLICK PLAY TO SEE WHERE I WENT!
If you'd like to see my photos of Montreal and Quebec City, check out this video!