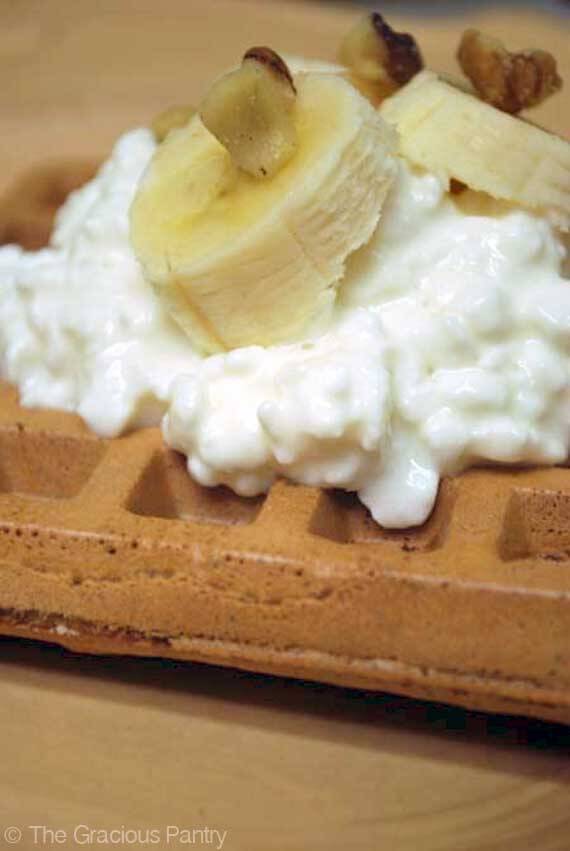 As I write this, it's Saturday morning at 8:09am. My little guy wanted to get in the kitchen with me, so I thought we would uphold our Saturday morning ritual of either pancakes or waffles.
My husband left the pan I use for pancakes sitting dirty on the stove from last night, and frankly, I'm just to lazy on a Saturday morning to do dishes BEFORE I cook. So the waffles won.
I've really been on a good routine with going to the gym every day and sticking to my clean eating plan. I didn't want to ruin it with just any ol' waffle recipe. So I came up with this one.
YOU MIGHT ALSO ENJOY:
Clean Eating Protein Waffles
(Makes 12 waffles)
Ingredients:

2 cups oat flour
2 cups soy (rice milk or regular milk work fine as well)
2 tablespoons ground flax seed
3 egg whites
1 whole egg
Directions:

Mix all ingredients into a mixing bowl using a whisk.
(optional) you can also add a little flavor to these by adding 1 teaspoon vanilla, 1 teaspoon cinnamon, 1 teaspoon cloves or 1 teaspoon almond extract. Use your imagination here.
Cook in your waffle maker and serve.
Nutritional Content:
1 serving = 1 waffle + 1/4 cup low-fat cottage cheese
Calories: 141
Total Fat: 4 gm
Saturated Fats: 1 gm
Trans Fats: 0 gm
Cholesterol: 25 mg
Sodium: 220 mg
Carbohydrates: 14 gm
Dietary fiber: 3 gm
Sugars: 2 gm
Protein: 12 gm
Estimated Glycemic Load: 8
Please Note: Nutritional Information estimated at Nutritiondata.com. Data may not be accurate and is subject to the availability of specific foods in their database. Where one ingredient is not listed, substitutions must be used. Therefore, you should not refer to this data as being exact. It's more of a ballpark figure. The Gracious Pantry does not take responsibility for the inadequacies of the nutrition calculator used. This data is provided as a courtesy and general reference only. It is not exact.