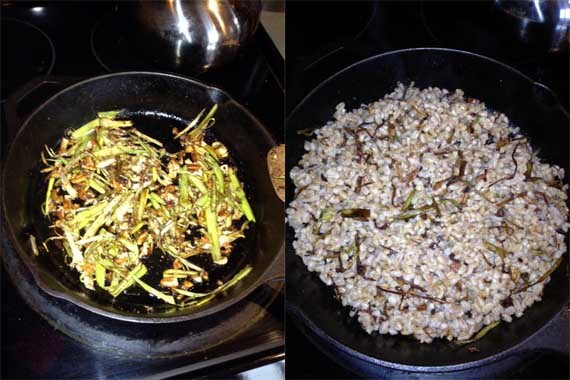 I'd like you to travel back in time with me today. Back to an ancient time were people ate grains with strange and exotic names. Names like "quinoa" and "farro". While many of us know and love quinoa, farro is a lesser known, but fabulous, clean eating grain.
~ While I'm busy getting settled from my move, I've invited a wonderful guest blogger to guest post here . I know you'll love her amazing, clean eating recipe!
The Blogger:
My name is Shelly Heim. I began eating clean in early 2011. I did a lot of research and started following and making strong connections with people eating clean. I knew in my heart that this was the right path. I was not out to find my "dream body", I simply wanted to become healthy.
Six weeks into my new clean life I lost 15 pounds and 10% body fat. In addition to the weight loss, I became extremely focused and mentally clear, which I would not give up for anything. It has been crucial to my success that I cook and come up with recipes that do not have a million ingredients. Too many ingredients can lead to becoming too overwhelmed.
The Recipe:
Farro is considered an "ancient grain". It has a taste and texture somewhere between brown rice and barley. I came up with this recipe as I was getting a little bored with brown rice and wanted to try a different grain. I love leeks and they are excellent when slightly caramelized. They are a great alternative to onions. This dish is excellent paired with salmon, or beef.
YOU MIGHT ALSO ENJOY:

Clean Eating Farro, Leek and Pecan Pilaf
Note: You can substitute the Farro for Brown rice.
Ingredients:
3-5 cloves garlic, minced
2 teaspoons olive oil
1 leek, white part only
1 tablespoon balsamic vinegar the thicker the better
1/3 cup toasted pecan pieces
2 cups cooked Farro
Directions:
Bring 1 cup Farro to a boil in 2 1/2 cups water. Reduce heat to a simmer and cover. Cook for another 15-30 minutes or until tender.
While the farro is cooking, slice leeks, discarding the green sections. Then cut again 2-3 times to make 3 inch sections. Now, cut each section into matchstick pieces. In other words, you will be cutting opposite of the direction you would to slice rings.
Add garlic to olive oil in a skillet. I like to use cast iron for this dish. Cook until soft.
Add the balsamic vinegar until garlic is coated.
Add leeks and cook until golden brown and slightly caramelized.
Add pecans until toasted and lightly browned as well.
To finish add cooked farro to the pan for about another 5-10 minutes to absorb all the flavors.
Season with Himalayan salt and pepper to your liking.