This chicken carbonara recipe is simply to die for. I can't get enough!
I am officially a Carbonara convert. I simply had no idea how good it was until I made it!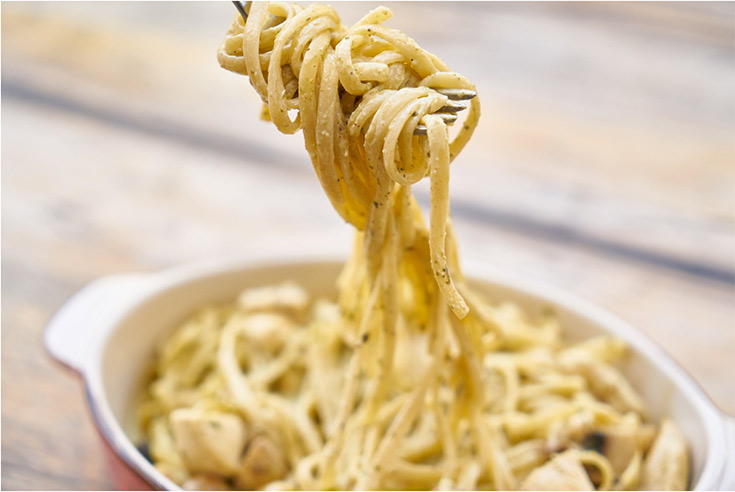 My Mom suggested it to me because she had just made it the night before. But the ingredients she listed off to me where not all clean. So I promptly stole her idea and got to work.
Of course, I had to call her about 20 times to ask her about 50 questions, but that's what Mom's are for, right?
And who knew eggs could make such a yummy, creamy sauce???! (Oh. You did? Maybe I'm the only one living under a pasta rock…)
I even had to look up the definition of "Carbonara" just to be sure I had the right name for what I was cooking. And just as Mom was starting to get irritated with all my calls and questions, I found absolute pasta success. It was amazing! Even my Mini Chef said it was one of his favorite meals.
The greatest part? It's tastes all "cheesy" without a single ounce of cheese in it!
MORE HEALTHY PASTA RECIPES:

CHICKEN CARBONARA RECIPE: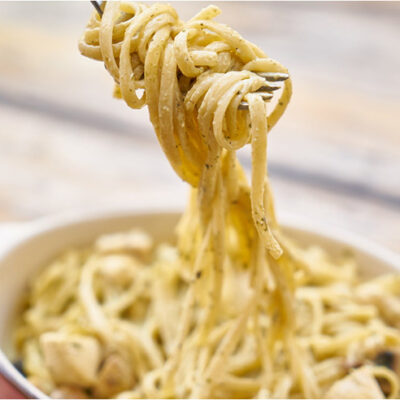 Chicken Carbonara Recipe
A delicious, creamy pasta dish. NOTE: Because some of you have asked, the yeast in this recipe is NOT the same thing as the yeast you use in bread. There is a big difference. You can get nutritional yeast at most health food stores.
Print
Pin
Rate
Servings:
8
servings (approximately)
Ingredients
1

lb.

whole grain pasta

2

lb.

boneless, skinless chicken breasts

(4 breasts)

2

tbsp.

lemon zest

2

tbsp.

lemon juice

1

tbsp.

garlic powder

1

tbsp.

dried parsley

1

tsp.

onion powder

1/2

tsp.

ground black pepper

2

large

eggs

2

large

egg whites

2

tbsp.

nutritional yeast

(for the cheesy effect)

drinking water

(to cook pasta in. You'll be using some of the water in the recipe, so be sure it's water you actually want to ingest.)
Instructions
Bake your chicken separately in the oven with a little salt, garlic powder and onions powder at 375 F. for approximately 30-40 minutes or until it reaches at least 165 F. on a meat thermometer. When done, chop into bite-sized pieces and set aside.

Set the pasta to cook in a large pot.

Break the eggs into a medium bowl (whole eggs and whites), and whisk until smooth and well blended. Keep this within reach.

In a small mixing bowl, combine the lemon zest, juice and spices. Mix well and set next to the pot so you have it handy.

When the pasta is done, scoop out about 1 cup of the water and set next to the pot so it's handy to grab. Then drain your pasta.
READ THESE NEXT STEPS ENTIRELY BEFORE PROCEEDING
This step has to happen quickly while the pasta is still very hot. So grab a large wooden spoon and get ready to stir!

Return the pasta to the pot.

Pour the eggs into the hot pasta and stir vigorously. Just as the eggs look like they are beginning to get cooked (less than a minute), pour in the hot pasta water, a 1/4 cup at a time, and continue stirring vigorously.

You should see a nice, creamy sauce begin to form. If you do not use all the water, that's okay. But don't throw it away either. Set it aside.

Stir in your chicken and lemon/spices.

Lastly, stir in the nutritional yeast.

Now that you've stirred yourself a prize-winning bicep muscle, you will see that, most likely, the "creamy" factor of the pasta has disappeared. (If it hasn't, great). If this is the case, just add a bit more of the pasta water.
Notes
Please note that the nutrition data given here is a ballpark figure. Exact data is not possible.
Nutrition
Serving:
1
cup
|
Calories:
365
kcal
|
Carbohydrates:
45
g
|
Protein:
36
g
|
Fat:
5
g
|
Saturated Fat:
1
g
|
Cholesterol:
125
mg
|
Sodium:
172
mg
|
Potassium:
631
mg
|
Fiber:
1
g
|
Sugar:
1
g
|
Vitamin A:
111
IU
|
Vitamin C:
5
mg
|
Calcium:
41
mg
|
Iron:
3
mg