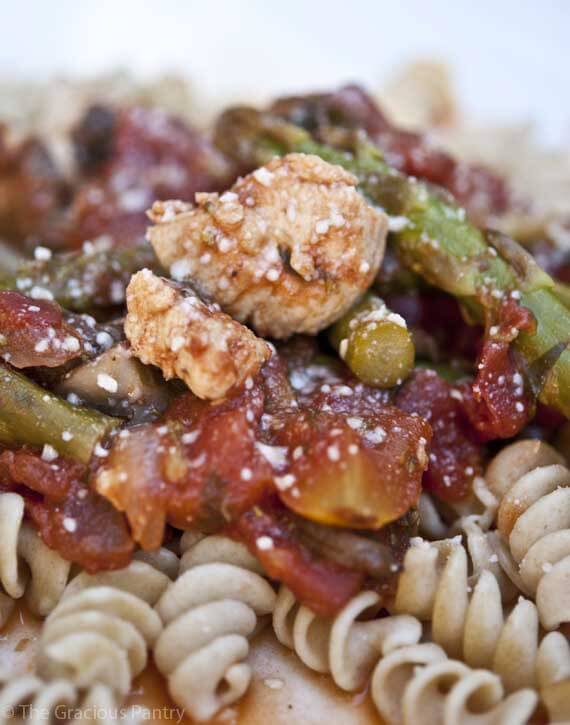 In all honesty, this recipe is really for the primavera sauce. I mean, anybody can boil a pot of pasta, right?
That said, this is probably one of my best pasta sauces. I went heavy on the basil and big on the veggies. The result was a wonderful sauce that I'll definitely be making again and again.
I should tell you that this makes A LOT of sauce. So if you're just cooking for one or two people, definitely cut the recipe in half. Or, cook the whole recipe, leave out the chicken (you can add it later) and freeze a bunch in the freezer for a quick weeknight meal.
YOU MIGHT ALSO ENJOY:
Clean Eating Chicken Broccoli Fettucine
Clean Eating Chicken Pasta Primavera (Sauce)
(Makes approximately 20 cups of sauce)
Ingredients:
1 pound frozen broccoli (fresh is fine too)
1 pound fresh asparagus
1 pound crimini mushrooms – cleaned and sliced
1 large red onion
2 tablespoons olive oil
1 tablespoon garlic powder
2 cups fresh basil – washed and chopped
2 (15 ounce) cans tomato sauce – no sugar added
2 (28 ounce) cans diced tomatoes in juice – no sugar added
4 boneless, skinless chicken breasts – cut into small chunks
1 pound whole wheat pasta – cooked separately according to package directions
Directions:
Saute the onions and mushrooms in the olive oil over low heat. Move mixture to a large soup pot.
Add all other ingredients (not the pasta) to the soup pot and gently boil for approximately 20 minutes or until the chicken is cooked through.
Serve the pasta and top with sauce and a sprinkle of parmesan cheese.
Nutritional Content:
(Data is for 1 cup – includes pasta)
Calories: 188
Total Fat: 3 gm
Saturated Fats: 0 gm
Trans Fats: 0 gm
Cholesterol: 27 mg
Sodium: 236 mg
Carbohydrates: 25 gm
Dietary fiber: 4 gm
Sugars: 4 gm
Protein: 17 gm
Estimated Glycemic Load: 13
Please Note: Nutritional information estimated at Nutritiondata.com. Data may not be accurate and is subject to the availability of specific foods in their database. Where one ingredient is not listed, substitutions must be used. Therefore, you should not refer to this data as being exact. It's more of a ballpark figure. The Gracious Pantry does not take responsibility for the inadequacies of the nutrition calculator used. This data is provided as a courtesy and general reference only. It is not exact.