Clean Eating Bread Recipe
This post may contain affiliate links. Read my
Privacy Policy.
As an Amazon Associate I earn from qualifying purchases.
Looking for a good clean eating bread recipe?
If you haven't read the book Healthy Bread in Five Minutes a Day: 100 New Recipes Featuring Whole Grains, Fruits, Vegetables, and Gluten-Free Ingredients (affiliate link)
, put it on your "to-read" list. I did. I can't wait to buy it. I peruse it every time I'm in the book store. In fact, I could almost say I've read the whole book already!
I was so excited when the authors shared this video with a base recipe I could try before I bought the book.
The only thing I didn't like was the use of white flour. In my Clean Eating plan, I'm not allowing any white flour at all. So I had to adapt this a little. And you know what? It worked!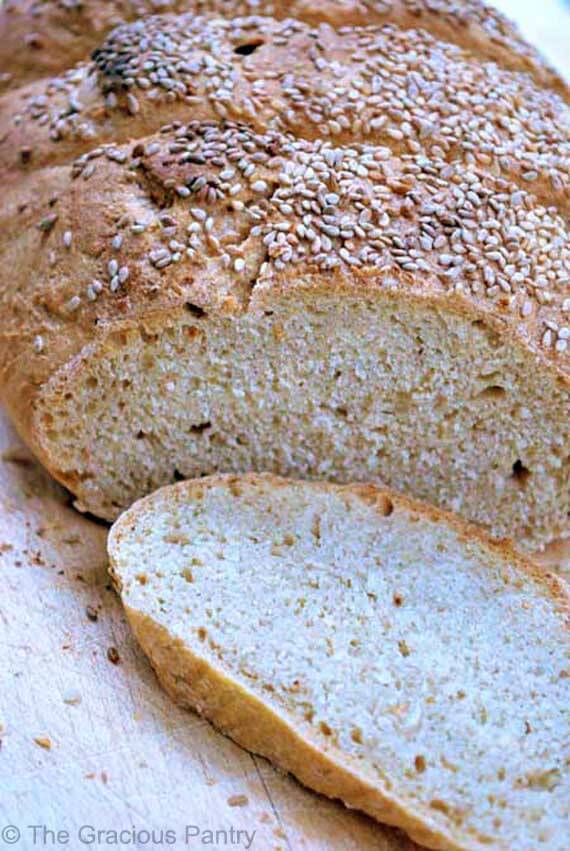 All I did was follow their recipe exactly, but I substituted the white flour for whole wheat pastry flour (which is the only kind of whole wheat flour I ever use.). It turned out great!
I should mention that by substituting the flour, I was not able to get four loaves of bread out of the recipe as they show in the video. I was only able to make two loaves. But I'm okay with that! The bread turned out far more dense then what they show, but it's really tasty.
I topped the first loaf with sesame seeds and added Italian spice and sun-dried tomatoes to the bread by "sandwiching" them between two layers of dough on the second loaf. (You're not supposed to knead the dough, so I improvised.)
Watch the video for the recipe. It's very good bread, and only has three ingredients! You can't get much cleaner than that.
CLEAN EATING BREAD RECIPE:
FIND THE BOOK ON AMAZON HERE:

Healthy Bread in Five Minutes a Day: 100 New Recipes Featuring Whole Grains, Fruits, Vegetables, and Gluten-Free Ingredients (affiliate link)